Freshmen, sophomores and juniors begin the new school year with class trips
August 24, 2019
On Thursday, students in ninth through eleventh grade partook in a series of annual class trips, marking the start of Harker's 2019-2020 school year. While the locations of the events varied, the objectives of each trip remained constant: teamwork, bonding and a welcome to the new school year. 
Kathy Fang
The class of 2023 kicked off their first year as high schoolers with an orientation on Davis Field. Once they checked in, they made their way to the auxiliary gym, where they played a game to find other members of their advisories. 
"I had to spend a lot of time in my advisory today, so I was able to make so many new friends," said Annmaria Antony, a new-to-Harker freshman. "Coming from a very small school, Harker seemed pretty intimidating, but seeing the smiling faces of everyone in my advisory made me feel so comfortable and welcomed."
Afterwards, freshmen spent the rest of the day engaging in advisory-against-advisory contests such as racing while balancing on A-frames, trying to plug all the holes in a tube full of water and organizing themselves by card number without speaking or knowing what their number was. The class was also assisted by Link Crew, upperclassmen who help new freshmen grow familiar with the high school.
"The transition from middle school to high school is really drastic, and for a lot of freshmen it can be scary," said Tuhin Chatterjee (11), a member of Link Crew. "There are a lot of events that are held for freshmen to get used to high school, but it's really helpful to have upperclassmen guide you throughout the year."
The class of 2022 began their sophomore year with a variety of ropes course in the Santa Cruz mountains. Sophomores arrived at the high school campus at 7:15 a.m., from where they departed on separate buses. Each advisory was assigned to one of three facilities: Walden West, YMCA or Apex Adventures. The courses consisted of "high element" activities, where students attached themselves to harnesses and attempted difficult challenges atop the trees, and "low element" activities, where students worked together on projects near the ground.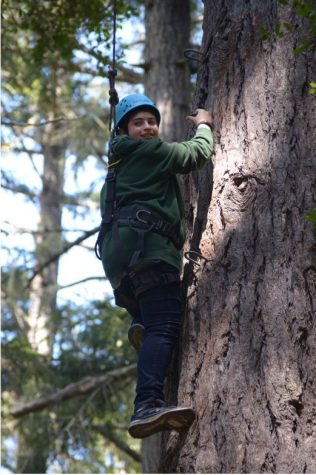 "Compared to other activities we've done as a group, the ropes course was a fun challenge to approach but also a good way to relax before the start of the school year," said Kaden Kapadia (10).
Later, some advisories embarked on hikes, while others continued to work on team building exercises.
"I think it's getting students out of the academic realm. I wish we could do more of that, where we can see how different students have different strengths," said upper school Spanish teacher Diana Moss, who has been the advisor of six advisories since 2003. Taking these trips really reveals another side to some students that you just can't see in the classroom." 
The junior class of 2021 went on the annual whitewater rafting trip at the South Fork American River near Sacramento. The juniors left the school in two flights of buses, all leaving around 6:45 a.m. From there, chaperones and students alike took a safety course on the logistics of rafting, then split into small groups. 
"It was really nice because, unlike other trips, we weren't always with our advisory members, so we were able to spend time with people that we don't always get to talk to," said Anna Arnaudova (11). We bonded a lot over trying to keep control and navigate the waters."      
Michael Eng
There were about six students per raft, and each group rafted for a few hours, covering around 15 miles of the river. After a short dinner, the juniors returned to the campus between 7 and 8 p.m. 
"The trips confront our students with unfamiliar, demanding, and sometimes uncomfortable challenges. Whether on the field, on the ropes courses, or rafting on the river, they're presented with situations they can't easily tackle on their own,"  said Christopher Hurshman, the new class dean of 2022. "The only way forward is to depend on one another and to solve problems together, drawing on the energy and creativity of the whole group."