Upper school community extends support to recovering MSD students and faculty through vigil, advocacy initiatives
March 15, 2018
Students and faculty attended an optional vigil and walkout in the athletics center from 10 to 10:35 a.m. yesterday to honor the 17 people who were killed during the Feb. 14 Marjory Stoneman Douglas (MSD) High School shooting.
In anticipation of the #Enough National School Walkout movement, which was started by the Women's March Youth group, EMPOWER, student council organized yesterday's event in conjunction with the journalism and forensics programs. The upper school community was encouraged to wear black in honor of the victims and survivors of the shooting.
During advisee reviews yesterday, students and faculty walked out of classrooms and into the athletics center to attend a vigil commemorating the 17 MSD students and faculty who were killed in the shooting last month. Afterwards, different booths in the front hall of the athletics center offered attendees the opportunity to sign a banner for MSD, write cards to California state representatives and senators, register for upcoming activist movements and purchase snacks to support MSD fundraisers.
Upper School Head Samuel "Butch" Keller opened the vigil by first thanking the organizers of the event for their efforts and all the attendees for coming to the ceremony. He then spoke about the heartbreak of honoring a student who has died and expressed his condolences for the MSD community.
"One of the stories that I haven't shared with many people is that three of the funerals that I have attended as an educator and as a coach have been my players. It is a very tough thing as a father, as an adult and as a coach who spends time with young athletes every day to see that they're in a coffin, to see their parents crying," Keller said in his opening speech. "I thank you for being here and taking this seriously as we use the next 17 minutes to remember."
Seventeen students and staff then spoke on behalf of each murdered victim of the shooting, standing in front of a presentation of slides, each with pictures of and kind words from family and friends about one of the 17 victims.
Fourteen Harker students spoke on behalf of MSD students Martin Duque Anguiano, Nicholas Dworet, Jaime Guttenberg, Luke Hoyer, Alyssa Alhadeff, Cara Loughran, Gina Montalto, Joaquin Oliver, Alaina Petty, Meadow Pollack, Helena Ramsay, Alex Schachter, Carmen Schentrup and Peter Wang, while faculty speakers psychology teacher Kelly Horan, Academic Dean Evan Barth and Dean of Students Kevin Williamson spoke for MSD faculty Scott Beigel, Aaron Feis and Chris Hixon.
The one-minute speeches ranged from descriptions of the victims' personalities to anecdotes from the morning of the shooting, each ending on the note "We remember."
"Smart. Loving. Caring. Strong. Sweet angel. All of these words were used to describe Gina Montalto, a girl who brightened every room she entered. Melting hearts with an infectious smile, Gina instantly friended anyone she met and lit up the room with her sense of humor. With a kind spirit and eagerness to help others, she was a Girl Scout and an active member in her local church. Gina loved reading, fashion, soccer, flag football, education and children. Through love and happiness, she touched the lives of everyone she met. We remember Gina Montalto," Shania Wang (11) said in her speech for Gina.
After the speeches' conclusion, the Harker String Quartet performed a song of mourning as the speakers were called up one by one by the names of the victim they spoke for to light a memorial of 17 electronic candles placed on the floor of the athletics center. A row of pictures of the victims was placed between the candles.
Student council then played a YouTube video of the Stoneman Douglas Drama Club's performance of "Shine," a song that the club wrote following the shooting to empower other survivors of the shooting. Prompted by clips of audience members waving their phones' flashlights in the air, many students took out their own devices to do the same.
After the vigil's conclusion, students and faculty were invited to contribute to causes supporting the MSD community and to participate in movements raising political awareness about gun regulation.
In the athletic centers lobby, students and faculty signed a banner that read "#MSDStrong" and which will be delivered to MSD.
Other support efforts at the walkout included informing students about the upcoming March for Our Lives on March 24, which will take place in cities around the Bay Area, including San Jose, San Francisco and Oakland, and inviting students to write cards to their elected officials.
Student council also plans to compile a series of video interviews with students and faculty verbally expressing their solidarity to send to MSD.
"I hope that [the vigil, the banner and the video] lead to a sense of love among our community. I hope it fosters a feeling of grief," sophomore class council president Avi Gulati (10), who headed efforts to coordinate these initiatives of solidarity, said. "To the MSD community, I hope that they see what we've done and know that they're supported. I mean, they obviously already, with so much of the efforts around the country, know that they're supported, but so many other people doing something about it is not to say that we shouldn't."
In addition to purchasing MSD Strong merchandise via their website and donating to the Stoneman Douglas Victims' Fund GoFundMe created by the Broward Education Foundation, students can also contribute financially to recovery efforts by purchasing concessions from student council's snack bar, open this week on Friday during advisee reviews at the Chowda House and next week on March 20 and 21 before school in front of Manzanita. Half of the proceeds will go towards the victims' fund, while the other half will be donated directly to the school.
Student council has partnered with the journalism department and the speech and debate program to organize a series of student activism initiatives. To further promote conversation in regards to gun laws and regulation, they plan to host forums with the goal of providing a space for students to safely discuss the politics behind and brainstorm solutions for these issues. History teacher Carol Green will be speaking about voting at a seminar during long lunch this Friday, and students of ages 16 or 17 will be given the opportunity to complete a voter pre-registration application outside the journalism room during long lunch on March 22.
Green's seminar will aim to encourage students to become informed voters by exploring the reasons that fewer younger adults vote than older adults and by discussing the implications of that trend.
"Ultimately, older generations turn out at significantly higher proportions, which is why we see the legislation tending to be focused on the interests of older people," Green said.
Members of student council and the journalism and speech and debate programs will moderate a bipartisan debate in Nichols Auditorium on March 23 at 3:15 p.m., followed by a town hall—a forum open to all students interested in discussing gun laws.
The debate will be structured around two teams of three but will aim to encompass a wide range of perspectives on the issue, refraining from a dichotomic argument. Moderators of the debate include Dolan Dworak (12), who is heading the activity, Aliesa Bahri (12), Jai Bahri (10) and Sahana Srinivasan (12), and the six participants of the debate are Serena Lu (12), Andrew Semenza (12), Satchi Thockchom (12), Edgar Lin (12), Sachin Shah (10) and Jason Huang (11).
Other Bay Area schools, such as Cupertino High School, Lynbrook High School, Prospect High School, Westmont High School and Monta Vista High School, also participated in the National School Walkout movement. Students at larger schools across the nation answered the #Enough call by protesting on campus or by taking to the streets, and the movement reached schools as far as London and Zurich, where international students demanded stricter gun regulation on behalf of their American peers.
The #Enough movement runs alongside the #NeverAgain movement, started by the survivors of the MSD shooting with the objective of pushing for tighter gun legislation. Read about #NeverAgain and the students behind the movement here.
Students and faculty voice their support for MSD victims in activist activities, banner
After the conclusion of the vigil yesterday which honored the 17 victims of the Feb. 14 shooting at Marjory Stoneman Douglas High School, upper school students and faculty were the given the opportunity to participate in a number of advocacy and solidarity activities organized by student council, the forensics program and the journalism department.
Banner decorating and signing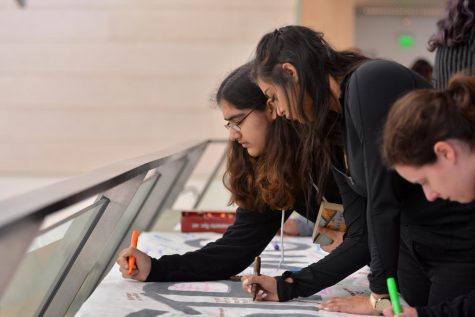 The pristine white banner, colored all the more vibrant in a rainbow of words of support, displays its message proudly: #MSDSTRONG, outlined in thick block letters shaded MSD–red and black. Hunched over in concentration, contributors populate unfilled spaces with the anthem "we remember."
One of student council's many initiatives of solidarity, the banner will be sent to MSD to be hung in their school halls, carrying the well wishes of an ally expressing love from more than 3,000 miles away.
"I think it's really important to find a solution to make sure that this never happens again, but I also hope that it'll bring solidarity for the lives lost, and that's why I think going to the vigil [is] super important because these 17 people, most of them—14 of them—were our age," student council partner and solidarity head Esha Deokar (11) said. "They were 14-year-old girls, 16-year-old boys—it's heartbreaking to have their lives been taken away so quickly."
March For Our Lives and letters to elected officials information tables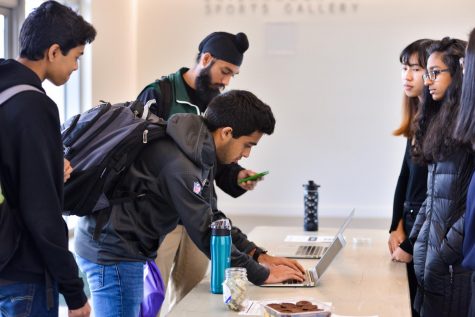 Outfitted with signs proclaiming "March For Our Lives: March 24," donation jars and signup-ready laptops, the March For Our Lives kiosk aims to inform the Harker community of the ways they can contribute to lasting change and to encourage them to take on a proactive role in political affairs. And it's as easy as driving to a local March For Our Lives and joining the crowds of impassioned students peacefully drawing attention to the need for tighter national gun legislation.
The March For Our Lives movement, scheduled to take place in local city centers across the country on March 24, invites all to take a stand for the 17 victims killed during MSD shooting as well as the countless lives lost in previous mass shootings. Marchers in Washington D.C. plan to meet at Pennsylvania Avenue at 12 p.m. EST.
To find a Bay Area March For Our Lives sibling march close to you, enter your zip code or city of residence here.
On the other side of the lobby, lists upon lists of senators' and representatives' contact information cover the tablecloth in a sea of blue hyperlinks and phone numbers. Consulting detailed maps outlining the various congressional districts of the Bay Area, students pause, with pens in hand, in contemplation before resuming their writing. With the Harker insignia proudly stamped against the white cardstock, the call for action is loud and clear: we are students, and we demand positive change.
Students and faculty were encouraged to compose and sign short letters to elected officials petitioning for stricter gun laws. Laptops set up at the table offered additional outreach tips for those interested in alternative methods of reaching out to authorities.
California's two senators are Dianne Feinstein and Kamala Harris. To find which representative heads your congressional district, enter your home address here.
Student council snack bar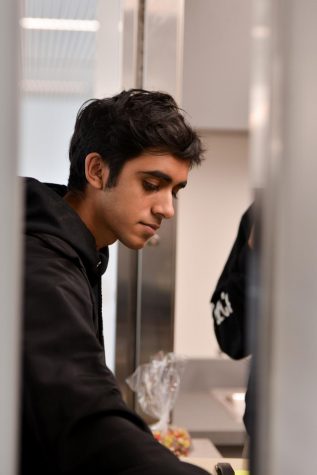 Originally intended to supply students with a quick hunger fix to fight through the school day until lunch, student council's snack bar now markets its popcorn, bagels and cake pops to raise money towards helping MSD recover from the loss of 17 members of their school community.
Proceeds from all snack sales will be donated to a MSD victims' fundraiser, whose goal is to provide each MSD student with a #MSDStrong sweatshirt, and to MSD itself. Students may purchase concessions using cash, punch cards or charge sheets this Friday during advisee reviews at the Chowda House as well as on March 20 and 21 before school at Manzanita.
Through the years: A history of gun legislation in the U.S.
After the shooting at MSD on Feb. 14, which left 17 students and faculty dead, Florida Gov. Rick Scott passed a new law on March 9 prohibiting gun sales to individuals less than 21 years of age and banning bump stocks. The law also allows certain faculty and staff members in schools to be licensed and trained to use firearms.
The Florida bill has since come into national scrutiny as people across the nation, ranging from students to gun owners, take to social media to criticize the bill either for failing to address the issue or for placing too many restrictions on Second Amendment rights.
On the federal level, with the recent rise of mass shootings, gun legislation has become the subject of national debate, with staunch supporters of the Second Amendment resisting demands for stricter regulation of firearms. Those calling for the protection of the right to bear arms claim that laws regulating gun ownership violates the Constitution, while those advocating for increased government control believe that the freedom to bear arms should not include weapons capable of mass destruction.
Since the enactment of California's Proposition 63 in January 2018, individuals in California are required to pass background checks and obtain a four-year permit before purchasing ammunition, and all owned firearms must be registered with the California Department of Justice. California law also prohibits the practice of concealed carry and the purchase of assault weapons, including the AK and AR-15 series.
For the most part, federal gun legislation continues to be nebulous while various groups have called for stricter background checks and bans on weapons like assault rifles, no such act has stayed in effect for longer than a decade.
"At the federal level, there's not a lot of legislation passed because it's not in their purview. When they tried to pass, for example, the Gun-Free School Zones Act, it was challenged and went all the way to the courts; United States v. Lopez ruled that the federal government doesn't have that right," upper school history teacher Carol Green said.
The Gun-Free School Zones Act of 1990 prohibited the possession and use of a handgun near public, private and parochial schools. It was deemed unconstitutional in the United States v. Lopez case on the grounds that the federal government could only impose regulations directly related to interstate commerce, as stated by the Constitution.
"The way that [federal government officials] try to justify [regulations on guns] and the way they're able to justify things like some federal background checks is because federal background checks only apply to federally licensed dealers," Green said. "A lot of states could adopt that legislation, but it doesn't apply serially."
Here is a rundown of major historical changes in U.S. gun legislation: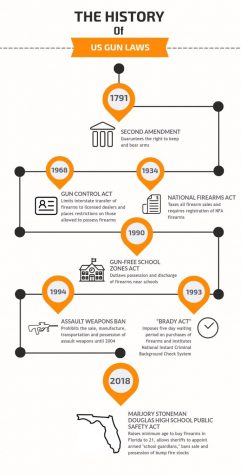 Kathy Fang
1791
The Second Amendment, adopted in 1791, protects the right of the people to keep and bear arms. It has since become the centerpiece of countless debates over the regulation and restriction of firearms which have the potential to cause mass destruction.
The National Rifle Association (NRA), founded in 1871, is a nonprofit organization that historically has opposed laws restricting the possession or sale of firearms, claiming that it is "America's foremost defender of Second Amendment rights." The NRA is believed to have influenced many federal decisions on gun restrictions and regulations, and many members of both Congress and the president's cabinet are affiliated with the NRA.
1934
The first limitation on the freedoms guaranteed by the Second Amendment was passed by former President Franklin D. Roosevelt in 1934 after the gangland crimes and the St. Valentine's Day Massacre. The National Firearms Act (NFA) instituted a $200 tax on the making and transfer of certain firearms. Registration of the sale of all NFA firearms was required with the Secretary of the Treasury.
The Supreme Court ruling of Haynes v. United States in 1968 greatly weakened the power of the NFA, as the Supreme Court found that the prosecution of prohibited persons in possession of an unregistered firearm violated the self-incrimination clause of the Fifth Amendment and as a result was unconstitutional. The NFA was thereafter modified such that it applied only to those who could lawfully be in possession of a firearm.
1968
The Gun Control Act (GCA), introduced in the House of Representatives and signed into law by former President Lyndon B. Johnson, was passed following the assassinations of former President John F. Kennedy in 1963 and civil rights movement leader Martin Luther King Jr. in 1968. The act banned interstate transfers of firearms with the exception of transactions facilitated by licensed dealers and prohibited the sale of both firearms and ammunition to felons and other groups.
The GCA also established a minimum age of 18 for the sale of shotguns and rifles and a minimum age of 21 for all other firearms.
The Firearms Owners' Protection Act of 1968 amended the Gun Control Act by redefining the term "gun dealer," permitting the interstate sale of rifles and shotguns and banning the sale of machine guns manufactured after the date of the Act.
1990
The Gun-Free School Zones Act of 1990 made the knowing possession of and discharge of a firearm in a school zone illegal. Applying to public, private and parochial schools, the act was signed into law by former President George H.W. Bush. The only exceptions to this law were the possession of or discharge of the firearm by an individual as part of a school program or by a law enforcement officer acting in official capacity.
After the United States v. Lopez case, however, the act was deemed unconstitutional and revised to apply only to guns involved in interstate commerce.
1993
The Brady Handgun Violence Prevention Act of 1993 required federally licensed importers, manufacturers and dealers of firearms to wait for a period of five days before delivering a handgun to an unlicensed individual. Individuals evaluated by mental institutions a "mental defective," criminals at large and those convicted of a misdemeanor crime of domestic violence were prohibited from shipping, receiving or possessing a firearm under the Brady Act.
The Federal Bureau of Investigation (FBI) instituted the National Instant Criminal Background Check System (NICS), a measure first introduced by the Brady Act, in 1998. Used today to confirm if a prospective buyer meets the age requirement for the lawful purchase of a firearm, the NICS cross-checks submitted information with the National Crime Information Center, the Interstate Identification Index and the NICS index.
1994
The Public Safety and Recreational Firearms Act, also known as the Assault Weapons Ban, prohibited the manufacture, transfer and possession of semiautomatic assault weapons for 10 years. An assault weapon is defined to be a military-style weapon capable of either semiautomatic or fully automatic discharge.
The Assault Weapons Ban expired in 2004, and U.S. Senator Dianne Feinstein of California introduced proposals to renew the ban, most recently the Assault Weapons Ban of 2013 after the shooting at Sandy Hook Elementary School in December 2012. Although Feinstein's measure in 2013 was accompanied by a similar measure in the House of Representatives proposed by U.S. Rep. Carolyn McCarthy of New York, none of the efforts to reinstate the Assault Weapons Ban have succeeded. The Senate rejected the Assault Weapons Ban of 2013 with a vote of 40 to 60.
Feinstein has not ceased her endeavors to renew the ban. A little more than a month after the October 2017 Las Vegas shooting and just three days after the November 2017 Sutherland Springs shooting, Feinstein, along with 22 other Senate Democrats, put forth the Assault Weapons Ban of 2017. The bill would prohibit the sale, manufacture, transfer and importation of 205 defined "military-style assault weapons." Since November, it has been read twice and referred to the Committee on the Judiciary.
"After each shooting, we're told it's not the right time to act. We're told to respect the victims by sitting on our hands," Feinstein said in a statement released on her website. "Well, the time for inaction is over."
2018
On March 9, the Florida Senate passed the Marjory Stoneman Douglas High School Public Safety Act, which prohibits a "mentally defective" person from possessing a firearm and allows sheriffs in their respective counties to set up a Coach Aaron Feis Guardian Program.
The guardian program, named after the football coach at MSD who died shielding his students during the shooting, will grant sheriffs the authority to appoint volunteer school employees as "school guardians" to be licensed and trained in firearm safety and proficiency.
The act, signed into action by Florida Gov. Rick Scott, also establishes a three-day waiting period for the purchase of firearms and raises the minimum age to purchase a firearm from 18 to 21, a divergence from the federal law (GCA) that would have prevented 19-year-old Nicolas Cruz, the shooter at MSD, from obtaining a firearm. In response to Scott's action, the NRA filed a lawsuit claiming the act of banning individuals under the age of 21 from buying firearms unconstitutional.
While the act does define and prohibit the sale and possession of bump fire stocks, a device that can accelerate the firing rate of a semiautomatic weapon up to that of an automatic weapon, it does not place limitations on military-style assault weapons.
Sources:
The Bureau of Alcohol, Tobacco, and Firearms
CRS Report for Congress, 2013
Giffords Law Center
Florida Senate Bill CS/SB 7026
Congress Bill S.2095, Bill S.150
Federal Bureau of Investigation (FBI)
Press Release from feinstein.senate.gov