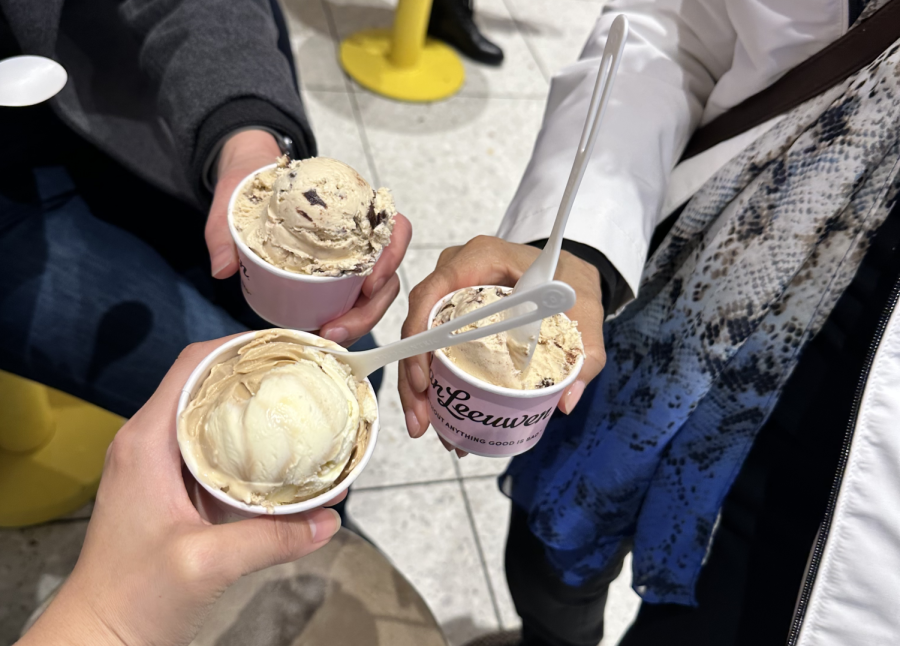 Provided by Whitney Huang
Van Leeuwen Ice Cream
Location: 1250 6th Ave
Established in 2008, the New York City-based chain Van Leeuwen Ice Cream has become a ubiquitous presence in the city, with over 20 locations. One of its stores is located at the tip of Rockefeller Center, offering a warm and inviting space for individuals or groups to gather and work.
The tantalizing aroma of waffle cones and brown sugar permeates the air even outside of the store, drawing visitors into the shop. Once inside, customers are greeted by large display boards showcasing an array of artisanal ice cream flavors. Towering stacks of cups and a spacious interior, adorned with gold accents, create an opulent and welcoming atmosphere that invites patrons to indulge.
Upper school history teacher Karen Haley chaperoned the journalism trip to New York and visited the ice cream shop at Rockefeller Center. As she perused the ice cream options, Haley was struck by Van Leeuwen's emphasis on inclusivity.
"The variety of the flavors was awesome," Haley said. "I immediately noticed a big sign for vegan options, and I think that being inclusive was a good marketing option. The strawberry shortcake was the most popular flavor, and it was vegan. Everything I tried was so yummy, and the store was pleasing to the eye — it was clean, it was spacious, it was inviting."
After sampling the strawberry shortcake, blueberry cheesecake and peanut butter brownie flavors, Haley ultimately decided to order a full scoop of the vegan chocolate chip cookie dough ice cream. However, she believes that all of these flavors are worth sampling and recommends Van Leeuwen to anyone visiting Rockefeller Center.