Harker Aquila's Guide to the 2022 Midterms
November 8, 2022
The 2022 midterm election results will begin rolling in this evening and in the coming days, with elections for Congressional seats, local and state official positions and propositions. Polls closed today at 8 p.m. in California. View Harker Aquila's live midterms coverage below.
Wednesday Voters re-elect Anna Eshoo as District 16 representative, which encompasses the Harker upper school campus, according to election results from the Secretary of State page. She claimed 58.4% of votes over Rishi Kumar, with 100% of precincts partially reporting. Eshoo has served for over two decades in Congress and has spoken to Harker Journalism and Civic Tech Club in recent years.
"So many constituents have said to me over the years, especially during challenging times, 'Where do you get your optimism from?' And I always say the same thing: [I get my optimism] from my constituents," Eshoo said in her conversation with journalism students in 2020. "I salute all of you, and I think that the United States of America is in store for really great things to come, because I see firsthand the sophistication, the interest, the knowledge, the thinking of young people and the values that you all carry."
10:50 p.m. Democrat John Fetterman takes Pennsylvania's Senate race against Mehmet Oz in one of the most critical and high-profile races from this year's midterms, with 49.9% of votes above Oz's 47.7%. Fetterman has won a currently Republican-held seat, and this is the first Senate flip so far, giving the Democrats a potential opportunity to keep the Senate.
"[Dr. Oz] to many conservative people, is seen as a radicalist, and even though there are people who support and believe in his situation, it is creating more and more divide in the party, [which may have lead] to moderates swinging towards Democrats," sophomore Kashish Priyam said. "[This is] one of the races that's really instrumental in making sure that the Senate goes either way."
10:25 p.m. Democrats hold 47 seats in the Senate and Republicans hold 46 seats, with neither party gaining from last election and ultimate control still uncertain. Tossup races in Arizona, Nevada and Georgia all slightly favor Democrats for now. In particular, the high-profile Pennsylvania race between Democrat John Fetterman and Republican Mehmet Oz is still close, with Fetterman leading by 1.4 percentage points with 84% of votes reported. The Georgia race between Democrat Raphael Warnock and Republican Herschel Walker also has not been called yet, with Warnock leading by less than 1 percentage point with 95% of the votes in, according to the New York Times.
Furthermore, Democrats currently hold 149 seats in the House and Republicans hold 186 seats, with a transfer of four seats to the Republicans from last election. According to the Wall Street Journal, the Republicans have not yet clinched the predicted significant House lead.
Several races may not be called until tomorrow.
9:55 p.m. The Associated Press called three more House of Representatives races in California, to bring the total to 15 Democrats.
After a long night, they have also called Kathy Hochul's win in the New York gubernatorial race, as she takes 52.9% of votes in a tight race against Republican Lee Zeldin, a battle closer than previous years. Hochul becomes the first-ever elected female governor.
9:20 p.m. The Associated Press has called twelve out of California's 52 House races, each to Democrat candidates. Notably, according to Ballotpedia, Nancy Pelosi has received 82.2% of votes so far for District 11, which includes much of San Francisco, for her 18th re-election, and Ro Khanna has received 72.7% of votes so far for his re-election representing District 17, which encompasses much of South and East Bay.
9:05 p.m. Even though Republican Rand Paul was re-elected in Kentucky's senatorial race, 52.8% of voters have opposed Kentucky's Constitutional Amendment 2 on the ballot, which would add an amendment stating there is no right to abortion, according to The New York Times. The right to abortion has been a key topic in campaigns in this year's midterms. Additionally, California voters are deciding on Proposition 1, which would protect abortion and contraceptive rights in the state constitution. Currently, according to Ballotpedia, 69.0% of voters voted "Yes" on Proposition 1, with 35.3% of precincts reporting.
"For me, the tragedy of [the tension over abortion rights] is that it's another example of where we are in terms of really polarized black and white thinking," upper school U.S. history teacher James Tate said. "I have not heard anyone in the cultural narrative point out the standard set in Roe v. Wade was in fact itself a pretty decent compromise on the issue of abortion, when it itself is a compromise on the issue of abortion."
8:25 p.m. AP News has called California's senator and gubernatorial races. Democrat Gavin Newsom, California governor since 2019, is re-elected against Republican Brian Dahle. Newsom's support from the blue state remains strong after he signed Senate Bill 107 to protect transgender youth, as well as 13 reproductive health bills protecting women seeking abortion in September. Newsom also heavily opposed key Republican figures Ron DeSantis, Florida governor, and Greg Abbott, Texas governor, in his campaign.
In addition, Democrat Alex Padilla wins re-election for California's Senate seat, taking 65.1% of votes reported so far from 2,239 precincts, according to Ballotpedia.
8:20 p.m. After defeating opponent J.R. Majewski (R), Representative Marcy Kaptur (D) of Ohio will become the longest-serving woman in the history of Congress; according to the New York Times, having served in office since 1984 — this will be her 20th term.
8:00 p.m. California polls have closed, but those currently in line are still allowed to vote.
Texas governor Greg Abbot, Republican, narrowly wins third term against Beto O'Rourke, Democrat, with 55.5% of the vote. If O'Rourke had won, the event would have marked 25 years since a Democrat held the position as governor in Texas history.
Democrat Abigail Spanberger is re-elected for Virginia's 7th Congressional District. A "potential bellweather in the fight for control of the U.S. House," Spanberger defeated opponent Republican Yesli Vega who previously supported a ban on abortion, according to The Wall Street Journal. The debate over abortion and the overturning of Roe v. Wade represented key campaigns and contested issues in this year's elections.
7:45 p.m. Vermont elects Sen. Becca Balint, a Democrat, to the House of Representatives, marking the first seat in Congress held by a woman for the state. Balint won the vote by 61.3% and is also the first openly LGBTQ+ person to represent Congress in the state's history.
7:25 p.m. As the 2022 Midterm elections continue, voters have elected in their state governors. According to the Associated Press (AP), Republican Kevin Stitt of Oklahoma defeated Democrat Joy Hofmeister to serve another term, Republican Henry McMaster will serve his second term for South Carolina after defeating Democrat Joe Cunningham and Republican and former press secretary for the White House's Trump administration Sarah Huckabee Sanders will serve as the first female governor of Arkansas.
7:10 p.m. Republican Nicole Malliotakis defeated Democrat Max Rose and will serve another term in the House of Representatives for New York's 11th Congressional District, currently with The Asssociated Press reporting 62.4% of votes. This is the first New York congressional seat that Republicans have claimed of the night.
6:25 p.m. Massachusetts has elected Democrat Maura Healey as their governor, making her the state's first female governor and the first openly lesbian governor in United States history, according to The New York Times. The Associated Press has also called 25-year-old Democrat Maxwell Alejandro Frost's election to Florida's 10th Congressional District, making him the first Gen-Z Representative in the House.
Maryland elected Democrat Wes Moore to replace moderate Republican Larry Hogan as governor, according to the New York Times. Moore will be the first African American governor of Maryland.
5:15 p.m. Florida governor Ron DeSantis wins landslide re-election with 59.2% of reported votes, according to The Associated Press. DeSantis has claimed traditionally-democratic counties Miami-Dade, Palm Beach and Hillsborough; along with Republican Senator Marco Rubio's re-election, this may indicate Florida's increasing shift to the right.
5:00 p.m. Polls have closed in most Eastern and Central states, and states have started reporting votes. California polls will close at 8 p.m.
Elect to elect: Why the Harker community have chosen to vote in this year's midterm
Various members of the upper school community have voted in this year's midterm elections. Hear from four community members, including students, faculty and teachers, about why they voted this week.
Bronwen Callahan, World history teacher
"
I am voting because I care a lot about my community and what's going on, and I think that if I don't vote, then there's no way I can really help my community. It's my way of deciding who has a say in what's going on in my community."
— Bronwen Callahan, World history teacher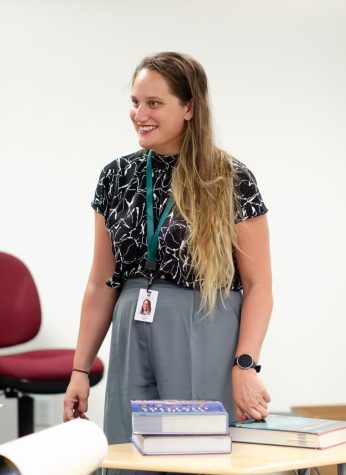 KJ Williams (12), who voted on Sunday
"
My parents always told me, it's important to be involved. So, I'm just taking the first step and I actually voted, and hopefully, other kids my age will do that and will do the same. But also, I've always wanted to vote."
— KJ Williams (12)
Diane Main, Learning, Innovation and Design Director
"
It was instilled in me very young, [that] you always vote, because that's part of our responsibility as Americans. Complacency is dangerous. This time around, as a person who has a uterus, I feel very strongly that I don't want other people to make decisions about that for me, with the overturning of Roe v. Wade."
— Diane Main, Learning, Innovation and Design Director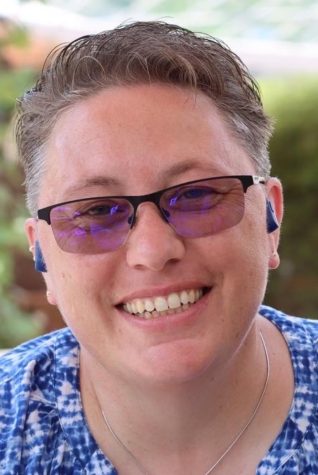 Chris Davies, Math teacher
"
We have a representative democracy and if you want to steer the country the way you think it should be steered, you gotta vote. Otherwise, if you have a constituency that's nonparticipatory, then a few people drive all the elections and the follow-up policymaking and it leads to potentially terrible outcomes. So we all have to do our work and chip in and vote."
— Chris Davies, Math teacher
Correction: A previous version of this article misspelled Bronwen Callahan as Bowen Callahan. This article has been updated on Nov. 8 to correct this error. 
The Race for CA Governor
Democrat and incumbent Gavin Newsom and Republican Brian Dahle are the candidates for this year's California gubernatorial race. In the primary election on June 7, Newsom received 61.2% of the ballot votes, and Dahle received 15.1%, according to Ballotpedia.
Voters re-elected Newsom, who has been governor since 2019, with his  support from the blue state remains strong after he signed Senate Bill 107 to protect transgender youth, as well as 13 reproductive health bills protecting women seeking abortion in September. Newsom also heavily opposed key Republican figures Ron DeSantis, Florida governor, and Greg Abbott, Texas governor, in his campaign.
Newsom took 57.6% of votes, according to current results from California's Secretary of State page. He kept strong leads in the Bay Area, taking 69% from Santa Clara County, where the Harker upper school is located, and the strongest showing in San Francisco County, taking 83% of votes, according to AP News.
Hover ofter the California counties in the map below to see the percentage of votes for Newsom and Dahle.
The Race in the CA House of Representatives
Candidates are running for election to the 52 spots in California's House of Representatives. Hover over the below map to view the candidates for the 52 congressional districts. AP has called 25 races so far, with 21 Democrat seats and 4 Republican seats.
Key Congressional races to track in the midterms
Tomorrow's midterm elections will determine every U.S. House of Representatives seat and approximately one third of the U.S. Senate seats, as well as many state governors and local officials, according to Associated Press (AP) News. Currently, the Democrats hold the majority in the House with 220 seats to the Republicans' 212 seats, and the Senate is split evenly with 50 Democrats and 50 Republicans. 
Kashish Priyam (10) believes that according to current forecasts, Republicans are expected to gain a majority in the House of Representatives due to approval ratings of the political party in power in the executive branch. 
"There's a statistic that in midterms, meaning between the presidential elections, the party of the president loses around 20 seats in the House solely because of the fact that disapproval of the President and what he's doing is associated with the party," Kashish said. "And considering Biden's approval rating, and the fact that Democrats only hold a five seat majority in the House, it seems likely that the Republicans are going to sweep over in the House races."
Upper school history teacher Byron Stevens notes that throughout history, this political trend of the political party in power losing seats during the midterm elections has proven to be true. 
"Even if the President's approval rating is higher, it's just historically, the party in power always loses seats in a midterm election," Stevens said. "Things have happened this year where the loss won't be as bad but it does matter because once you lose the majority, then you lose control of the agenda. It's gonna be pretty impactful."
Stevens also notes that if the Republicans were to gain a majority in the House of Representatives or the Senate, the investigations into the Jan. 6 insurrection would likely be impacted or completely halted. According to Kashish, the results of the 2022 midterm elections can also impact the upcoming 2024 presidential elections. 
"Not only is former President Trump implying that he will be running, but there's division in the Democratic Party [on] whether Biden should reseek election or if a new person should go up," Kashish said. "Because of this, if nothing is majorly possible because of the policy, and the fact that Republicans will hold one of the chambers, then it will show a huge amount of inaction from the Democratic Party, and because of the very polarized state of our country, that might lead to further issues."
Many close races between Democrats and Republicans are taking place in the campaigns for Senate seats, including between Democrat John Fetterman and Republican Dr. Mehmet Oz, as well as between Democrat Raphael Warnock and Republican Herschel Walker.
"Elections have consequences," Stevens said. "This can be a very consequential midterm election, and what's even more consequential, I think that in addition to the national [aspect] that we always pay attention to the House and the Senate race, [is] what's going on individual states."
Naiya Daswani (10), who was involved in a campaign by Rishi Kumar for Congress, encourages teenagers to have a role in local politics through educating themselves and seeking out opportunities.
"Things like reading up on local councilmen who will be running for Congress [or working] on [a] grassroots campaign, whether it's canvassing or flyers or just talking with others, it was interesting to be involved as a teen in an election where I'm not yet at the age where I can vote," Naiya said.
Registered voters can deliver their ballots at drop-off locations on Nov. 8 for Election Day. View California's drop-off locations here and California's 2022 Election Guide here.
Key issues precede the midterm elections
With the midterm elections approaching on Tuesday, several key issues have influenced and guided the directions of election campaigns. From new developments to continuing problems, issues span the social, economic and political spheres. 
One major issue that AP U.S. Government student Emmett Chung (12), who has been following the midterm closely, believes will influence election results is the current state of the U.S. economy, as economic issues remain from the COVID-19 pandemic and inflation rates have risen recently.
"Voters generally are going to ascribe whatever happens to the economy to the party in power, even though sometimes it is out of the control of President Biden," Emmett said. "He couldn't have predicted that Putin was going to invade Ukraine or that the pandemic was going to happen, but that's one of the major factors that has [many] predicting that the House will flip to the Republicans, and that the Senate is also a toss up." 
Currently, according to predictions by Politico, the House will likely lean Republican, and the Senate is still a toss-up but is predicted to result in a Republican majority. 
In addition, upper school U.S. History teacher James Tate and current AP U.S. Government student Trisha Variyar (12) have both highlighted the overturning of Roe v. Wade from June as another key issue that has been a focus of both Democrats and Republicans. Tate points out the situation as an example of the current polarization in the nation as the debates surrounding abortion have led to some predicting a change in suburban women votes.
"For me, the tragedy of this is that it's another example of where we are in terms of really polarized black-and-white thinking," Tate said. "I have not heard anyone in the cultural narrative point out the standard set in Roe v. Wade was in fact itself a pretty decent compromise on the issue of abortion. People rushed to sort of take to the battlements of this issue, that it really makes me, as a lover of history, weep, because compromise is so rare and such a good thing."
In addition, Emmett notes the significance of several other voter populations that played key roles in the 2016 elections and the struggles of the Democratic party in the United States, among other nations, to maintain that support. 
"I think there's this soul searching that a lot of center-left parties have been encountering in other countries; there's this inherent dilemma between trying to maintain your bases of support, which generally come from a combination of working class, those blue-collar voters that delivered the election to Trump in 2016, and minority voters, as well as young people," Emmett said. 
Emmett predicts that one change to this year's elections may be increased allegations about "stolen" elections, especially with the increase in mail-in voting that may skew initial predictions. Trisha also emphasized candidates' heavy use of social media as a new development in recent years, with President Trump's pioneering of social media as a way for candidates to communicate with the general population. In addition, she expects more battleground states to emerge this year in comparison to previous elections.
"I think that there's gonna be a lot more battleground states than there were in previous years," Trisha said. "So I think that even if the outcome of the elections doesn't necessarily change, like for example, even if Texas maintains red, even if Oregon maintains its blueness, I think that the actual fight between the candidates is going to be a lot closer."
Registered voters can deliver their ballots at drop-off locations on Nov. 8 for Election Day. View California's drop-off locations here and California's 2022 Election Guide here.
California voters will decide on seven propositions
Voters will decide on seven propositions tonight in California's midterm elections.
Proposition 1 would codify the right to an abortion and contraceptives in California's Constitution. Currently, the state's Constitution protects reproductive freedom by stating a right to privacy, which the state Supreme Court has ruled encompasses a woman's choice to an abortion. When the U.S. Supreme Court overturned Roe v. Wade in June, advocates for abortion rights rushed to promote a measure that would more explicitly guarantee reproductive freedoms.
Kashish Priyam (10) expresses her support for Proposition 1, explaining that it would protect abortion rights from potential fluctuations in state politics. 
"Even though we see California as this supremely blue state, that's not necessarily true everywhere, and just 30 years ago, it was a swing state and majorly so," Kashish said. "I think that codifying it now is important because if the current six-three conservative majority continues in this Supreme Court, we need to set a precedent that we will protect rights that are necessary."
Upper school Civics teacher Carol Green believes that Proposition 1 will boost voter turnout as abortion remains a topical issue in the U.S. As of Sept. 23, 14 states have instituted restrictions on abortion, with about half expected to adopt a ban eventually. Besides California, Vermont and Michigan also have propositions that would seek to protect abortion rights in their state constitutions. 
"In terms of midterm elections, you see a general decline over the presidential years," Green said. "But hopefully, with media coverage of things like abortion rights and reproductive rights and in terms of examining the the balance of the U.S. Senate, that people feel compelled and feel like those are big enough ticket items to get up and go vote."
Polling data from early September revealed that 69% of likely voters supported Proposition 1, with 25% opposed and 6% undecided; most Democrats support the measure, while most Republicans oppose it. Some opponents to the proposition believe that it is unnecessary, as California will most likely uphold reproductive rights regardless of its presence in the state Constitution, but court cases over the measure's imprecise language may cost the state millions. 
Proposition 26 would allow in-person sports betting at tribal casinos and four horse race tracks, while Proposition 27 would legalize online sports betting across the state. Both have the potential to bring substantial revenue to Californiathe state, and advocates have raised over 100 million dollars to lobby for or against the propositions.
"It's interesting on the marketing strategy on each of these because some of them are taking dual, split approaches in their marketing: one trying to spin why the other [side's] bad but also some of them not actually mentioning who's benefiting, but talking about other small side topics, in terms of the big commercials that you're seeing," Green said. "So there's been so much money funneled by a lot of different interested parties, that it's one of the biggest spending in terms of propositions."
Proposition 28 would allocate money for arts and music education in public schools. Although California schools from kindergarten through high school have arts requirements, they are also particularly vulnerable to budget cuts. If Proposition 28 passes, the state would set aside an estimated $1 billion to maintain music and arts education programs; 80% of that money would be spent on hiring teachers.
Proposition 29 will impose certain requirements on dialysis clinics, such as in regards to its personnel and reporting procedures. While supporters say this will improve the quality of the clinics, others oppose spending more money on clinics that accrue significant profits every year. 
Proposition 30 would raise money to address climate change issues by instating a 1.75% personal income tax on individuals earning more than $2 million. A majority of the money would go toward expanding electrical vehicle use by providing rebates to people who purchase electric vehicles as well as by constructing more charging stations. The money would also go toward fighting wildfires by increasing the number of trained firefighters.
Proposition 31 asks voters to decide whether or not to uphold current legislation that bans the sale of flavored tobacco. A "no" vote on Proposition 31 would thus repeal current legislation.
Green emphasizes the importance of voting in midterm elections, especially local races, since they bear the most impact on people's daily lives.
"Recognize that those local ballots are what hits your pocketbook," Green said. "People vote based on what they see in their local community. If you don't like the local policies, you have to go turnout for those small elections."
Harker students host San Jose Mayoral Campaign in collaboration with Yerba Buena High School
Harker and Yerba Buena High School students hosted representatives of San Jose mayoral candidates Cindy Chavez and Matt Mahan's political team in a youth campaign forum at the Cambrian Branch Library on Oct. 25. 
Sahngwie Yim (10), Valerie Li (10), KJ Williams (12), Kris Estrada (12) and Sara Bhowmick (12), who conducted the event with Yerba Buena students, worked in public relations (PR) and moderation teams to organize and prepare for the forum. Middle school history teachers Ramsay Westgate and Keith Hirota and upper school history teacher Carol Green also attended and helped plan the event. 
In the days leading up to the forum, students on the PR team made flyers to post on social media to promote the event, reached out to schools in the surrounding area and contacted Bay Area news sources like the San Jose Mercury News to raise interest. Moderators prepared questions to ask the candidates during the forum, which were pre-approved by the separate parties. 
Jamie Livingston represented former San Jose vice mayor and current member of the Santa Clara County Board of Supervisors Cindy Chavez, and San Jose District 10 Council Member and mayoral candidate Matt Mahan attended the event in person. Both spoke with the moderators and answered questions from students.
Sahngwie, who was on the PR team, appreciates being able to see the background of planning an event with political representatives. 
"[I enjoyed] being involved in the process of organizing an event for the elections and being involved in a part of the organization from the back end, where normally we would see it from the front end… but this time, I was on the other side, helping organize it," Sahngwie said. "I think that it was really cool to collaborate with another school and help put the event together."
She also sees value in educating students about politics, especially local events and campaigns that affect citizens in their daily lives.
"Even though we can't vote, it's important to still be informed about everything that's going on in the world, especially an election that's more local than the national presidential elections. [These events] allow for more exposure to high school students [which] means that people can learn from not only planning the event but also attending and getting exposure to the bigger politics of the real adult world."
San Jose citizens will elect their new mayor during midterm elections on Nov. 8. Californians can vote in person, or use a mail-in ballot and drop it off in an official ballot box by 8 p.m. on Nov. 8.
Westgate wants to encourage students to take on their responsibility as a citizen of their city and hopes to continue working on connecting them with opportunities to talk to local politicians, regardless of whether they can vote or not. 
"[It's important to] recognize the city in which we're based in, and the notion that local government is the most easily reached," Westgate said. "That's a great place to cut your teeth if you're interested in politics, but even if you're not going to go further than that, [it's important to recognize] the notion that you have an opportunity to be engaged and work with students that know that they have things to teach you just as much as you teach them."
Harker's Student Mock Election boasts 48.9 percent voter turnout
392 upper school students voted in Harker's Student Mock Election held in history and social science teacher Carol Green's room on Monday.
With California Midterms occurring in less than a month on Nov. 8, the mock election serves as a practice round for students who will be eligible to vote and a reminder of civic engagement's importance for the community.
"When voting becomes something that we build into our schedules as a responsibility of being a community member, we're more likely to turn out to elections," Green said. "One of our primary goals in AP Government and Civics is to help students practice so that once they are 18, they feel comfortable and confident in what they're doing."
Before entering Green's room, participants browsed pamphlets for information about the seven propositions that Californians will vote on in the Nov. 8 Midterm Election. Once they were ready to cast their votes, they received their ballots from students manning the registration desk and privately marked decisions for governor, U.S. senator and the propositions.
"I thought the election was really professionally executed in terms of maintaining ballot secrecy and stuff like that," voter Arjun Moogimane (11) said. "Even though it was a mock election, they still made the effort to divide voting booths and keep ballots separated."
A special field on the Harker ballots allowed students to also select the Civics class or one of the AP U.S. Government classes as their motivating factor for voting. Representatives from these classes announced the mock election at a school meeting last week and facilitated the voting process on the day of the event. Civics student Valerie Li (10) noted how the class has explored topics relating to voting and elections in recent weeks.
"Because of the upcoming election, we've done case studies of different voting systems, such as the Australian ballot system, in [Civics]," Valerie said. "We've also looked at issues in the local community."
Green released Harker's precinct results on Monday night, revealing that 88.28 percent of voters supported Gavin Newsom for governor and 87 percent supported Alex Padilla for U.S. Senator. Of the seven propositions on the ballot, over 50 percent of students favored Propositions 1, 28, 29, 30 and 31. Proposition 1 would introduce a constitutional right to abortion, while Proposition 28 would guarantee funding for the arts in public schools, and Proposition 29 would demand kidney dialysis clinics to have at least one physician with over six months of experience. Proposition 30 would increase taxes on high earners to support climate change programs, and Proposition 31 would defend the current ban on flavored tobacco products. Lastly, Green's fifth period AP U.S. Government class emerged as the greatest motivating factor for voter turnout.
Because Harker has connected with the California Secretary of State's office within the last two election cycles, the votes from Harker's precinct also contributed to the overall results of the California Student Mock Election. Green noted how the 48.9 percent turnout at Harker surpassed those of 18 to 24 year old voters in the 2018 midterm elections from California and the Silicon Valley, which were 27.5 percent and 36 percent respectively.
"The fact that we have so many Harker students turning out in an election where their votes aren't going to elect people [makes me think], 'Just imagine what these students are going to be able to do when they're adults,'" Green said.
Students who turn 18 by Nov. 8 will be eligible to vote in the 2022 Midterms, while students 16 and older can pre-register to vote online.