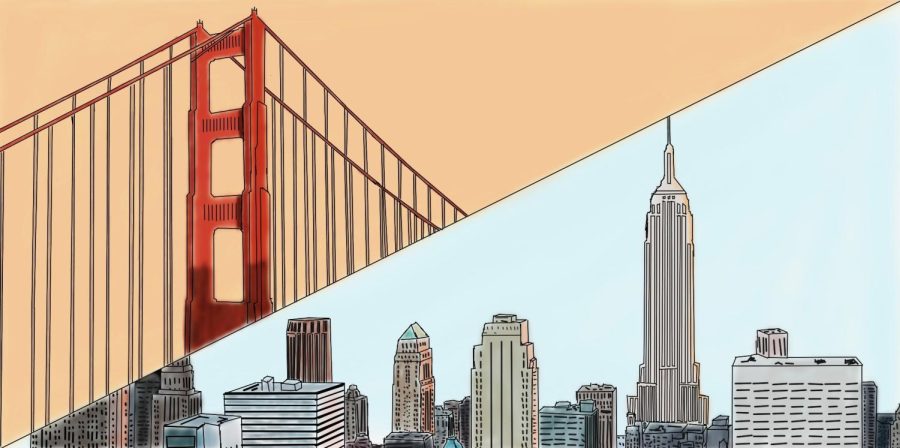 Perspectives: From sea to shining sea, battling for the best coast
November 27, 2021
West coast, best coast: West and best were made to rhyme
Climbing along the boulders that line the cliffs of Point Lobos State Natural Reserve, the ocean roils below in bursts of white froth and indigo depths. Delicate drops of ocean spray scatter across the rough rocks as I stake my claim on the tip of the cliff. The gulls, the towering cypress trees, the endless wind, encapsulate the unmatched beauty of the West Coast. Misty mountains and redwood forests rise up beside snow-white beaches, a coastline of grand sublimity.
California alone houses more natural reserves than any other state, with its nine National parks spanning the desert environment of Joshua Tree National Park to the sprawling Sierra Nevada mountain range of Yosemite and even steaming geysers at Lassen Volcanic National Park. Highway 1 gladly takes you through these landmarks and more, running through the iconic Golden Gate Bridge, past countless white sand beaches, ancient forests, vineyards and down to Los Angeles, the indisputable hub of entertainment. If you're getting hungry on a road trip, where better to stop than In-N-Out? Although the chain restaurant's fries might not be top tier, its cheeseburgers certainly are. Perfectly bite-sized and never too dry, In-N-Out is also the only burger chain I've actually been able to finish a burger from. If you're looking for something more nutritious, Chipotle also dots the landscape. With its headquarters in Newport Beach, its tacos and burrito bowls offer an endless array of toppings.
Beyond its expansive terrains covering all possible ecosystems and cityscapes, the West Coast boasts an unbeatable climate.
Do you really want to be shoveling snow out of your driveway first thing in the morning while enduring freezing temperatures? Is the thought of rolling out of your warm bed to blasts of cold air really that enticing? When it comes to weather, the West Coast provides the ideal climate due to differences in geography.
Throughout winter and early spring, the West Coast consistently beats out the East for warmer temperatures. And when trying to escape from the heat in the summer, the East Coast is smothered with tropical humidity, since warm water from the Gulf of Mexico moves along the seaboard, creating unwanted evaporation and making the stifling heat feel even hotter. Winds along the West Coast provide a natural respite, as wind patterns push cool air onland. 
Warm weather results in greater health benefits, as a study conducted by the Stanford Hoover Institution found that deaths peaked in winter months and fell during summer months and calculating that an increase in 2.5 degrees Celsius prevents 40,000 deaths each year. Sunlight is also a powerful mood booster, stimulating areas of the retina that increase serotonin production in the brain, reducing symptoms of seasonal depression.
To those who claim that the West Coast lacks in culture since it was integrated into the Union after the Mexican Cession and drawing of the 49th parallel in the 1840's, the west simply embraces a more open and hospitable mindset. We're not short of museums either, with The Getty Center's permanent collection of paintings and illuminated manuscripts and California Academy of Sciences' planetarium and rainforest.
Although the West Coast might only consist of three states compared to the East Coast's jumbled 14, its sights and sounds suit every taste, from unmatched natural scenery to unique cityscapes. As the old adage rings true, West Coast, best coast.
Leave a Comment
East coast, beast coast: Going back to where it all started
What makes America, America? Is it the rich natural diversity, from the glorious gorges of the Grand Canyon to the flourishing floods of the Niagara Falls? Perhaps it's the melting pot of communities that integrate to form an intricately interwoven quilt of cultures, cuisine and creations? And maybe still, America could be defined by its assorted architecture and artistry, buildings and brushstrokes that pay homage to our, quite literally, colorful past. All in all, America is unparagoned.
Though this simple characterization applies to each and every one of our 50 nifty states, one cluster of 14 stands out to epitomize this American ideal: the place that started it all, the East Coast. 
Simply put, the East Coast is everything the West Coast wishes it was, the cool big brother that the latter can never live up to. Sure, I could be a typical Harker kid and bring up the "US News Best National University Rankings," but that'd just be unfair. I mean Massachusetts alone beats the entirety of the West Coast. Instead, let me point you to the World Population Review's "Best States for Education." The East Coast states make up a whopping 70% of the top 10 states with the best school systems list. Not a single state on the western seaboard makes the cut. But, of course, the East Coast isn't all work and no play.
Truly, whoever said "less is more" was kidding themselves. With 11 more states, the East Coast trumps its western counterpart by sheer quantity alone, satisfying pretty much any travel craving you may long for. Ready for a wild spring break after a long semester? Head down to Key West or Daytona Beach in Florida. Trying to find a mecca of music? Take a trip to good ol' New York, New York, where you can immerse yourself in every style from reggaeton to showtunes. And, if such scenes are a little too fast paced for your taste, don't fret. You could always go fishing in the cool waters of Cape Cod, Maine, or live out your best "Gilmore Girls" dreams as you observe the changing leaves and small town festivals of a Connecticut fall.
Speaking of fall, we can't ignore the East Coast's beautifully distinct seasons and the absolutely iconic fashion choices that come with them. Having lived in California for my entire life, I can say with conviction that our perpetual summertime is overrated. As I always say, too cold is better than too hot (but that's an opinion for another time). There's no better feeling than bundling on some chunky boots and a thick jacket, putting in directions to the nearest ice skating rink and stepping out from the heater into the brisk, snowy winter air as Nat King Cole croons in your ear tales of chestnuts and Jack Frost. On the West Coast, the only thing nipping at your nose is wildfire smoke.
So, really, West Coast, best coast? All I can say to that unoriginal and frankly untrue rhyme is East Coast, beast coast. 
Leave a Comment