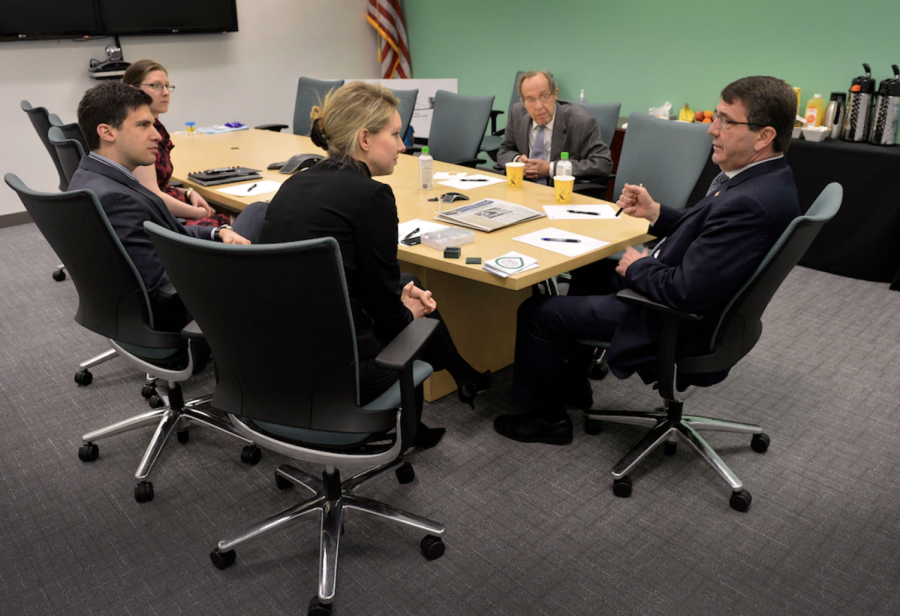 Provided by defense.gov
Elizabeth Holmes trial for fraud and conspiracy intensifies in its 8th week as more witnesses take the stand
Years later, her actions reverberate throughout the business and tech worlds
Former employees and investors in Elizabeth Holmes's now defunct Silicon Valley biotech startup Theranos testify against the company as Holmes faces charges of fraud and conspiracy in the eighth week of her trial at a San Jose courthouse.
"
I feel that the mistakes that [these women] made may have been the same as their male counterparts, but they were made to look tenfold worse by the media"
— Upper school computer science teacher Anu Datar
Since the trial began on Sept. 8, the two sides of the bench have painted starkly different pictures of Holmes, 37, who founded Theranos as a 19-year-old Stanford dropout in 2003. Once lauded by Forbes as the world's youngest self-made female billionaire, Holmes now stands trial for two counts of conspiracy to commit wire fraud and 10 counts of wire fraud and faces a sentence of up to 20 years in prison; she has pleaded not guilty to these charges. Her company falsely claimed to have invented a machine that could execute hundreds of medical tests with a single drop of blood from a patient's finger with faster, more accurate and more affordable tests than conventional lab equipment.
Upper school biology teacher Mike Pistacchi heard about Theranos before its downfall and read the bestselling book "Bad Blood: Secrets and Lies in a Silicon Valley Startup," which explores Holmes' story in detail. He immediately doubted the verity of Holmes' claims due to the limitations of the biotechnology she described.
"You just can't work with that little sample without some sort of miraculous innovation in what's called microfluidics," Pistacchi said. "You have to find some way to divide up that blood drop in a way that allows you to run all these tests on a tiny fraction of the amount of blood [usually required]."
10 years after its founding, Theranos partnered with pharmaceutical company Walgreens and announced that they would be establishing Theranos "Wellness Centers" inside stores. Stores in Palo Alto were some of the first to launch these "Wellness Centers," though Walgreen executives' skepticism and hesitation with the company stagnated their creation. Theranos offered testing services to the public starting in late 2013, but their inaccurate tests harmed patients, including Brittany Gould who testified that Theranos' test had inaccurately indicated a miscarriage.
"They were doing things that have real impacts on real people and patients," Pistacchi said. "I don't feel so bad about a billionaire investor losing a few million dollars, but I feel terrible about a person who goes to get a blood test at Walgreens and is put into medical danger because this company is defrauding."
Upper school computer science teacher Anu Datar, who previously worked at Yahoo, noted that the tech industry is "a boys' club" and initially admired Holmes as a female leader and CEO in a male-dominated field. In 2021, 41 female CEOs made the Fortune 500 list, which ranks the 500 largest corporations in the U.S. by total revenue. Datar believes that the lack of female representation in the tech industry impacts the public's response to Holmes and other women in positions of power.
"I feel that the mistakes that [these women] made may have been the same as their male counterparts, but they were made to look tenfold worse by the media," Datar said. "It's the attitude that people have towards women in technology in general, that 'you're responsible and you did this really badly,' so [the media] just makes it seem bigger than it is."
Datar also elaborates on what she believes Holmes' intentions were.
"I sincerely believe that she started off not trying to fool anybody or deceive anyone, but somewhere down the line, she lost it," Datar said. "I don't think her actions were actually wrong to a point beyond which she failed to recognize her failures and stop."
Holmes' downfall began in 2015 when journalist John Carreyrou published a piece in the Wall Street Journal revealing that the company relied on traditional methods to collect blood and then diluted it so that it could be tested using conventional blood-testing machines rather than the Theranos "Edison" machines. In 2018, the Securities and Exchange Commision (SEC) charged Holmes and Balwani with civil fraud; the company dissolved in the same year. 
"
You can't drop out of college and know how to make a brilliant medical diagnostic device. The investors were led down a path by tech successes that did not translate to biotech successes."
— Upper school biology teacher Mike Pistacchi
The court proceedings began with federal prosecutor Robert Leach accusing Holmes of administering faulty tests and cheating investors out of their money despite allegedly possessing full knowledge of her technology's inefficacy and Theranos' strained finances. Leach also claimed that Holmes held sole jurisdiction over the company and its decisions. On the other hand, Holmes' defense claims that former Theranos president and COO Ramesh "Sunny" Balwani, also Holmes' former boyfriend, was "dominating her and erasing her capacity to make decisions," according to court documents filed before the start of the trial. In response, Balwani's lawyers denied these accusations, calling them "salacious and inflammatory." Balwani will face trial beginning January 2022 for the same charges as Holmes.
Since the establishment of these opening stances, the court has invited witnesses to the stand and perused additional evidence such as emails and text conversations. In earlier weeks, former Theranos lab director Dr. Adam Rosendorff has testified about the inaccuracy of the Edison tests; according to him, Holmes was aware of these problems yet chose to press onward. In response, Holmes' defense has blamed former Theranos lab director Dr. Adam Rosendorff for reporting the inaccurate test results. In the seventh week of the trial, former senior product manager Daniel Edlin testified that Theranos often removed erroneous results before reporting to investors and that executives instructed him to purposefully keep these inaccurate findings hidden.
From its beginnings in the early 2000s, the story of Theranos has captured the American public's attention, resulting in Theranos' valuation at $9 billion during its peak in 2014. Holmes' story of a bright, charismatic Stanford dropout who launched a startup with revolutionary technology recalled the path of previous young tech entrepreneurs such as Mark Zuckerberg. Pistacchi highlights the differences between these code-heavy tech startups in comparison to biotech companies grounded in extensive research and its effects on investors.
"You can't drop out of college and know how to make a brilliant medical diagnostic device," Pistacchi said. "The investors were led down a path by tech successes that did not translate to biotech successes."
Distributive Education Clubs of America (DECA) Vice President of Competitions and Strategy Anika Muddu (11) believes that the Silicon Valley culture of searching for the newest "disruptions" in current technology caused the huge interest in Holmes' idea, but she stresses that ethics should still remain at the forefront of a business.
"In order for an invention or a business to be good, you should be open and honest and it should be legal," Anika said. "I know the main goal is to be successful, but the correct path to get there is following these certain rules."
Years later, Holmes' actions leave a lasting impact on the way investors perceive women as scientists and entrepreneurs today. These effects include increased hesitancies from investors and constant pressure to prove that their company will not repeat the fate of Theranos.
"Having [an influential female] name like that be disgraced can influence perception in the future," WiSTEM co-president Kavita Murthy (12) said. "For women in the industry, the [fact] that a woman was able to deceive so many people had to leave that imprint of, if women are already not seen as suitable to be doing the job, whether they should be just because of this deceit."
23andMe CEO Anne Wojcicki, whose company is based in Silicon Valley, has faced pressure to prove how her company differs from Theranos, which she explains is because of 23andMe's "culture of transparent science" that has gained consumer trust. Wojcicki enforces publications, science and scrutiny in her company to ensure transparency with customers, claiming "Theranos was never transparent" and encouraging clarity in biotechnological research and services.
Campus feedback has remained largely in support of serious consequences for Holmes' crimes, with Pistacchi, Anika and Kavita agreeing that Holmes deserves punishment for the harm she caused to patients.
"I hope she gets a long enough sentence to justify her actions because what she did had long term effects on people," Kavita says. "If she hadn't been caught, severe damage would have been done and hopefully the jury and the lawyer can reach an agreeable sentence of where she's properly punished for her actions."
Datar also believes that Holmes should receive repercussions for her crimes but proposes a more empathetic approach to the case.
"We should also take into context the fact that she is a brilliant individual and every individual has their feelings and shortcomings," Datar said. "There are a lot of factors that come into picture, and I would like her to be treated as humanely as possible yet held accountable for what she did."
If convicted, Holmes could face a sentence of 20 years in prison, a $250,000 fine and restitution for charges of wire fraud and conspiracy.