Spirit Rally returns full force, brings Homecoming Week to a lively close
October 9, 2021
"Hello students and faculty, and welcome to Homecoming Rally 2021! Who's ready to win points for their class?"
Harker Spirit Leadership Team (HSLT) president Alysa Suleiman exclaimed to cheers and applause from the blankets of green, yellow, black and white-clad students seated under billowing banners and flags.   
Students and teachers flooded Davis Field for the annual Homecoming rally held during Homecoming week on Thursday. The one-hour event featured lip sync skits from all four classes, performances by the cheer team and Harker Dance Company (HDC), "Name that Tune" with faculty participants and a relay with Homecoming Court representatives. After updating points earned from the rally, the seniors lead spirit standings with 1200 points, followed by the juniors with 900, sophomores with 600 and freshmen with 575. Thursday concluded this year's Homecoming week, but on Friday HSLT also held a scavenger hunt guided by riddles.
Upper school community unites through Spirit Rally activities and performances
Director of Student Organizations and HSLT adviser Eric Kallbrier and Director of Upper School Community Service and Student Activities Coordinator Kerry Enzensperger began the rally by announcing the winners of the eagle painting competition in which the class of 2022 earned first place, followed by the classes of 2023, 2024 and 2025. 
Following these announcements, the cheer team took the field and performed to a medley of songs, including remixes of "NO" by Meghan Trainor and "Work" by Rihanna. During their energetic number packed with jumps, rolls and flips, the team also debuted difficult lifts and throws in preparation for their halftime show during the Homecoming game today. Cheerleader Alex Fu (10), who attended their first Harker spirit rally, also performed in front of the entire school for the first time and treasures the memorable experience.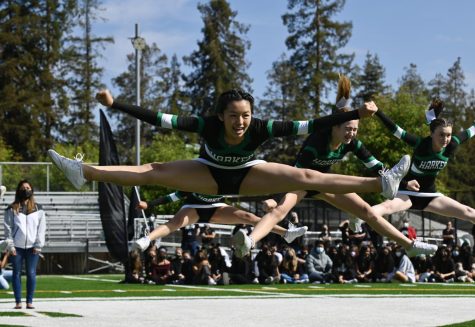 "First time [was] definitely really energized, and I absolutely loved it," Alex said. "It was nerve-racking in the beginning, but I'm just really excited to get out on the [Homecoming game] field and perform what we learned throughout the past few weeks."

The rally then progressed into the main event of the morning: the lip sync competition. In groups of 15 to 20 students, each grade level performed a skit related to their class theme: old-school movies for the freshmen, old-school music for the sophomores, new-school music for the juniors and new-school movies for the seniors. The students wrote, choreographed and organized their performances for approximately two weeks and coordinated meeting times to work and rehearse.

The freshmen kicked off the lip sync with their homecoming-themed skit. Dressed up as students from the different classes, they re-enacted several moments from Homecoming week, including their tug-of-war victory over the junior class. 

"It's fun being able to rep[resent] my class while also performing," Jason Shim (9) said. "At the middle school we didn't have as public displays of Harker spirit. Even though we had these four quadrants, we still came together as a school."

Seeing the underclassmen experiencing the rally provided a moment of nostalgia and reflection for some upperclassmen at the way their class progressed in spirit over their time at Harker. For Teresa Cai (12), these emotions arose from watching the freshmen class lip sync.

"It reminded me of how much we've grown as a class—the class of 2022—from when we began," Teresa Cai (12) said. "Watching my class come together and cheer really loudly and to hear the freshmen cheer really quietly and get more excited as time went on [and] as other grades also ramped up the energy, it felt really cool."

The sophomore skit opened to a scene set at a Homecoming dance, with dance partners swaying to a soothing song. Suddenly, an argument ensued over the merits of old-school and new-school music, and the students took sides in the debate. With songs such as "Africa" by Toto, "Wannabe" by Spice Girls and "Hakuna Matata" and "Can You Feel the Love Tonight" from "The Lion King" soundtrack, the skit contained humorous banter between the two sides as well as comical dance routines, concluding with the sophomores reconciling in their agreement of old-school music supremacy.

Ella Lan (10), who led the choreography and recruiting aspect of the preparation process, participated in the lip sync and rejoiced at their successful performance, which, according to Ella, not only went smoothly but also proved to be their best yet.

"It felt really nice to be able to perform in front of the school with such a spirited rally and having everybody there and finally together," Ella said. "Spirit meetings on Zoom just aren't the same. [Today's rally] felt so much more alive."

The junior class, with the theme of new-school music, hosted their version of the 64th annual Grammys, packed with popular post-2000s songs such as "Shake It Off" by Taylor Swift, "DDU-DU DDU-DU" by Blackpink and "What Makes You Beautiful" by One Direction; the playlist of both iconic and nostalgic tunes evoked enthusiastic reactions from the crowd. The students paired each song with a dance routine complete with props such as "1D" stickers on their shirts. In the finale of the ceremony, the juniors crowned Taylor Swift, played by Paulina Gicqueau, "Artist of the Year," referencing her iconic hit "22" in closing.

"

Spirit meetings on Zoom just aren't the same. [Today's rally] felt so much more alive.

— Ella Lan (10), lip sync participant

"I don't know about you, but I'm feeling 23!" the performers exclaimed while pointing towards the juniors' quadrant of the field. 

HSLT Vice President Sawyer Lai (11), who worked with the rest of the HSLT executive team to write the script and plan the rally, enjoyed the performance and described the exhilaration of organizing and experiencing a school spirit event after a year and a half apart.

"Even though we haven't had a rally in a couple of years, it felt very comfortable," Sawyer said. "I don't think there were any major issues with it. People were excited for the rallies since we haven't had one in two years; there was a lot of energy and it was really nice."

Before the seniors concluded the lip sync competition, the Harker Dance Company took center field. Shining in glittering green leotards emblazoned with a white "H," the eleven dancers showcased their synchronization, skill and sass while keeping tempo with "Chapstick" by Todrick Hall. They will also perform during half-time at the Homecoming game today.

Sally Zhu

The seniors, with the theme of new-school movies, paid homage to notable post-200s movies. As two students bickered over which movie to watch on TV, the channels flicked through glimpses of iconic scenes including quotes such as "Yer a wizard, Harry" from the Harry Potter series, "Get in loser, we're going shopping" from "Mean Girls" and "Just keep swimming" from the Finding Nemo series. For the finale, the seniors danced to "We're All in This Together" from "High School Musical."

Teresa, who participated in the lip sync, reminisced on her past experiences participating in the lip sync and recognized the unique position of the senior class this year.

"A lot of us felt a bit sad to realize that this is our last rally, [and] that helped to make everyone excited and committed to do the lip sync," Teresa said. "It feels good to go back to something familiar from our previous years of high school. I'll be sad to leave and I think that a lot of the other seniors in the lip sync feel that way too: they were excited for it but also a bit sad that this was our last year."
While the judges deliberated over the lip sync rankings, two faculty representatives from each class competed for spirit points in a game of "Name That Tune." The contest featured hits across all decades, such as "Toxic" by Britney Spears, "Sweet Caroline" by Neil Diamond and "Traitor" by Olivia Rodrigo. Raising their hands to victory, junior advisors Brigid Miller and Brian Larsen received 100 points for their class. 
After a brief performance by Jazz Band, the Homecoming Court class representatives gathered on the field to participate in a relay-style contest for spirit points. Melody Yin and Alex Zhong; Justin Chao and Daniel Lin; Sawyer Lai and Atri Banerjee; Kaden Kapadia, Aaron Lo, Nicole Tian, Ayan Nath, Elvis Han and Malar Balar represented the Classes of 2025, 2024, 2023 and 2022, respectively.
The relay was split into the sack hop, log roll and flag run, which required students to jump in a sleeping bag, roll back to the starting line and retrieve their class flag. The class of 2024 claimed victory, followed by the classes of 2022, 2023 and 2025.
Finally, Kallbrier announced the winners of the lip sync contest, in which the class of 2022 took first place, followed by the classes of 2025, 2023 and 2024. HSLT president Alysa Suleiman (12) concluded the meeting with a final cheer from each class.
Harker Day begins today at 11:30 a.m., and the Homecoming football game against Marina High School begins this evening at 6:00 p.m.
A previous version of this article misnamed freshmen Aishani Singh and Sara Glusman as Sanaa Bhorkar and Sara Housman in the first photo. This article has been updated on Oct. 10, 2021, to reflect the correction of this error.