Four years later, the fight continues
This year's San Francisco Women's March sees smaller turnout, continuing energy
January 22, 2020
"I do my hair toss / Check my nails / Baby how you feelin'? / Feeling good as h—." 
Vendors lined the streets near the protest, selling goods from feminism flags to caricatures. As Lizzo's hit single "Good as H—" boomed from the loudspeakers, voices across the mass of eager faces, pressed up against the railings, enthusiastically belt out the lyrics to the catchy song. 
A group of high school students from Mercy San Francisco decked in hot pink and poppy red in the front of the crowd danced and jumped along to the beat of the music, inspiring the attendees around them to join their celebration. The excitement of the 30,000 people gathered in the San Francisco Civic Center Plaza swirled in unseen currents beneath the shadows of their posters. A cacophony of applause and cheering, whooping, hollering and clapping buzzed through the air as demonstrators waited for the protest to begin.
"I feel like as a woman in San Francisco we have so much privilege to be able to go to these events and speak out. We just really want to show our support for other places in America and around the world that don't have this freedom of speech and expression," said Kristin, a senior from Mercy High School San Francisco, who was dancing with her friends before the rally.
This year's San Francisco Women's March rally began at around 11:30 a.m. with a native grandmother song performed by Mutsun Ohlone and Chumash Native American activist Kanyon Sayers-Roods from Hollister. In her opening speech, Sayers-Roods acknowledged the Missing and Murdered Indigenous Women coalition, members of which seek to raise awareness about violence against indigenous women and later led the march through the city.
After Sayers-Roods' song, the rally proceeded with remarks from mayor London Breed, Californian Lieutenant Governor and former U.S. ambassador to Hungary Eleni Kounalakis and other notable female political figures and activists. In many of the speeches delivered ran a common message of empowerment and progress through gender equality.
"When we talk about getting to gender parity in this country, we can no longer just say that this is human rights or this is about fairness," Kounalakis said in her rally speech. "This is about a goal of being the best country we can be, because when men and women are working together side by side with respect, in the highest levels and all across, something magical happens. We bring out the best in each other."
The sentiment of empowerment was shared among those gathered in the plaza as well. Enthusiastically waving his "I'm With Her" sign featuring markered blue, purple and gold multi-colored arrows pointing in all directions, Bryant Regalado, 28, was also one of thousands of avid supporters of the march pressed against the railings, along with 28-year-old friend Mary Bourgeois.
"I believe that all women should have the same rights as men, if not more," Bryant said. "My sign says 'I'm With Her' because I'm with everyone here. Anyone who is here to represent and fight for women's rights, I'm with them and I agree with them, all of them. They're all here for the same things that I believe in."
Turnout at the march was smaller than in previous years. According to Martha Shaughnassy, founder of The Key PR, which managed the Women's March press relations this year, about 30,000 people participated in the San Francisco rally, and about 12,000 people marched down Market Street this year. According to Shaughnassy, an estimated 100,000 people marched in the first Women's March in 2017, an estimated 60,000 people marched in 2018 and an estimated 30,000 people marched last year.
Donna Navickas, 68, was still pleasantly surprised at the number of people who took to the streets. Navickas marched with her granddaughter in her arms to "protect her rights as a young woman and her democracy."
"I was afraid that people would get apathetic and stop voicing their opinions because they felt that it was going nowhere, and obviously people do think it's still important to voice their opinions and to let their voices be heard," Navickas said.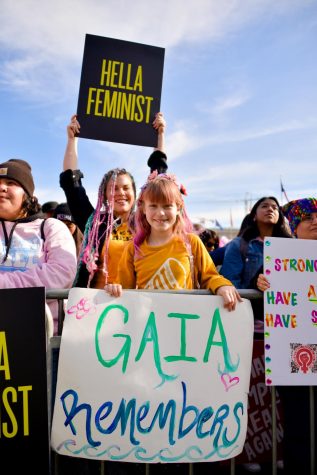 Standing alongside many adult voters and activists were children, some sitting in strollers, many bearing protest signs of their own. Seven-year-old Stella, who brought a hand-made poster that read "Gaia Remembers" in flowing blue and green script, came to the Women's March with her mother for the first time this year.
When asked why she believed the Women's March was important to her, Stella had a simple response that distilled many of the speakers' messages into one sentence. 
"Women need to be respected," she said, drawing a smile from her mother.
Also among the younger generations who took to the streets on Saturday was Alvin Lee, a junior at Mission San Jose High School in Fremont. Alvin, who is the executive director and one of the initial founders of GenUP, a student-led organization that advocates for education, has attended the march since  2017 and is proud to see GenUP leading San Francisco's youth contingent for the very first time, calling their role "crucial."
"It's very important that us as high school students come out and support movements whether its march for education, whether that's marching against gun violence, whether that's marching for feminism," he said. "All of them are intersectional so it's very crucial that we come out and show this older generation that's destroying our futures right now that our voices matter and that our futures do matter."
The intersectionality of the Women's March's cause addresses recent political developments as well, such as the escalation of military tensions with Iran. Barry Thornton, 69, and around half a dozen other protestors brought a banner to the Women's March denouncing the U.S. decision to kill Iranian general Qasem Soleimani, calling for de-escalation instead of further intervention.
"What Trump did was extremely dangerous, and that crisis is not yet over — it could burst out into open war," Barry said. "I'm out here because I think [his] regime represents an existential danger to humanity and the planet. And what we need is millions of people in the streets saying 'no.' That's why we're marching."
While the march sought to represent a diverse set of identities, Tongva-Ajachmem artist and activist L. Frank, 67, believed that indigenous people should have been invited to play a larger role in the march's leadership. She came out to the march "in support of women in general and murdered and missing indigenous women in particular."
"People mentioned the indigenous, but I didn't feel it. We need to be more than a presence, we need to be involved. We become just the next in line of someone who's going to speak," Frank said. "It just needs more work, more conversation. Don't just invite us on the day to show up, invite us on the day you plan the speakers."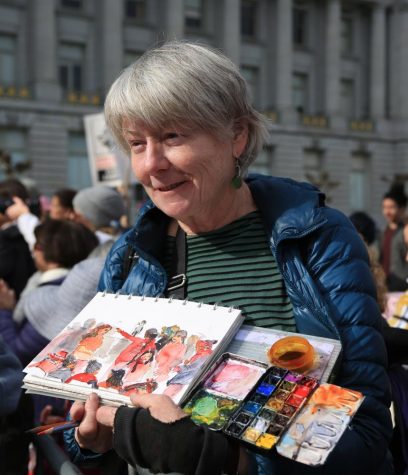 The Women's March, among other recent protests, continues to offer an avenue for people to engage in political activism, exercise their First Amendment rights and voice their opinion on local, national and international issues. Some of the demonstrators in the crowd found alternative mediums of expression, such as San Francisco-based artist Laurie Wigham, who, while listening to rally speakers, was creating a watercolor painting on the sidelines. On her canvas and palette, which were propped against the metal railing, were splashes of red and brown that formed a scene of the indigenous rights activists gathered at the foot of the stage.
Wigham, who has been to every Women's March since 2017, often paints scenes at protests, which, as she describes, offers her "another way of showing what's happening today."
"I'm afraid that the energy will wane for these marches, and I want to make sure that I'm there showing that it's not and that this still matters and that we're still fighting and that we're not just getting discouraged because there's so much craziness happening in Washington and everywhere else," Wigham said.