Students and faculty voice their support for MSD victims in activist activities, banner
September 1, 2018
After the conclusion of the vigil yesterday which honored the 17 victims of the Feb. 14 shooting at Marjory Stoneman Douglas High School, upper school students and faculty were the given the opportunity to participate in a number of advocacy and solidarity activities organized by student council, the forensics program and the journalism department.
Banner decorating and signing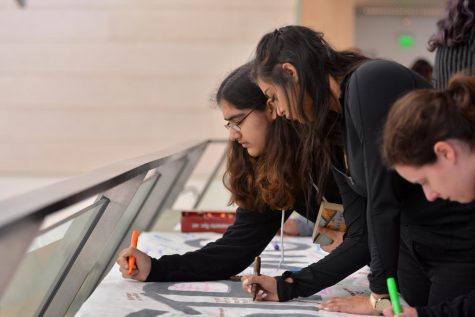 The pristine white banner, colored all the more vibrant in a rainbow of words of support, displays its message proudly: #MSDSTRONG, outlined in thick block letters shaded MSD–red and black. Hunched over in concentration, contributors populate unfilled spaces with the anthem "we remember."
One of student council's many initiatives of solidarity, the banner will be sent to MSD to be hung in their school halls, carrying the well wishes of an ally expressing love from more than 3,000 miles away.
"I think it's really important to find a solution to make sure that this never happens again, but I also hope that it'll bring solidarity for the lives lost, and that's why I think going to the vigil [is] super important because these 17 people, most of them—14 of them—were our age," student council partner and solidarity head Esha Deokar (11) said. "They were 14-year-old girls, 16-year-old boys—it's heartbreaking to have their lives been taken away so quickly."
March For Our Lives and letters to elected officials information tables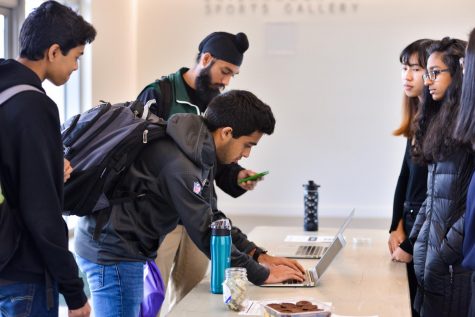 Outfitted with signs proclaiming "March For Our Lives: March 24," donation jars and signup-ready laptops, the March For Our Lives kiosk aims to inform the Harker community of the ways they can contribute to lasting change and to encourage them to take on a proactive role in political affairs. And it's as easy as driving to a local March For Our Lives and joining the crowds of impassioned students peacefully drawing attention to the need for tighter national gun legislation.
The March For Our Lives movement, scheduled to take place in local city centers across the country on March 24, invites all to take a stand for the 17 victims killed during MSD shooting as well as the countless lives lost in previous mass shootings. Marchers in Washington D.C. plan to meet at Pennsylvania Avenue at 12 p.m. EST.
To find a Bay Area March For Our Lives sibling march close to you, enter your zip code or city of residence here.
On the other side of the lobby, lists upon lists of senators' and representatives' contact information cover the tablecloth in a sea of blue hyperlinks and phone numbers. Consulting detailed maps outlining the various congressional districts of the Bay Area, students pause, with pens in hand, in contemplation before resuming their writing. With the Harker insignia proudly stamped against the white cardstock, the call for action is loud and clear: we are students, and we demand positive change.
Students and faculty were encouraged to compose and sign short letters to elected officials petitioning for stricter gun laws. Laptops set up at the table offered additional outreach tips for those interested in alternative methods of reaching out to authorities.
California's two senators are Dianne Feinstein and Kamala Harris. To find which representative heads your congressional district, enter your home address here.
Student council snack bar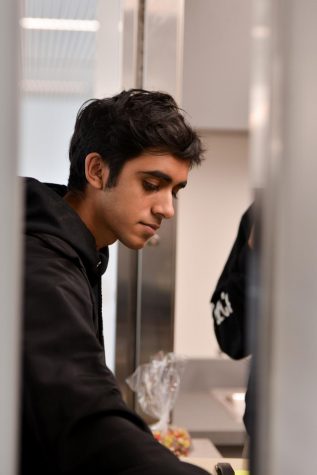 Originally intended to supply students with a quick hunger fix to fight through the school day until lunch, student council's snack bar now markets its popcorn, bagels and cake pops to raise money towards helping MSD recover from the loss of 17 members of their school community.
Proceeds from all snack sales will be donated to a MSD victims' fundraiser, whose goal is to provide each MSD student with a #MSDStrong sweatshirt, and to MSD itself. Students may purchase concessions using cash, punch cards or charge sheets this Friday during advisee reviews at the Chowda House as well as on March 20 and 21 before school at Manzanita.