Journalism students attend national convention in Seattle
April 13, 2017
Wondering how Harker Journalism spent our Spring Break? 22 Harker journalists from across all four staff publications learned more journalistic skills and sight-sea-ing in the city of Seattle for the JEA/NSPA Spring National Journalism Convention! #nhsjc
Upper school journalism publications take home top awards
Winged Post and Wingspan, the upper school's student newspaper and newsmagazine, received awards at a national journalism convention in Seattle, Wash. last Saturday.
Winged Post took sixth place in the broadsheet newspaper category of the convention's Best in Show competition, and Wingspan placed fifth in the competition's newsmagazine category. The top 10 winners in each category were announced at 3:30 p.m. on Saturday both at the convention and through the NSPA's website.
The Journalism Education Association (JEA) and the National Scholastic Press Association (NSPA) sponsored the convention, which ran from Thursday to Sunday. Advisers and student journalists could enter their school publications into the Best of Show competition before 4 p.m. on Friday.
"It feels really awesome because we put a lot of work into those issues— we did a lot of bigger stories and we weren't sure how they would pan out," Winged Post managing editor Sahana Srinivasan (11) said. "It was cool to see how we compared amongst other schools, especially bigger schools with bigger papers. It was a nice affirmation of all that we've done this year."
Representatives from the NSPA judged print and broadcast publications in the categories newspaper broadsheet, newspaper tabloid, newspaper special edition, newsmagazine, literary magazine and broadcast program. Entries for websites and yearbooks were divided into brackets by school size and number of pages, respectively.
Winged Post placed third in the Best of Show competition last year, and the journalism program's student-run online news website, Harker Aquila, took home a NSPA Pacemaker award for online reporting.
Tim Harrower's "Fables, fairy tales and fake news"
Seattle—Journalist Tim Harrower presented as the keynote speaker at the opening session of the National High School Journalism Convention here on April 6.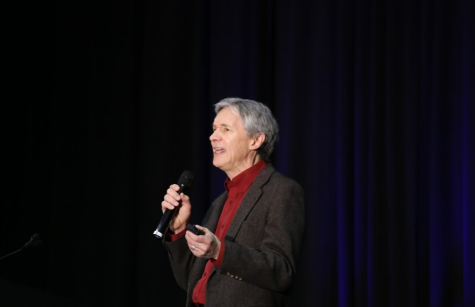 His presentation to the high school journalists attending the convention gave students perspective on accurate reporting and bias in the 21st century.
In his presentation, titled "Fables, fairy tales and fake news: Bedtime stories for journalists," Harrower presented important lessons of journalism to those attending with modified children's stories.
Here are a few of the stories Harrower shared.
The Lion and the Mouse
Story: In the depths of the forest, a brave little mouse heard a strange noise coming from behind the brush. She followed the sound and came across a distraught lion who was sobbing over a thorn in his paw that he could not remove. The mouse, eager to help, came to his aid and extracted the thorn—much to the relief of the lion, who expressed his gratitude and promised to not forget what the mouse had done for him. But when she approached the lion the very next day, the lion, unable to recognize the mouse that had relieved him of so much pain, pounced upon her and swallowed her in one bite.
Moral: To a lion, all mice look the same—and, in the same way, to readers, all stories look alike. According to Harrower, what puts some pieces above others is creative energy, shown in a combination of various elements including innovative page layouts, attention-grabbing layouts and inspiring photos.
Chicken Little
Story: Chicken Little was a journalist working for a big company. He loved his job, but there was one problem: the sky was falling, for he realized that the content his newspaper produced did little to actually serve its readers. So Little, his mind buzzing with inventive ideas, attempted to urge his co-workers and executives to adopt more meaningful and interactive methods of storytelling. They did not listen to him, and Little—believing there was nothing else he could do—did not execute his creative vision. Due to its lack of readership, the newspaper eventually went out of business and was replaced by a restaurant run by corporate overlords. And Chicken Little? Well, he did, in a sense, serve the public—as a bucket of fried chicken.
Moral: Chicken Little had all the big ideas, and he allowed those around him to subdue these ideas by not telling the real story—and, as a result, his sky truly did fall. When you've got a newsworthy story to tell, don't let anyone stop you from telling it!
Little Hen
Story: This story starts out similar to Chicken Little. Henny Penny, a reporter, had great ideas for storytelling, but none of her coworkers wished to contribute to her journalistic endeavors. But unlike Little, Penny took matters into her own hands and designed, edited, wrote for and published her very own content. Penny's work was acclaimed throughout the world of journalism, and she even won a Pulitzer Prize for her story. Invigorated by her good work, Penny went on to found tech companies Cluckr and FaceBeak and achieved billionaire status.
Moral: Henny Penny was able to utilize her many talents to take initiative and tell the story that she wanted to tell. Be good at numerous aspects of whatever you're doing, but be great at one.
A home away from home: Seattle's Moore Coffee Shop features unique latte art, tasty pastries
Seattle—A cozy nook complete with leather couches and furry pillows occupies the right corner of the room. To the left, an artificial fireplace crackles softly, its dim, warm glow radiating through the space and bouncing off the walls adorned with framed vintage photographs.
Located on Second Avenue near Pike Place Market here, Moore Coffee Shop draws customers in from the chilly weather with bright turquoise umbrellas and an inviting sign. Upon walking into the local cafe, guests are greeted by a friendly barista behind the counter and the aroma of creamy coffee.
The furniture is typical of a coffee shop—wooden tables and benches juxtaposed with brass fixtures—and fits in with the homey, soft ambiance. Moore also uses angular white couches and large window panes to make the decor still appealing to a more modern customer.
"Moore Coffee Shop is a bit dimmer than most of the coffee shops I go to, but I think it kind of goes with the atmosphere of Seattle," first-time visitor Eleanor Xiao (11) said. "I really did appreciate that they had a really large windowpane because it brought a lot of natural light into the room."
Owner and founder Lupe Chavez opened Moore Coffee Shop in 2011 and now manages two in Seattle. The cafe's best-selling waffle is the Nutella Banana, and its most popular drink is the Cafe Madrid. Yet its signature selling point is its latte art: the intricately made caricatures of animals and characters ranging from Hello Kitty to bears that baristas top customers' foamy drinks with. Since Chavez's girlfriend is artistic, the two decided to start practicing latte art, and the animal art grew in popularity and demand from there, becoming a key characteristic of the cafe's drinks.
The taste of the Cafe Madrid latte directly reflects its appearance, childish and artificial. Although the intricately designed caricatures constitute most of the allure of the drink, the latte itself is overwhelmingly sugary. Sugar syrup inundates its taste, and it tastes much more like a frothy, sweet milk than a latte. Even considering the disappointing taste, the reasonable price of $3.71 for a medium-sized cup is worth the aesthetic topping itself.
Similar to the Cafe Madrid latte, the hot chocolate's appearance exceeds its taste. Even though the adorable latte art of a dog sets high expectations, the drink has none of the taste typically associated with hot chocolate. With the foam on top overwhelming the drink, only a hint of chocolate can actually be tasted through the sugary milk. Customers pay $2.85 for a small cup, paying for the artistic appearance rather than the taste.
The Nutella Mocha tastes rather ordinary for a 12-ounce cup costing $3.79. While the unique animal latte art definitely draws in customers, the drink itself lacks the expected chocolatey flavor of Nutella given the drink's name. The bittersweet Nutella Mocha is not distinctive at all, and its taste could have easily come from a local Starbucks chain.
The blueberry coffee cake, on the other hand, does not disappoint. Alluring slices of perfectly cut square coffee cake sit in a glass case on the counter. Although the blueberries are sparsely used, the moist cake and sweet, crumbly top layer make this coffee cake, which costs about three dollars, the ideal.
Moore also advertises its waffle offerings, which range from sweet to savory. In the corner of the secondary room adjoining the service counter, there is a sectioned-off waffle bar, where Axer, the waffle maker, cooks the waffles to demand.
The churro waffle, costing $6.60, was ready in around five minutes. The waffle was coated in cinnamon sugar, topped with whipped cream and chocolate sprinkles and served with syrup on the side. The warmth of the freshly cooked waffle combined with the perfect amount of sweetness from the toppings made the unusually themed waffle an overwhelming success.
As opposed to the drinks, which were overly saccharine, this waffle—a perfect snack to share among friends—was moderate, with the buttery taste of the waffle in harmony with the sweetness of the sugar and the fluff of the whipped cream. Its size was a just enough to leave you wanting more but not small enough to be disappointing.
Sven, a returning customer every time he travels to Seattle, recommends the cafe to all his coworkers.
"I've been here five to seven times," Sven said. "It's close to the hotel where I usually live. The cappuccino is the best. I come to Seattle for work. I come here because it's a quiet place where I can sit and just enjoy coffee on the weekends. It's just perfect."
Moore Coffee Shop would be a worthwhile visit if you're near the area—the nice photos, aesthetically designed coffee and embellished waffles for a reasonable price are worth the average lattes. Overall, this coffee shop deserves a 3.5/5 star rating.

At Gelatiamo, passion, tradition and perfection in Italian-style desserts
Seattle—Glittering lamps mounted on the ceiling sway in the wind as the door opens, bathing the sparse but lovingly decorated space in homey orange light. The two employees at the counter greet the new customers, smiling as they lean over this cafe's main attraction: a glass case filled with tubs of swirled gelato in all textures and colors.
Gelatiamo, a small cafe situated at 1400 Third Avenue here, serves all things gelato—from simple cups of the Italian treat to lavishly decorated gelato cakes—in addition to a large selection of traditional pastries and coffee drinks, all seven days of the week.
"A big part of [Gelatiamo's philosophy] can be summarized by our motto, which is 'Passione, Tradizione, Perfetto,'" Gelatiamo retail manager Megan Flaherty said. "I think that those three words really symbolize what we're all about."
Since its founding in 1996 by gelatiere Maria Coassin, Gelatiamo has stood by that motto, "passion, tradition, perfection" in Italian, in creating its rotating assortment of gelato flavors.
"We were founded by somebody who's super passionate about everything she does in life, especially gelato and pastries, and we're upholding a great tradition of her family from Italy," Flaherty said. "For perfection, we really want every single flavor to taste perfect, every baked good to look and taste perfect, and just to have every customer to come in and have an experience they're going to remember in a fond way."
Customers can order freshly made treats at the counter, where gelato cakes and assorted pastries stand in neat rows on a pair of shelves, before waiting for their selections at one of the cafe's cozy circular tables. Servers present orders on delicate tableware that focuses attention on the food itself.
"I had a gelato shake; I've never had that before. It was pretty good," Kelly Weiss, who ate at Gelatiamo with his coworker Cori Bradford, said. "We actually work right off the road on Fourth [Avenue], and we were on our lunch break."
The company also delivers pints of gelato to a variety of stores in order to share its unique philosophy and texture with the larger Seattle area.
"We normally explore around, but we've never eaten here before," Bradford said. "I love ice cream, and I don't care if it's cold or not—I just can't get enough. I got [a macaroon] because it looked pretty, but it's not very good. But this [ice cream bar], on the other hand, is really good. It's half-dipped in dark chocolate and half-dipped in milk chocolate, and it's got vanilla ice cream in the middle."
A day-in-the-life of a Seattle Pike Place Market meat expert
Seattle—As you enter the world-famous market here, Pike Place Market, a bold fluorescent red sign will immediately catch your attention, but if you look down, you may find yourself following a trail of golden hoof prints, leading to a bronze piggy bank. Rachel, the pig, has been a landmark of Pike Place Market since 1986, with dozens of tourists stopping to take a photo with her each day.
The market may be famous for flying fish and fragrant flowers, but equally vital to the culture of Seattle's most vibrant tourist attraction is the thriving meat industry.
Cameron "Cam" Nobles, a meat distributor and salesman, works at the center Seattle's meat matrix. Each day, Cam drives 22 miles down Highway 5 into the heart of Pike Place Market to deliver packages of fresh meat to buyers from marketplace butchers to restaurant chefs.
Every Friday, Cam unloads a 123-pound Olsen pig from his truck and delivers it to Tyler Palagi, a chef at Radiator Whiskey. While most other restaurants at Pike Place Market focus on Seattle's famous seafood, Radiator Whiskey maintains its individuality with an exclusively red-meat menu. Even in the mid-morning, the restaurant blares ambient rock music.
Cam's pig isn't for Radiator Whiskey's everyday use—it's for their cult classic "Beast Feast." Washingtonians reserve their seats at this exclusive event months in advance, and each Wednesday evening, 16 new people gather in an attempt to consume the entire pig, including the head, ears and skin. Usually, attendees go home with a generous serving of leftover pork.
Cam's connection to the meat industry runs deep, as his father, Steve Nobles, was a meat salesman for more than 30 years. Nobles, who was widely acknowledged by customers for his generosity and loyalty to his profession, died due to cancer on March 28, 2016, and Cam upholds the Nobles name by abiding by his father's commitment to customer service and satisfaction.
"The way my dad did business for all those years was making sure that the customer is always first. [He] spent so many Saturdays and Sundays when he was doing family stuff coming down into the city and taking care of a customer," Cam Nobles said. "If you service them and give back to customers and be fair with pricing, then you build relationships, and if you treat them well, you have lifelong support—and that goes for every walk of life."
Cam's dedication to building strong relationships with customers brings him closer to the buyers at Pike's Place Market, including the vendors that run Don and Joe's Meats. Situated in the center of the bustling marketplace, the fine meats vendor has been around since 1969 and has established itself as an integral part of Pike Place culture. Its butchers offer specialty services to newer customers and regulars alike, and while they have a wide variety of fine meats—including sweetbreads, homemade sausage and honeycomb tripe—their most popular cut is none other than the classic hamburger chop.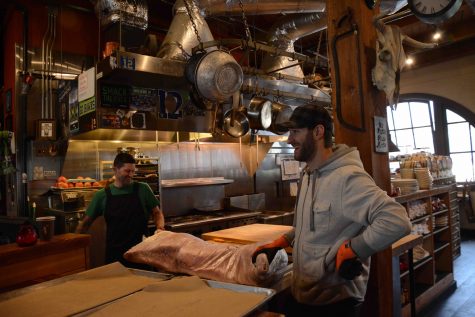 "We sell the most poundage of hamburger," Ellery Heer, a butcher who has been working at Don and Joe's for 28 years, said. "Hamburger is the most versatile, and the most people buy it."
Although a grocery store is located less than half a mile away from Pike Place Market, vendors like Heer prefer the animated vibe of the outdoor market.
"We make our own sausages, we break down animals, we help every customer," Heer said. "Working here as opposed to somewhere else, it's not as mundane as a grocery store. In the market, there's the atmosphere, there's crazy people walking around, and when you come here to work, the energy gets you up."
This energy—a vitality that resounds through the market's narrow alleyways and cobblestone paths, formed upon the wafting aromas of delicious food and the voices of a diverse array of street performers—is part of what makes Pike Place such a popular tourist destination. Yet the local community, more than anything, contributes to the lively atmosphere of the outdoor market.
"There are so many different cultures here, so many types of people that have migrated from all over–it's a really unique place," Nobles said. "We get along pretty well around here, and this whole atmosphere of culture and family is a positive one, and it spreads throughout. We're open to embracing the fact that there's going to be a lot of visitors, and we want you to come here."
Humans of Seattle: The Flower Man