Day 3: April 5
May 28, 2023
On our last day in Seattle, we wanted a more nourishing brunch, so we drove to Honest Biscuits. This snug and humble biscuit and sandwich shop lodged in Pike Place Market lives up to its name, with all kinds of Southern-style biscuits to choose from.
They ran out of their popular Pike Place biscuits. As an alternative, we shared the Bear biscuit, made with bacon, fried chicken and egg, among other tasty ingredients.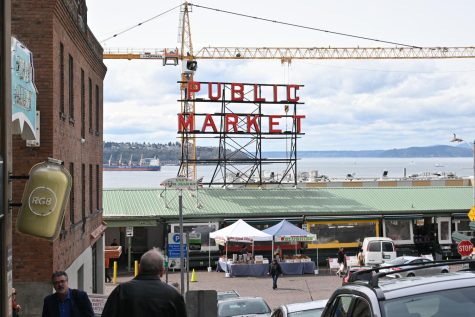 After brunch, we found ourselves immersed in the vibrant, multicolored stalls of Pike Place Market, selling a wide variety of goods from handcrafted jewelry and clothing to jars of honey and natural soaps. Several street performers filled our ears with upbeat piano and guitar, and we even saw Rachel the Piggy Bank, the official mascot of Pike Place Market. 
Our first stop was the Pike Place Fish Market; its loud, energetic shouting drew our attention. One of the oldest running seafood markets in the U.S., its vendors are known as "the guys who throw the fish." Fish-throwing is one of their daily traditions, which actually started as a prank before it became a regular part of their routine due to popular demand. 
Another slope underneath Pike Place Market led us to the fascinating Gum Wall –– an artistic, assorted (and gross) display of people's used gum. We didn't have any gum to stick on the wall ourselves, but nothing couldn't be solved with a few photos.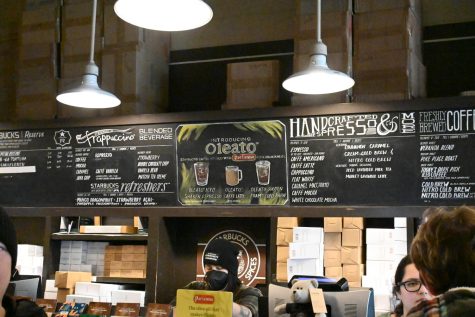 The original 1912 Starbucks store, emblazoned with its first-ever brown siren logo, lies a walking distance across from Pike Place Market. When we went at around noon, the line had gotten considerably long, but we were able to get in after about 20 minutes of waiting. One barista stood outside to regulate line traffic, while another escorted us into the rustic interior.
Along with a caramel frappuccino and a latte, we made sure to pick up some exclusive Pike Place Starbucks merchandise.
While we were waiting for our order, another barista gave us a small cup of Starbucks's new Oleato latte, free of charge. Complete with the unique ingredient of extra virgin olive oil, it tasted richer and more savory than regular coffee, and it surprisingly grew a little on me after the first few sips. 
My caramel frappuccino, on the other hand, was quite ordinary. Still, this was a wholly worthwhile experience; it's almost as if I can now call myself even more of a coffee-lover.
After we walked out of the Pike Place Market's vicinity, a long vertical sign reading "Seattle Art Museum" caught our attention, along with three shiny letters: "SAM." 
Upon walking inside, we saw a huge wooden sculpture hanging right above our heads and spanning the entire museum lobby, where we bought tickets and checked our bags in. 
We took an elevator to the third floor, with "Reverberations: Contemporary Art and Modern Classics" featuring modern and contemporary art; "American Art: The Stories We Carry" featuring Native, Asian American, African American and Latinx art; as well as an East Asian exhibit featuring Chinese, Japanese and Korean art.
On the fourth floor, we examined ancient Mediterranean and Islamic, European and African art, along with a textile exhibit titled "Ikat: A World of Compelling Cloth," which is only available from March 9 to May 29. 
All of these gorgeous exhibitions left us enthralled; my only regret was not being able to stay here longer and look at each display in more detail.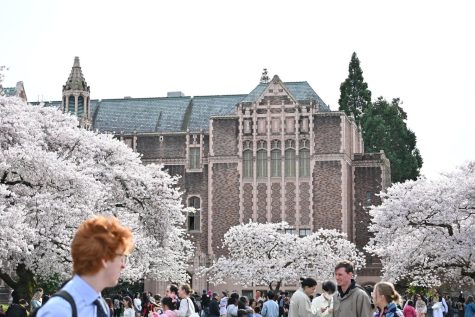 As they all say, what's a vacation without a college visit? We didn't book a formal tour on the university's website, so we took our sweet time strolling around its vast 634-acre campus, and most notably, seeing its iconic, age-old Yosano cherry blossom trees in full bloom. 
At the very heart of UW, the quad teemed with a sea of tourists and students alike, all vying for a chance to pose with these picturesque trees.
The trees' soft pink blossoms made for an especially lovely backdrop against the antique limestone buildings, and I wouldn't mind visiting again just for these scenic treasures.
For our final dinner here, we walked to Kizuki Ramen and Izakaya, a ramen restaurant near our hotel in the Redmond Town Center. 
We ordered spinach "goma-ae," chicken wings, "tonkotsu shoyu ramen," and a passion fruit iced tea. The spinach goma-ae had a subtly nutty texture and flavor with hints of sesame seeds, sugar, and soy sauce. The chicken wings brought a distinctive blend of sweet and sour with the slight bitterness of green onions adding extra flair. The tonkotsu shoyu ramen also didn't disappoint, albeit it was a little too salty for my taste. The passion fruit iced tea, on the other hand, helped balance that out a bit, with its soft but much-needed tartness and sweetness. 
With that, we went back to our hotel to prepare for our flight back to San Jose the next afternoon.
Overall Ratings
Weather: 8/10
Better than expected. It rained and hailed at first (aligning with my expectations), but afterwards, it was mostly sunny or cloudy. 
Variety of attractions: 8/10 
We went to just about every place that we wanted to see, but I would have loved to go to the Museum of Pop Culture, Starbucks Reserve Roastery, Chinatown and more.
Variety of restaurants: 7/10
Next time, I hope to research more local places to eat at, including not only restaurants but also bakeries and cafes.
Time allocated to each attraction: 6/10
We were in a time crunch, so I wish we could have spent more time in some places for a more well-rounded experience.
Otherwise, this was a great trip to one of the most popular tourist destinations in the country, so I'll be sure to "sea" it again in the future!