Day 2: April 4
May 31, 2023
We started the next day with a late breakfast at our hotel's very own bar, AKB. There were many different options to choose from, but I settled with a bagel and lox, comprising a smoked salmon and cream cheese bagel with red onions and capers. With this, I felt ready to take on the day's adventures.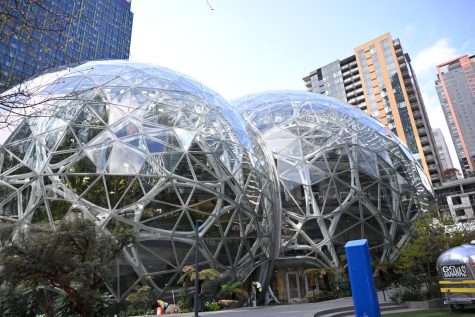 We made our way down to the Amazon Spheres, which would be our first instance of bizarre architecture in Seattle today. Their geometric yet faithfully spherical glass designs were packed with lush greenery inside, almost reminiscent of extraterrestrial biodomes.
To our disappointment, a police officer was dutifully noting down the license plate of a car parked in front of us, presumably to fine its owner later. Unfortunately, we couldn't access the interiors of the buildings either, so we climbed back into our car and resorted to taking photos instead. Despite this unexpected deviation from our original plan, the Spheres were really a sight to behold, like three peculiar gems hidden in the middle of the busy cityscape.
And now for our second bizarre architectural structure of today –– the Seattle Central Library, only a short drive from the Amazon Spheres.
With 11 stories towering at 185 feet and boasting a capacity for 1.5 million books, I think it's safe to say I've never seen a library like this before. After parking, we took an elevator up to floor 10, the highest floor, to reach the atrium observatory. 
We spent some more time walking around floor 10, which offered multiple quiet study and reading spaces. Then, we used the stairs to descend the floors slowly so we could take in more of the marvelous labyrinthine bookshelves all around us.
Even though we didn't end up using the library for its intended purpose, its pristine and silent environment offered a perfect respite from the ins and outs of daily enterprise.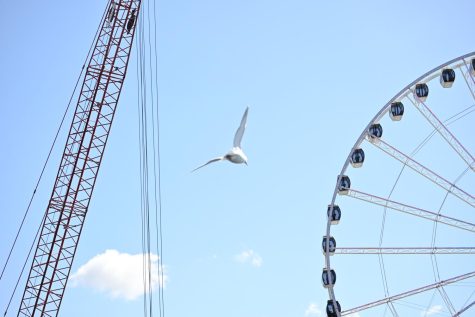 Another very brief drive brought us to the Seattle Aquarium at Pier 59. Although perhaps not as expansive as our Monterey Bay Aquarium, its exhibits were just as diverse, ranging from salmon, cuttlefish and sea stars to marine mammals and different types of seabirds. 
The inside was a bit too chaotic and crowded for my liking, but I particularly enjoyed the outdoor amphitheater-esque space for watching harbor seals as they bobbed up and down and twirled around in their tank.
The Seattle Great Wheel, an iconic ferris wheel, also looms right outside the aquarium. We made sure to snap some pictures of it, even if we couldn't muster up the courage to ride it ourselves.
Walking distance from the Seattle Aquarium is the Salmon Cooker, a seafood diner near Miners Landing. Wooden models of fish and a fishing boat hang from the ceiling, creating an at-sea feel that is truly unmatched. The food itself was average and the portion was almost too much for us to finish, but the restaurant did offer a good view of the Seattle Great Wheel and of the bay right behind it. 
Our last destination of the day was the Washington Park Arboretum, a public park on the shores of Lake Washington. Spanning 230 acres, this park is sure to captivate with all of its beautifully lush scenery and wildlife. We strolled on one of its trails for an hour, basking in the vast greenery and soft shadows of the pink cherry blossom trees that lined the sides of the entire pathway. 
Besides enjoying the park's lovely landscape, I found myself taking deeper breaths than usual as I soaked in my surroundings and started to tune into the sounds of nature. Different birds chirped overhead, welcoming us with every step we took. I definitely would've spent more time here if I could, but our visit was cut short to meet up with a friend for dinner.