Varsity boys volleyball team defeats Saratoga 25-17, 25-16, 25-22
May 24, 2023
The varsity boys volleyball team bested Saratoga High School in three sets, 25-17, 25-16, 25-22 in the quarterfinals at home on May 9.
At the start of the first set, the Eagles and the Falcons exchanged kills, going point for point until Harker gained an early edge at 9-5 with a block by Edis and Spencer and missed swings from Saratoga. The Eagles continued putting pressure on the Falcons, with two kills each from Edis and Aaron, forcing a Saratoga timeout at 13-7. The Falcons were unable to make a comeback, and Harker maintained the lead with kills from Zachary, Spencer and Edis, bringing the final score to 25-17.
"Everyone was really hyped even though the crowd was breathing on us a bit," Rahul said. "With our crowd and our own players we challenged them."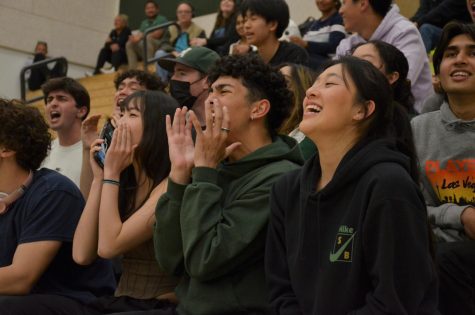 Harker led the start of the second set, with two roofs from the Eagles and multiple hitting and serving errors from Saratoga that helped Harker push ahead. At 9-3, the Falcons called a timeout and slowly narrowed the Eagles' advantage, bringing the score up to 17-14. However, Harker made a late offensive push, earning four kills and a block to end the set 25-16. Overall, Mattson was proud of the game and the team's consistency.
"Our errors were [minimal]; we didn't let the crowd get to us," Mattson said. "We kept the momentum on our side, and when we had a couple of lulls, we got out of them pretty quickly."
Once again, Harker took the lead in the beginning of the third set, progressing to 7-3 due to four kills from the Eagles and Saratoga's missed swings. The Eagles kept up this momentum, securing two kills each from Aaron and Rahul, and advanced the score to 12-7. Harker then made a series of unforced errors and called a timeout at 15-13. After the timeout, the Eagles and Falcons went back and forth, keeping the score even until 18-17, when Saratoga also started making mistakes, eventually leading them to call a timeout at 21-17. The Falcons came out with a stronger offense, but because Harker already held a lead, they were able to narrowly beat out Saratoga, concluding the quarterfinals game 25-22 with a kill from Spencer.
"I'm excited if we can keep winning games and just have really good moments with the team," Zachary said. "It's really exciting getting the crowd hyped and also getting the team those points."