Day 1: April 3
May 31, 2023
After a quick breakfast at Subway, we drove to the Chihuly Garden and Glass, an open studio showcase of American glass artist Dale Chihuly's works. As soon as we stepped foot into the first exhibit, I was blown away by the mesmerizing and almost ethereal beauty of the flowy glass sculptures. 
Dramatic indoor lighting drew our eyes towards their luminescent, alien shapes, with colors ranging from bright vermilion reds to dark cetacean blues; from pearly, icy whites to seafoam, emerald greens. 
It was raining when we enjoyed the outdoor gardens of the museum, adding another layer of cozy ambiance that enhanced the scene. Overall, this was an extremely memorable experience that was nothing short of extraordinary.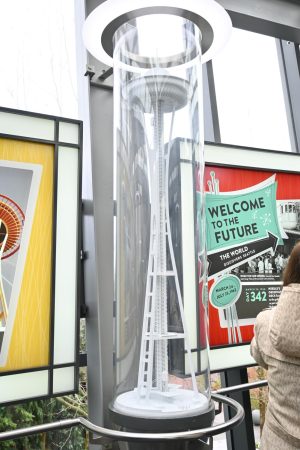 This iconic, decade-old observation tower is walking distance from the Chihuly Garden and Glass, with a futuristic shape resembling a mix between the Eiffel Tower and a rocket. 
As someone who's afraid of heights, I thought I would pass up this opportunity, but it did not disappoint. The elevator took only 82 seconds to go up, and the ride felt even shorter thanks to our guide, who mentioned that a venue near the attraction was home to the fictional Grace Hospital from Grey's Anatomy. 
Once we were at the top of the Space Needle, we stepped out onto the 360-degree observation deck for stunning views and photos of the entire city below us. 
We then descended to the second level, where we found ourselves captivated by a slowly-revolving, vertigo-inducing glass floor. 
To top it off, in the souvenir shop at ground level, a scaled miniature Lego Space Needle model towers over everyone below. 
Whether you're a tourist like me or just want to see what it's like up there, the Space Needle offers a perfect opportunity to stand 500 feet above the cityline and enjoy yourself.
Toulouse Petit Kitchen and Lounge
A short drive from the Space Needle brought us to this Cajun-Creole restaurant for lunch. The dimly lit, snug interior was lined with rows of warm candles and hanging lanterns, making me feel like I was in a fairy cottage. 
We ordered a Dungeness crab over fried green tomatoes with a tarragon-chive ravigote, which was more zesty than I was expecting but definitely did its job as an appetizer for the rest of the meal. 
From the lunchtime pasta section, I also ordered a Dungeness crab, artichokes and yellow corn with ricotta gnocchi, tarragon and Crescenza cheese. 
Despite the abundance of Dungeness crab in this meal, we ended up pulling through because of how delicious each of the dishes turned out to be. That Dungeness crab pasta was especially hearty and flavorful, so I'd definitely come here again if I had the chance.
With our stomachs stuffed full of crab and gnocchi, we made our way to the Museum of Flight. I'm no aviation enthusiast, nor did I know what I was expecting, but this museum definitely left me awe-struck with just how expansive and numerous their exhibits were. 
From Boeing 747s and spacecrafts to the Wright Flyer and a variety of war aircrafts, each exhibit had a detailed explanation for the models available. We climbed into two of the planes' cockpits, and there were even flight simulators with 360-degree barrel rolls available to try out. 
Unfortunately we were short on time, but if we did have the opportunity to walk around the entire venue, I'm sure we would have spent hours upon hours there, marveling at the mysterious mechanisms of flight all around us.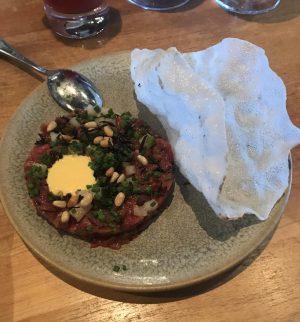 It was my birthday that day, so we finally drove to Joule after resting in the hotel for another hour. The atmosphere of this Korean-fusion steakhouse was toasty and lively, with fairy lights hanging on strings right outside of the window. 
We ordered beef tartare, bone marrow, toothpick pork belly, geoduck black rice and grassfed ribeye.
For my beverage, I ordered Oh Mai, Oh My!, a non-alcoholic blend of pineapple, orange, lime and falernum. This sweet, lemonade-like drink paired particularly well with the tender and juicy grassfed ribeye. 
For dessert, we ordered a rhubarb lychee spooncake. It was good enough on its own, but our server gave us a free blueberry ice cream with a candle for my birthday. Both desserts were the perfect balance of pleasantly sweet and lightly buttered.