Pulse of the People: 'Our collective responsibility'
Generation Z leaves lasting mark on political scene
March 28, 2023
Content warning: This article mentions gun violence and abortion. 
When Sara Bhowmick (12) became a political intern for Saratoga City councilmember Rishi Kumar the summer before her junior year at her father's suggestion, the task at hand intimidated her. At the time, Kumar was campaigning for a seat in the House of Representatives to represent California's 18th District, and one of Sara's responsibilities was 'canvassing,' or visiting households to encourage them to vote. Despite her initial apprehension, Sara realized her passion for activism through canvassing and interacting with her community.  
The first few residents Sara encountered did not welcome her. But one conversation gave her confidence in her activism, even as a younger citizen.    
"When I was first launched into [canvassing], someone just told me, 'Go knock on a door and start talking to them,'" Sara said. "I knocked on a door, and [the answerer was] on a phone call, obviously annoyed by me there. But then, at the next door, I talked to them and had a great conversation. I convinced them to research [Kumar] and vote. It was that initial experience of knowing that I can make an impact and have an influence despite me being still in high school."
"
When you drive five minutes and then start knocking on doors, you realize how diverse people's ideologies are.
— Sara Bhowmick (12)
Participating in speech drove Sara's interest in politics and current events, but it the connections she built through canvassing that sparked her desire to major in political science in college. She met a family affected by the Great Recession who prioritized fiscal policies. Another neighbor spoke to her about his time in a Japanese internment camp during World War II.     
"When you drive five minutes and then start knocking on doors, you realize how diverse people's ideologies are," Sara said. "Canvassing was a great way for me not only to spread my own message for a politician whom I supported but also meet other people and hear about their own experiences." 
Prior to the 2022 midterm elections, Sara helped organize the San Jose Youth Mayoral Campaign Youth Forum, which featured representatives of mayoral candidate Cindy Chavez and current San Jose Mayor Matt Mahan. Like Sara, Gordon Chen (12) also engages in local politics as the chair of the San Jose Youth Commission Chair, an advisory board to the San Jose City Council.
"[We've worked on] policy issues on sick leave for workers, especially minors in the workforce, and gender neutral bathrooms, ensuring that there's at least one gender neutral bathroom per public space," Gordon said. "We've also done some environmental policies and a number of projects on increasing civic engagement among youth, like running periodic voter preregistration drives." 
Sara and Gordon both contribute to the rise of Generation Z, known as Gen Z, in the recent political scene. Generation Z is a term that refers to people born between the mid 1990s and early 2010s. While popular culture associates Gen Z with short attention spans and addiction to technology, Stanford research shows that Gen Z strives to address current issues and solve them, whether through protests, activism, and more. With regards to politics, most of Gen Z became interested in the subject by their late teens, a phenomenon both Sara and Gordon attribute to the expansive use of social media.  
Around 27% of people ages 18-29 voted in the 2022 midterm elections, the 2nd highest turnout in nearly three decades. In some of the crucial races in swing states, young voters also significantly impacted the results of the election. They also preferred Democratic candidates by a 28-point margin, which benefited Democrats in narrow statewide contests like the Pennsylvania U.S. Senate race and the Wisconsin governor's race.
"Although I'm not old enough to vote yet, when I am of age, I definitely plan on voting whenever possible," Katherine Fields (11) said. "I had a Harker history teacher tell me before that in the past so many people fought so hard to earn the right to vote, and to not exercise that right now would be shameful and discrediting their work. Therefore, I'm excited to vote in the future, and I'm grateful to be a part of the change that I want to see in society." 
Even though many upper school students have not yet reached voting age, they participate in elections by campaigning for officials, like Sara, or by taking courses that cover topics related to politics and current events. These courses range from Civics and AP U.S. Government and Politics to Honors Modern International Affairs and Speech and Debate. 
When a student does become eligible for voting, the upper school offers access to registration, a service that Gordon appreciates. 
"[At Harker,] there's this sense of community that drives our will to enact change," Gordon said. "When you turn 18 [years old], Harker gives you a birthday gift, which is voter registration."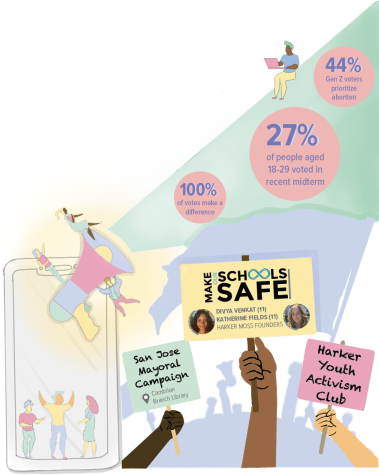 Students also engage in social justice issues outside of election season. To create safer environments in schools, Katherine and fellow junior Divya Venkat formed the Make Our School Safe (MOSS) at Harker Foundation. Founded by the parents of Alyssa Alhadeff, a victim in the Marjory Stoneman Douglas High School shooting in 2018, MOSS raises awareness on gun violence and keeps schools prepared for possible shootings by improving delay time from law enforcement through panic buttons or making bleed kits in case of emergencies. 
Although over 50 school shootings that resulted in injury and death occurred during 2022, Divya believes that Gen Z relatively undervalues school safety. Only 9% of youth voters in the 2022 midterm elections chose gun violence as the largest issue in the U.S. 
"[School safety] isn't advocated for enough [within Gen Z]," Divya said. "Everyone can agree on the fact that they want to feel safe at school and prevent emergency situations from happening. There are so many measures schools can take. And spreading awareness is important because maybe schools don't have the funding, or other reasons like that." 
As in every election, a variety of issues motivated people to cast their votes. Depending on their identities and experiences, different Gen Zers may prioritize and view those issues in different ways. Among issues presented during the midterms, most of Gen Z's votes prioritized abortion, with an overall 44% of them casting their vote for its authorization. 
"There's been a lot of talk on Roe v. Wade," Katherine said. "I think that it's one of the bigger issues [Gen Z] really advocates for. I think that a woman should have the right to her own body, and the new law is just bringing us back in time. It's wrong that people can have decisions over something this personal that doesn't concern them."
Despite numerous teens using social media to bring awareness to these issues, voter participation among youth has historically been low. The 2022 midterm elections marked a change from this pattern — a change that must be sustained.
"
Civic participation rates are the lowest among the younger generation, which is especially a shame because younger voters, almost by definition, have the most to lose from policy decisions that don't reflect their priorities.
— San Jose Mayor Matt Mahan
"We can't have a functioning, representative democracy if the voices of young people are not heard," San Jose Mayor Matt Mahan wrote in an email interview with Harker Aquila. "Civic participation rates are the lowest among the younger generation, which is especially a shame because younger voters, almost by definition, have the most to lose from policy decisions that don't reflect their priorities (you all have more years ahead of you than the rest of us!). If you care about creating real change, it starts from the ground up – at the grassroots level."
Mahan, who attributes much of his mayoral campaign success to local high school and college student volunteers, realized his interest in politics far before he became of voting age. For him, politics "was always a topic at the dinner table." While this might not be the case in all households, members of Gen Z still encounter political issues in the policies that shape their daily lives. 
"It's our collective responsibility to ensure that we hear a variety of distinct and diverse perspectives in order to produce the most holistic and effective policy," Gordon said. "We are a historically neglected demographic, and this policy does affect us every day."
Sara believes that teenagers can still impact elections by spreading awareness around current issues and encouraging older generations to vote. 
"A lot of older people I approach are really, really motivated to vote and learn more because they are so inspired by the Gen Z involvement in politics and because canvassing is not an easy thing to do," Sara said. "More Gen Z involvement encourages older generations by really showing the earnestness and the motivation to make an impact."
For young people who think that their sole voice does not make a difference, Sara's experience has taught her that although change does not result from one person's efforts, it does emerge from those of many.   
"This generation is so large," Sara said. "It is so impactful and has so much power behind it. If we all work as a collective as we currently are and look at [current situations] through an optimistic outlook, we can have such a large impact on our future."
Students interested in political activism can join the Youth Activism Club at Harker, attend meetings for the San Jose Youth Commission, apply for the Student Advisory Board and visit Government Websites to learn more.
"If you search for opportunities to involve yourself, opportunities will present themselves," Gordon said. "There is no shortage of chances for you to do something meaningful."