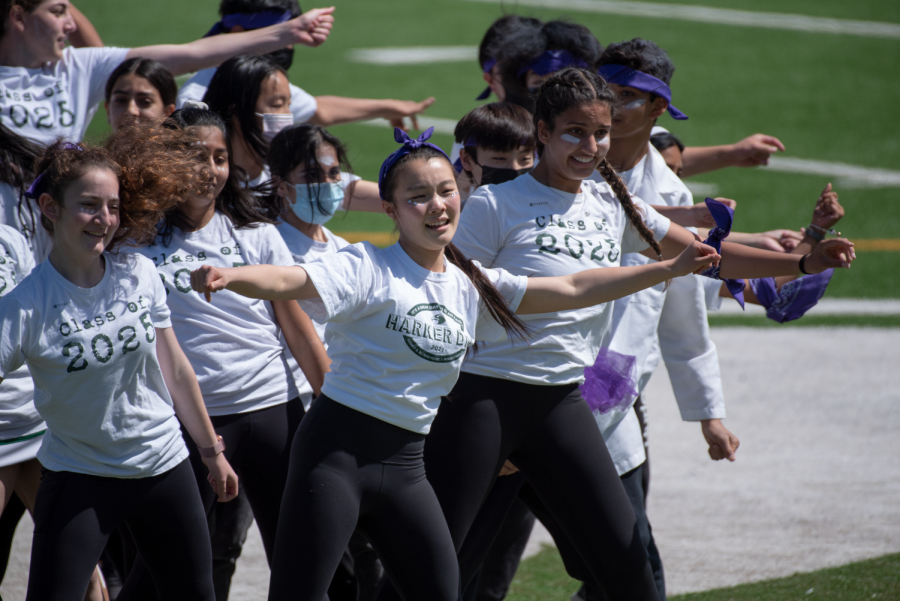 From heroes to villains: Upper school hosts in-person spring Spirit Week
Cheers infuse the crisp air on Davis Field. The chants emanating from white, black, yellow and green clusters — freshman, sophomore, junior and senior classes dressed in their respective colors — overpower the music blaring from speakers as members of the Harker Spirit Leadership Team (HSLT) make final preparations. Class representatives wave hand-drawn flags, rallying their classmates before activities begin. For the first time in three years, the in-person spring Spirit Rally has returned.
The rally concluded this year's spring Spirit Week, similar in concept to the fall semester's Homecoming Week. Spirit Week was planned and organized by Harker Spirit Leadership Team, who worked closely with each class' Student Activities Board (SAB) and Harker Spirit advisors Eric Kallbrier, Kerry Enzensperger and Andrew Irvine since February to bring this school-wide event to life.