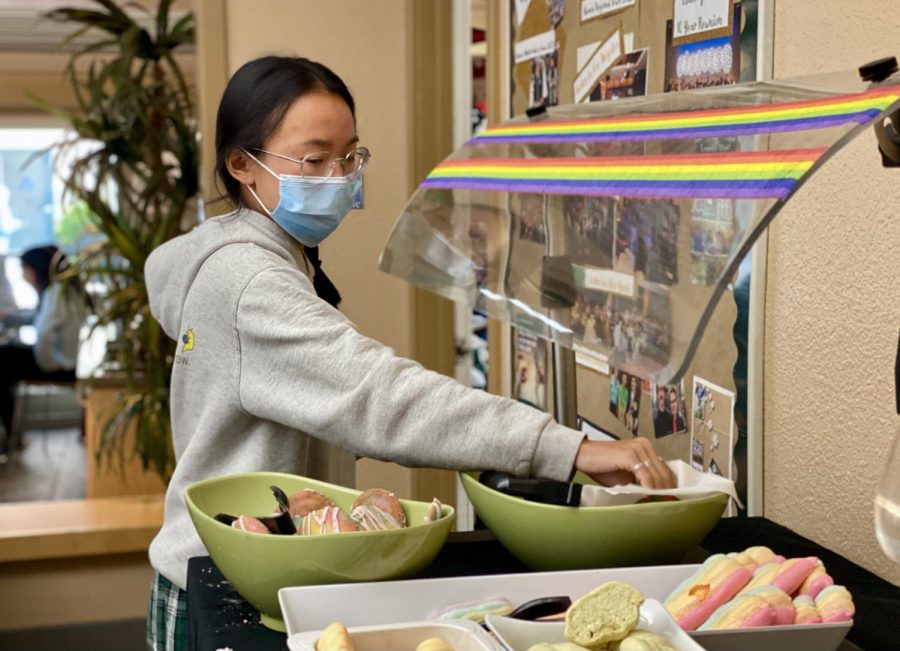 GSA and HSLT host pride-themed spirit activities
Additional reporting by Ananya Sriram.
Upper school students participated in activities including making bracelets, posting handwritten messages on the "Be U" board and dressing up to celebrate Wednesday's spirit theme of LGBTQ+ pride, which was titled "Pride Day" on the spirit week calendar in reference to international Pride Day.
Bracelet-making took place outside of Manzanita Hall, where students created bracelets for themselves and their friends to show support for the LGBTQ+ community. The "Be U" wall at the entrance to Manzanita allowed students to write messages on paper hearts to spread positivity surrounding pride.
"A lot of people were wearing pride-colored outfits and I also saw a lot of people put stuff up on the ['Be U'] wall," Gender and Sexuality Alliance (GSA) Co-President Aastha Mangla (11) said. "We were a little worried people wouldn't do it but there were a lot of people participating."
The upper school's GSA and Harker Spirit Leadership Team (HSLT) co-organized the day in order to create a safe space for LGBTQ+ individuals in the Harker community and promote inclusivity on campus.
"I loved that spirit and GSA worked to organize this day that showed support for the LGBTQ+ community at Harker and I think our kids felt affirmed and supported by the environment we created," said advisor of GSA and Modern and Classical Languages Department Chair Abel Olivas.
Wednesday's Pride Day activities were not the first pride events held in Harker history, but they are the first to be celebrated also as the theme of a school spirit day, promoting schoolwide participation in pride activities throughout the day.
"I know Harker already does Coming Out Day, but there are LGBTQ+ visibility days, so I would have liked it if it was Pride Day on one of those," GSA and Student Activities Board (SAB) member Anaya Mandal (10) said. "But I do like that they had this and made an effort to get the whole school involved."
Many students dressed in rainbow-themed outfits, and rainbow streamers decorated the campus along with a large rainbow inflatable arching over the entrance to Manzanita Hall. The rainbow colors come from the rainbow flag, a symbol of pride worldwide representing the diversity of the LGBTQ+ spectrum and community.
"It has been absolutely wonderful to have a spirit day to show our support to our school's LGBTQ+ community," Daniel Lin (10), who participated in the bracelet-making activity, said. "Today, I made bracelets with my friends to show my support, and it feels good to show respect through this fun activity."
Harker chefs served rainbow-decorated pastries during lunch in celebration of Pride Day, including colorful cakes and checkerboard cookies.
"I really like the checkerboard cookies that my intern did," pastry chef Adam Albers said. "They are layers of multicolored dough that are cut up into squares and then re-put together and then formed into a cookie, so you get a really distinct little pattern."
Going forward, Aastha plans to host a similar collaboration with spirit to celebrate LGBTQ+ pride, as well as for GSA to hold a club week with events including fundraisers and student panels to facilitate communication between students.
"We believe having communication and listening to your peers' experience with being part of the queer community would be really helpful in spreading a positive message and being more inclusive on campus," Aastha said.
Thursday was class theme day, where each class dressed up according to their class theme and participated in activities including a dodgeball tournament.