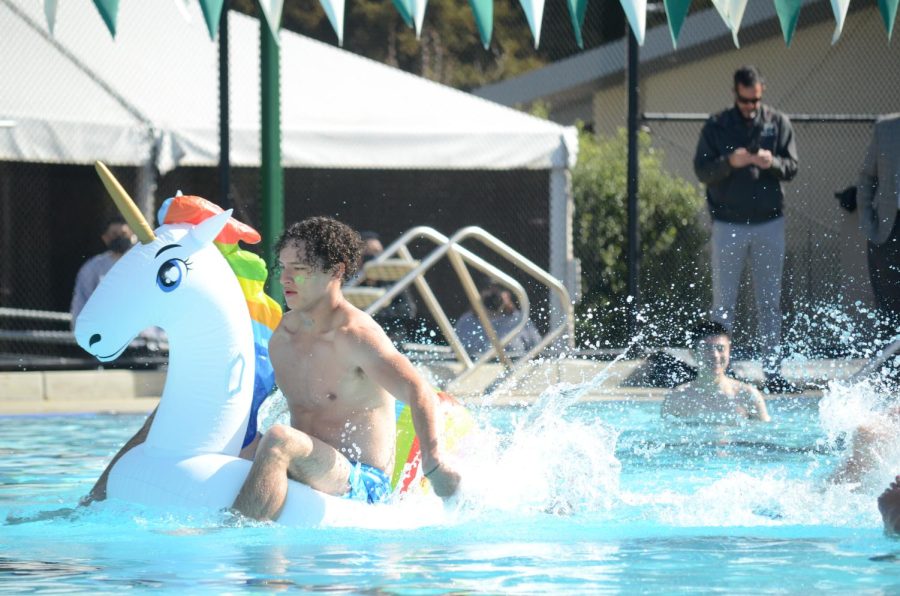 Classes compete in sports-themed spirit day activities
Upper school students took part in activities such as regatta, belly flop performances and March Madness table tennis finals for today's sports-themed spirit celebration.
The regatta competition, a type of boat race, began at 9:40 a.m. in the Singh Aquatic Center with audience members situated around the pool in locations based on grade. Juniors came in first, followed by the sophomores in second place and seniors in third place. Two pairs from each grade signed up for the race, taking turns traveling to the other end of the pool and back on a unicorn float. Before Harker Spirit Leadership Team (HSLT) President Alysa Suleiman (12) signaled for the race to start, the freshmen team unintentionally popped their float, prompting a disqualification. Despite the setback, freshmen still participated in the competition.
"One of the most fun parts was seeing the freshmen pop their float and try to go across," participant Anaya Mandal (10) said. "Another interesting moment was when the juniors and seniors crashed into each other in the middle of the pool because it helped us get ahead."
Following the regatta race, the belly flop competition took place, judged based on three categories –– splash, height of jump and style. Each grade had one to three "belly floppers" who were announced by HSLT Outreach Coordinator Elvis Han (12), Competitive Committee Secretary Paulina Gicqueau (11) and Vice President Sawyer Lai (11) before coming into the diving board area as a song of their choice played.
Rajas Apte (9), the first of the competitors, entered the diving board side of the pool to the song "Call Me The Breeze" and following Rajas, Caio Cammer (9) did the same with "For the Damaged Coda." After, Alex Zhong (9) performed to "Ready for It?" by Taylor Swift, donning a sparkly tiara and cape. Sophomores Anish Jain, Dhruv Trivedi and Daniel Lin followed with a routine to "Way 2 Sexy" by Drake before jumping into the water together.
After the sophomores, Anthony Zhao (11) represented the juniors with a belly flop to "Tequila," shouting the titular phrase as he entered the pool. Seniors closed the student belly flops, with Kai Burich (12) performing a short solo to "Gonna Fly Now" with his trumpet, and seniors Justin Fung and Lazlo Bollyky, accompanied by Maddux Carlisle (12),  ending with "iSpy." Upper school biology teacher Matthew Harley, business teacher Juston Glass and Director of Learning, Innovation and Design Diane Main belly flopped for the sophomores, juniors and seniors to the songs "I Believe I Can Fly," "Money, Money, Money" and "High Hopes," respectively.
The March Madness table tennis tournament began at 12:50 p.m. in the Athletic Center. The table tennis tournaments started in the first week of March with the final rounds today with around 20 audience members and Edis Mesic (10) keeping score of the two matches, each lasting around 15 minutes.
In the first match, Dawson Chen (12) fell to Rishi Cherukuri (11) in a game where Dawson won two sets 11-7, 11-6 and Rishi won the other three 11-8, 11-7 and 12-10. Next, Tanay Sharma (11) defeated Anthony Tong (11) 11-7, 11-8, 11-8 and lost one set 10-12.
"It's a way to have spirit and have fun at the same time," Tanay said. "I also just really like ping pong."
Students and faculty also showed their spirit by dressing to today's sports theme. Ensembles ranged from baseball caps with logos to jerseys, jackets, Harker athletics clothing and items borrowed from family members.
Siddhi Jain (10) dressed in a Golden State Warriors T-shirt in the team's colors of blue and gold. Hoping to show her spirit with minimal sports merchandise, Siddhi borrowed the shirt from her dad.
"I went to a game a couple years ago, and I like the Golden State Warriors, so I thought I'd wear the shirt," Siddhi said.
Similarly, Simren Kochhar (12) displayed enthusiasm for the Warriors through a blue and gold shirt.
"I like the Warriors and I like [Stephen] Curry, and I really hope they win the championship," Simren said.
Like Siddhi, Sawyer Lai (11) also borrowed her red 49ers football jersey from her mom. With a love for baseball, JiaJia Jiang (9) sported a T-shirt featuring the sport.
"My outfit is just a shirt with two people playing baseball, so I wore that to show my spirit today," JiaJia said.
Tomorrow's theme is pride and will include activities organized by the Gender and Sexuality Alliance (GSA) such as a "Be U" board, bracelet-making and tie-dying stations.