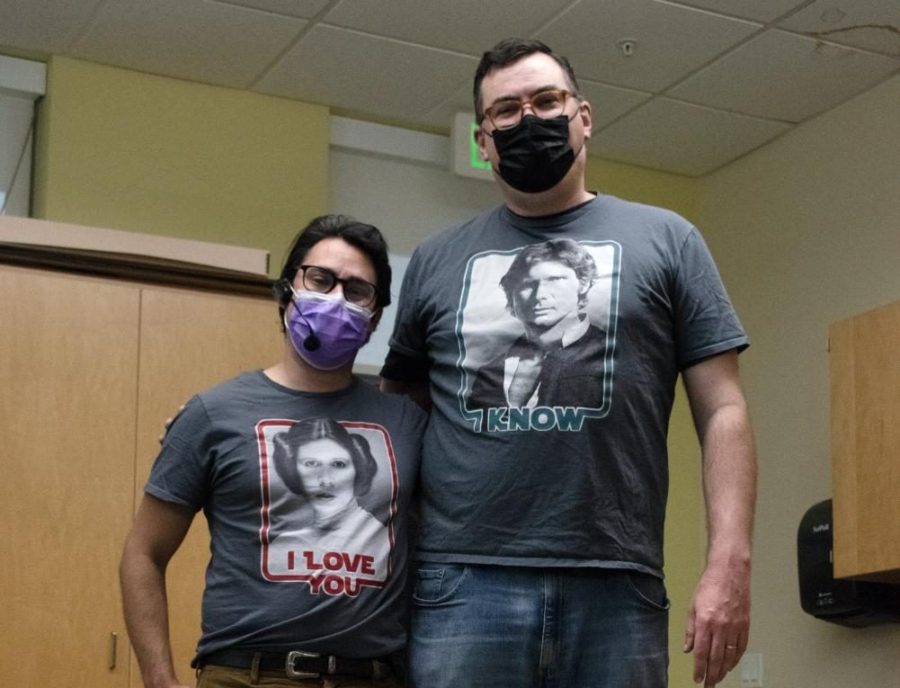 Upper school kicks off Spirit Week with Disney-themed day
Upper school community members returned to campus decked in Disney-inspired outfits for Disney dress-up day, planned by Harker Spirit Leadership Team (HSLT) for today.
Students and faculty who chose to participate sported Disney merchandise such as sweatshirts, Minnie Mouse ears and socks or dressed as characters from Disney shows and movies such as Star Wars, Winnie the Pooh and Snow White.
Sonya Apsey (10) wore an outfit inspired by Remy, the protagonist of "Ratatouille," using a headband with attached mouse ears, whiskers and a chef's hat.
"I didn't own a lot of Disney [merchandise], so I decided to be creative and go as the rat," Sonya said.
Vasudha Subramanian (11) dressed in a pair of Disney ears and a Mickey Mouse shirt from Disneyland. The Mickey Mouse ears, a famous Disney Parks souvenir, feature a variety of colors and patterns, including sequins and polka dots.
"I find it fun to dress up for spirit in any way that I can, even if it's just a random shirt that I own," Vasudha said. "It's always fun to see what my classmates are wearing to dress up as well."
Isabella Ribeiro (10) dressed for Disney day in Minnie Mouse socks and a friend's Disney headband she borrowed for the day. Initially unable to find Disney-themed outfits, she came across socks from an old Halloween costume from eighth grade for her outfit.
"I'm definitely the most excited for Class Colors day and the spirit rally," Isabella said. "It will be exciting to dress in black for 2024 and show some class spirit through the rally."
Tomorrow, sports day, will feature regatta and belly flop competitions from 9:35 to 10:40 a.m. at the Singh Aquatic Center along with the March Madness ping pong finals at 12:45 p.m. in the Athletic Center (AC).