Food for thoughts and comfort
April 2, 2022
Diana O'Reilley, cold kitchen staff member, mother
I like kids, and I was actually an elementary teacher. In Mexico, I did college for teaching, but when I came here, I never pursued it. But I always liked school and kids, and then I started working in the food industry.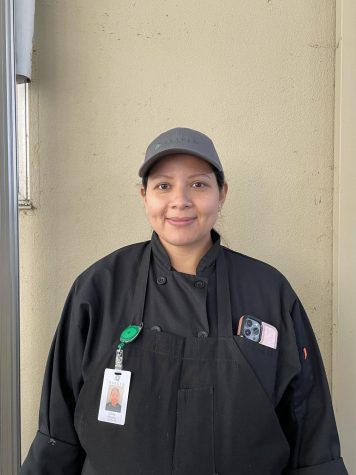 Food is comforting, and it makes you feel good so it's always satisfying that you can make others happy [with what you make]. That's why you're giving to the other person, because you never know what they're going through that day, and that can be a way to make them feel better.
One of my goals in life was to be a mom; that was something that I had very, very clear and working with kids was a way to be that kind of person.
Years ago, I got pregnant with my first son that I lost suddenly, and then a few months later, I got pregnant again, and I have an almost five-year-old son. The sad part is that my husband passed away this December. He was 44 years old; he had a heart attack. Now I'm eight months pregnant with a baby girl. I'm due in May.
I want someone else to know that even though you're going through a hard time, you still have to go through it, especially if you have kids or responsibilities. I think women are just super strong. It's been barely two months, going to three [since he died], and I have to keep going and working to provide for my kid and not just sit in bed and cry. 
I've been trying my best to be that safety person for my kid. He asked for his daddy, and I had to go, daddy's in heaven, and he's not going to be here.
My son, I will do anything for him, and now my baby girl. That's what keeps me going. I'm happy to be a woman. I know we go through a lot, but we always have each others' backs. We're strong, and that's the bottom line.