Girl tennis and varsity boys volleyball teams win CCS Championships
June 11, 2021
Prior to this year, Harker sports teams had been crowned CCS Champions on three different occasions: boys volleyball in May 2019, girls volleyball in November 2019, and boys soccer in March 2020. In the span of just the last two weeks, the girls tennis and boys volleyball teams have helped nearly double that total.
On May 28, the girls tennis team defeated rival Menlo 6-1 for the first CCS Championship in program history. Eight days later, the boys volleyball team swept Prospect 25-11, 25-14, and 25-18 to bring home the program's second D3 CCS Championship in the last three years.
Girls tennis team dominates Menlo 6-1 to win CCS Championship
The girls tennis team defeated Menlo 6-1 in the CCS Finals last Friday, capping off their undefeated season and bringing home the first CCS Championship in Harker tennis history.
"We knew that it was going to be a difficult [match] because Menlo is a really tough opponent. It was the last match of our season, and we all wanted to end on a high note," team captain Sachi Bajaj (12) said. "When the last match finished, there was a huge rush of emotions. There were a lot of Harker people in the crowd even though it was an away match, and it was really special for us to be able to share that moment with them."
Emily Novikov (10), Sofie Hernandez (9), Rachel Hernandez (9) and Sara Wan (10) played Singles 1-4 for the Eagles, respectively. Sachi and Emma Gao (9) teamed up to play Doubles 1, Natasha Rajaram (9) and Kelcie Fan (12) joined forces to play Doubles 2, and Anushka Mehotra (10) and Fonda Hu (12) rounded out the lineup, playing Doubles 3.
After going undefeated in league with a record of 7-0, the Eagles, led by Head Coach John Fruttero, came into CCS ranked as the sixth seed. They went on to shutout Aptos, third-seeded Westmont and second-seeded St. Francis in consecutive matches to earn their berth in the finals.
Rachel, one of seven underclassmen to represent Harker in the finals match, attributes the tea m's success this season to their spirit and camaraderie.
"Our biggest strength is definitely the care we have for each other. We are always cheering for each other, and we truly believe that no team is as close as we are," said Rachel. "It's really comforting knowing that when you have a tough match, you have teammates in your corner supporting you."
Sachi, one of four seniors on the team this year, noticed that, as the season progressed, the girls began doing a much better job of focusing in on their individual matches rather than on the bigger picture of an entire lineup.
"One thing we learned this season is to not let the other matches influence you. Early on, our eyes were always on the other courts, trying to see how our teammates are doing and how the lineup is coming together," Sachi said. "But I think everyone has improved [in that aspect]. We still remember the collective team goal, but know those things will fall into place if we each handle our own matches."
Rachel credits this year's seniors for their leadership and for being great role models for the underclassmen on and off the court.
"The seniors were great people," Rachel said. "They really helped bring the team together with their energy and spirit, and I was able to learn a lot from them and their experiences in high school and on the tennis team these past four years. We're definitely going to miss them next season.
Girls tennis season will kick off again in the fall, and the team hopes to pick up right where they left off, replicating this season's success with another CCS Championship next year.
Varsity boys volleyball team sweeps Prospect 3-0 to win CCS Championship
The varsity boys volleyball team won the Division 3 CCS Championship title on Saturday, June 5, dominating Prospect High School 25-11, 25-14 and 25-18 over the course of three sets. This is the second CCS Championship in boys volleyball program history and only the fifth time a Harker sports team has been crowned. 
Middle hitter Edis Mesic (9), who joined the team this year, noted that Prospect High School posed competition for the Eagles and that he and his fellow teammates needed to act quickly and efficiently. 
"They're a very strategic team and very smart," he said. "They had special hitters, who would constantly tip over the block. We had to have a really aware defense, and we had to be prepared to pass those balls and get quality sets."
Varsity volleyball head coach Zac Mattson felt "ecstatic" about the victory and also about the fact that the team's run in CCS gave the younger team members an opportunity to compete in a larger playing field and connect more deeply with their older teammates.
"All the underclassmen got to experience, from the get go [in] freshman year, what it's like to compete at that higher level in the playoffs and come out with the championship," Mattson said. "So that was really fun and exciting to all be able to be a part of that."
Despite the challenges that the boys volleyball team faced at the beginning of the year, team captain Billy Fan (12) highlights the team's resilience as a key to their success and expresses his excitement for their future.
"During CCS we had a full team. Everyone was healthy, and we were all playing pretty well so I think CCS went really, really smoothly," Billy said. "I think in the future, we have a lot of really talented underclassmen, especially a lot of freshmen, and I'm excited for the future of Harker volleyball. I think it's gonna be great."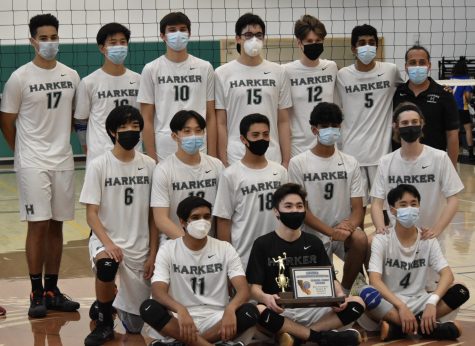 Additional reporting by Nicole Tian.