First finals of school year to be delivered virtually, students prepare for final seven AP exams
June 2, 2021
Upper school students are gearing up to take finals from home this week and their last Advanced Placement (AP) exams next week, marking the first finals of the school year and the end of an extended AP testing season. 
Freshmen are taking their first finals at the upper school due to the cancellation of first semester finals.
"I'm actually feeling really confident," said Iris Fu (9), who was pleased by the finals schedule since it spaced out her four final exams. "I've been studying for two weeks now, so I feel like I have the material down."
AP testing at the upper school began on May 5 and spans over a month. The upper school opted for mostly digital exams, with seven exams delivered in-person in May. To protect exam integrity, this year's digital exams did not allow students to return to previous questions. Seven digital exams remain on the AP testing calendar from June 9 to 10.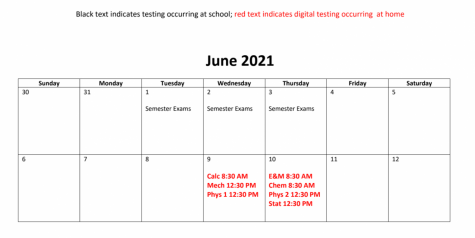 Junior Simren Kochhar recalls feeling frustrated over not being able to check over her work on her AP Computer Science exam, despite finishing the multiple-choice with 15 minutes left. She is now preparing for her AP Chemistry exam on June 10, a later-than-usual exam date that she has mixed feelings about. 
"It makes summer shorter, which isn't that good," Simren said. "But at the same time, I get more time to study because I haven't started yet, so that's nice."
Junior Kailash Ranganathan, who took the AP Japanese Exam in-person on May 5, credits Director of Standardized Testing and Scheduling Troy Thiele for making his in-person testing experience "very smooth."
"Mr. Thiele organized the exam very well. When we entered, everything was already set up for us. We each had our own workstations with a laptop and headset provided by the school," Kailash said. "There were only eight of us taking the exam, and we were all spaced out in the [auxiliary] gym."
Sophomore Austina Xu took her AP Spanish exam in person on May 11 and her AP European History exam virtually on May 19.
"This year in general has just been so taxing and trying," Austina said. "Hopefully, people look at these test scores and take that into consideration. There's really nothing you could do about it at this point."
To view the finals schedule, click here. To see format details for specific AP exams, click here. To read the 2021 AP Digital Testing guide, click here.
Additional reporting by Sally Zhu.