125th Weekend: Picnic, alumni and homecoming events bring generations of students and families together
October 21, 2018
Spirit festivities:
In preparation for the homecoming game on Oct. 5, all grades participated in several spirit activities in the weeks leading up to it, including the eagle painting contest, skits, tug of war, lunchtime competitions and a homecoming rally.
While the freshmen and seniors had the theme of west coast, sophomores and juniors bore pride for east coast. Specifically, freshmen had Hollywood, sophomores had big city, juniors had Ivy Leagues and seniors were had.
"When I came to Harker, the community really felt just right, and I wanted to be a part of it and get involved," freshman skit leader William Chien said. "My favorite part is getting to meet new people and work with them to unite the freshman class and band against all the other classes."
Sophomore spirit coordinator Arjun Virmani described the effect of spirit on high school life.
"We had a lunch activity going on in the quad, so normally I would see people in the library or doing their homework on the benches, and it just make the culture more light hearted and more fun and relaxed," Arjun said.
Homecoming dance:
The senior student council hosted the annual upper school homecoming dance in the Nichols atrium on Oct. 6, inviting upper school students and guests.
Harker kitchen staff catered the event and the hired DJ provided music, lights and a photo booth.
Student council replaced the previous system of ticket sales with Harker Pay, allowing students to directly purchase tickets with their devices through the online pay system.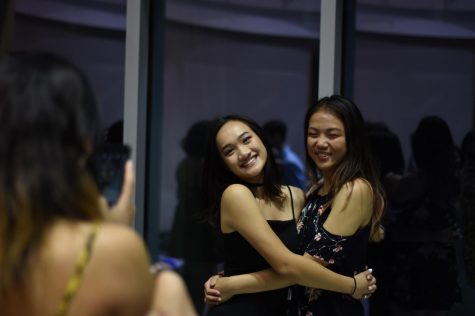 "This year, we changed the sign in system. In the past we relied on prints out all the people who bought tickets. This year, we contacted Ms Prutton, and she sent the master list of every upper school student. Since we used Harker Pay, we have electronic records of who bought how many tickets and what type of ticket. We logged [the information] and organized them into spreadsheets based on grade level," senior class president Kelsey Wu said.
Family Picnic
The 68th annual Family and Alumni Picnic, which was held at the middle school on Oct. 7, featured performances by students from all campuses as well as games and arcade booths for entertainment.
While some were a part of the dance and singing groups that performed for guests, many other high-schoolers were also volunteers at the different stations: members of the robotics club helped out with the laser tag, and students in art classes managed the face painting.
"The Picnic is Kinetic Crew's first performance [of the year], so it's a way to see how we actually perform in front of an audience," Vance Hirota (11), a member of Kinetic Crew, said. "It's exciting because there's a bunch of parents who come and watch, and we get to––especially this year since we have a new choreographer––show the different style that we've been taught."
Anna Vazhaeparambil
Alumni Reunion:
The Harker School hosted its Alumni Reunion in the afternoon of Oct. 6, inviting alumni to return to the high school to meet with past teachers and administrative, receive a tour of the new campus, and speak with past classmates.
During the reunion, members of the middle school graduating class of '93 also opened a time capsule which held individual photos, notes, and other miscellaneous items, and the high school graduating class of '08 read letters that had been addressed to them from their peers ten years ago.
Filled with smiles, laughs, and occasional sighs of jealousy upon seeing the new athletics and performing arts buildings, the Alumni Reunion allowed old Harker students to reconnect with friends and reminisce together.
"Even though we graduated and we went through that whole sentimental process of thinking that we weren't going to see each other, it really wasn't so much the end as it was the transition into seeing each other in a new way," Melissa Kwan ('18) said. "The community is still there, and we can still relate to the same weird Harker things."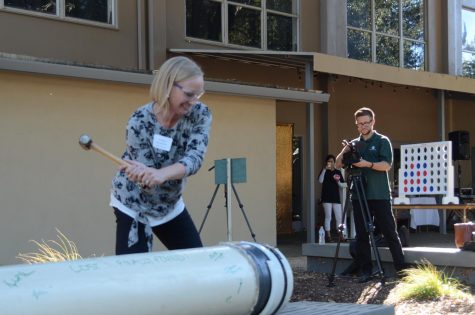 Additional reporting by Nerine Uyanik.
This piece was originally published in the pages of The Winged Post on October 17, 2018.