Profile: guest choreographer Alexandra Venter
January 31, 2016
Courtesy of Alexandra Venter
One of this year's guest choreographers, Alexandra Venter, sat with directors Karl Kuehn and Rachelle Haun Thursday afternoon as dancers in bright pink and yellow costumes covered in sequins skipped onto the stage to the song "Wake Me Up Before You Go Go." Watching each leap and pirouette closely, Venter examined the dancer's fast-paced, intricate movements for any specific corrections to give them before their live shows on Friday and Saturday.
Venter is a company member of Bay Pointe Ballet and an instructor in studios across the Bay Area. This is her third year teaching at the Upper School. She also choreographed dances in the shows for the lower grades in previous years.
Venter teaches ballet at the Upper School each week. She explained how she grew involved in the Harker community and became a choreographer for each Dance Show since she joined the performing arts staff.
"I know Mr. Kuehn– we danced together a few years back at a local studio," she said. "Since then, I got in touch with him, and he first wanted me to teach ballet at Harker, so that's why I was first at the high school teaching ballet. From then, I've been a guest choreographer for the Lower School too."
This year, she choreographed a piece featuring intermediate to advanced-level dancers. Venter explained how the difficult moves and fast timing required a great deal of polishing and practice before looking sharp.
"We had to get the mats out one day and practice some of the moves where they fell to their knees just so that they were doing it correctly and not getting hurt," she said. "I also had them do a lot of the things one by one, just so I could watch and make sure that they were comfortable doing it in front of each other."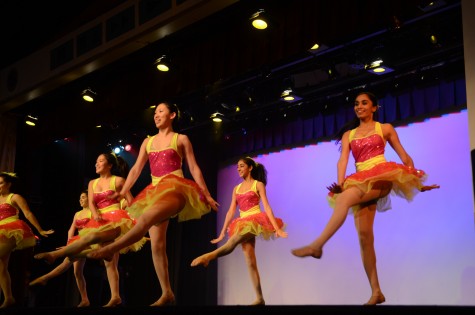 While the dancers worked tirelessly to perform to the best of their ability in their final performances, Venter strived to choreograph a comprehensive, dynamic piece, as her specialty lies in teaching technique rather than in creating dances.
"The most challenging [experience] for me would probably be just coming up with choreography. I feel like I'm a lot better with just teaching classes and technique," she said. "Choreography is a stretch for me, but I always feel like I'm growing and learning."
As she watched full run-throughs of the show, Venter felt that this year's theme, like most in the past, was interactive and engaging. She looked forward to seeing the audience's reactions to familiar songs and stellar dancing featured in the show.
"I think the reaction is going to be amazing," she said. "Any time a show is like that, where there are songs that people really know, it's really exciting. I've done other things before, whether dancing or choreographing, where it might be something like a Broadway musical, where people aren't super familiar with that. But when they are songs that you hear on the radio from way back when, I think everyone is really going to enjoy it because it brings back memories."