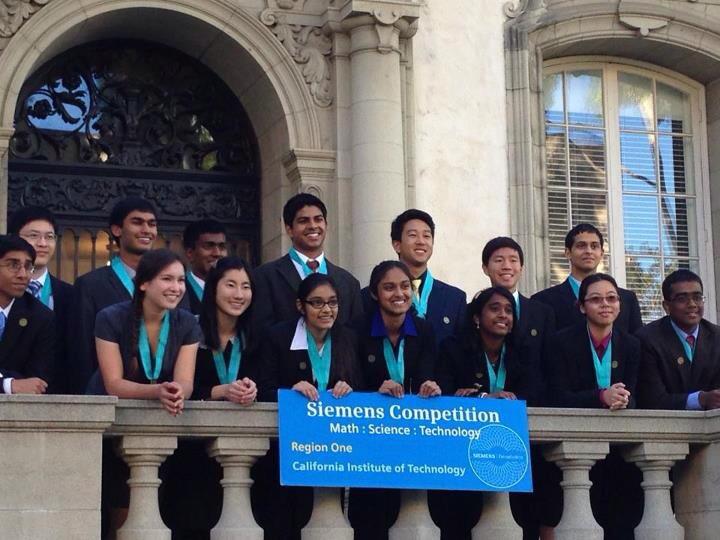 A record number of Upper School researchers traveled to the California Institute of Technology last Thursday to compete in the Siemens Competition Regional Finals, constituting 40 percent of the projects.
Seniors Rohan Chandra, Paulomi Bhattacharya, and Ashvin Swaminathan qualified with individual research, while junior Zareen Choudhury worked on a team project with Caroline Debs, a Regional Finalist from the Castilleja School.
"I think in science research in general, it's really important to collaborate with others," Zareen said. "It can often give you new ideas and new perspectives that you wouldn't have thought of otherwise."
During the all-expense paid trip, the four researchers spoke to an audience of judges, participated in a highly specific question-and-answer session, and presented their projects to a group of local high school and middle school students.
"It felt good to show my presentation to the public, especially people my age and younger," said Rohan, who studied the relationship between music and certain parts of the brain. "[The audience] had some really good questions that helped me clarify my thoughts before the presentation."
All four aimed to advance from the regional to the national finals, where they would have been eligible for a $100,000 scholarship. Unfortunately, none made it to the next round. According to Rohan, however, the experience gave the researchers the ability to hone their presentation skills.
Chemistry teacher Dr. Mala Raghavan agreed, adding that the purpose of research is for students to delve deeper into fields that they are passionate about.
"Research teaches them to appreciate everything that people have done, the long, painstaking process of it," Dr. Raghavan said.
Most of the finalists plan to continue their research throughout the rest of the year and are thinking about pursuing STEM fields in college.