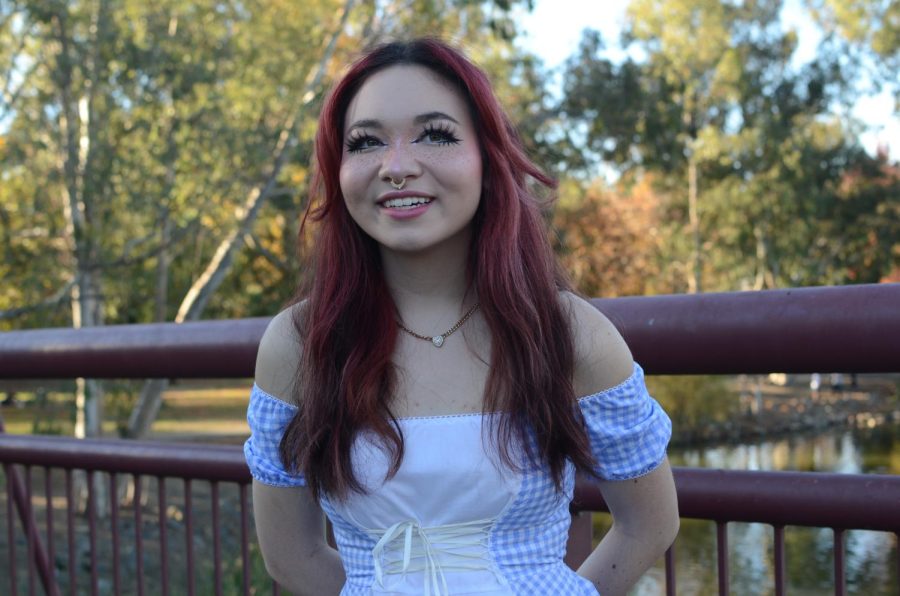 Lucy Ge
Singing, dancing, acting. If you've seen any upper school performing arts show, whether it be a Downbeat performance or the fall play, chances are you've seen Callie Mayer ('22) on stage. Having been in the fall play, Student Directed Showcase (SDS) and the spring musical in addition to Downbeat for the past two years, she recalls one of her pivotal moments of her performing arts journey — performing in the 2019 upper school fall play, "Almost, Maine."
As a series of love stories, "Almost, Maine" took the audience through moments of joy arising from love. As one of the two underclassmen chosen to be in the evening cast, they played the character of Marci and performed in the only tragedy scene, setting the backdrop for the joyful moments of the show.
"At the beginning, I found it really difficult to portray such deep emotions and such a wounded character," Callie said. "In the show, this particular scene, the couple was a little bit older than some of the other scenes, and so you could tell that some of the pain that they were experiencing, they had been feeling it for a long time."
At the end of Callie's scene, there was a slight pause before the audience reacted with applause due to the emotional intensity. She remembers that upper school theater teacher Jeffrey Draper pointed it out to her after the performance.
"It was the first time that I felt like I had impacted a group of people through performing," Callie said. "I never really felt that feeling before, so that was also a big reason why that one show was so important for me, because it showed me the impact that I was able to create."
For Callie, their love of performing stems from two sides: the impact performing has on them, and the impact they're able to create. While growing as a performer gave them confidence and filled them with a sense of purpose, they also found meaning in connecting to the audience.
"There was this feeling of like, 'Wow, I can actually do something for these people,'" Callie said. "I can actually make them feel something or give them something, give them a piece of art that's going to touch them and mean something to them and a small piece of something that was so meaningful to me."
Callie values the connections and friendships that she has formed over her years spent in the performing arts. Close friend Maya Franz ('21) met Callie in middle school performing arts and grew closer to her through acting in high school productions together. Maya describes watching Callie play a character in a comedic monologue who was angry about dog feces in her front yard.
"It was a hilarious monologue, and she did it so well," Maya said. "And I remember she was doing it for me, and she was worried the humor wasn't hitting, and I was like, 'Callie, the humor is absolutely hitting.' It was really funny. She can absolutely full send, and completely commit herself when she's performing."
Callie's impact as a performer extends beyond their acting. Callie has also been singing since they joined the fourth grade choir at the lower school. They sang in choirs all three years of middle school, Bel Canto in freshman year and Camerata sophomore year before joining Downbeat through a highly competitive application process junior year. Although Downbeat is a significant time commitment, with choir members expected to learn new music at home and attend extra rehearsals after school and during office hours, they enjoy its similarity to musical theater — their biggest interest in performing arts — and the chance to mentor members new to the group.
When not on stage, Callie continues to connect to and empathize with others, often making sure everyone feels welcome and included. Elliot Kampmeier ('21), who became friends with Callie through Bel Canto, has noticed Callie's kindness and empathy for others.
"She's incredibly generous and considerate," Elliot said. "Whenever we start conversations, she's always the first to ask and genuinely care about how you are doing and get into it if you're willing to."
Callie's outgoingness extends beyond borders. Abby Murcray, a senior at Clackamas High School in Oregon, became friends with Callie over social media and bonded with them over common interests and similar experiences.
"She's willing to put anything that she's going through aside to help you through what you need her to help you through," Abby said. "She's super caring, super kind."
As the friend who is always checking in with others and helping others through their own personal struggles, Callie recounts often being seen as "very independent." Inspired to work towards social justice by her own experiences with exploring her intersectional identity, Callie hopes to shed light on societal issues through performing and create meaningful art that will serve as an avenue for change.
"I want to bring a lot of these topics that are more difficult to talk about, or taboo, to life," Callie said. "I want to incorporate my advocacy for these important issues in my goal as a performer and with the way that I give art to the world. I want to make the lonely feel heard."