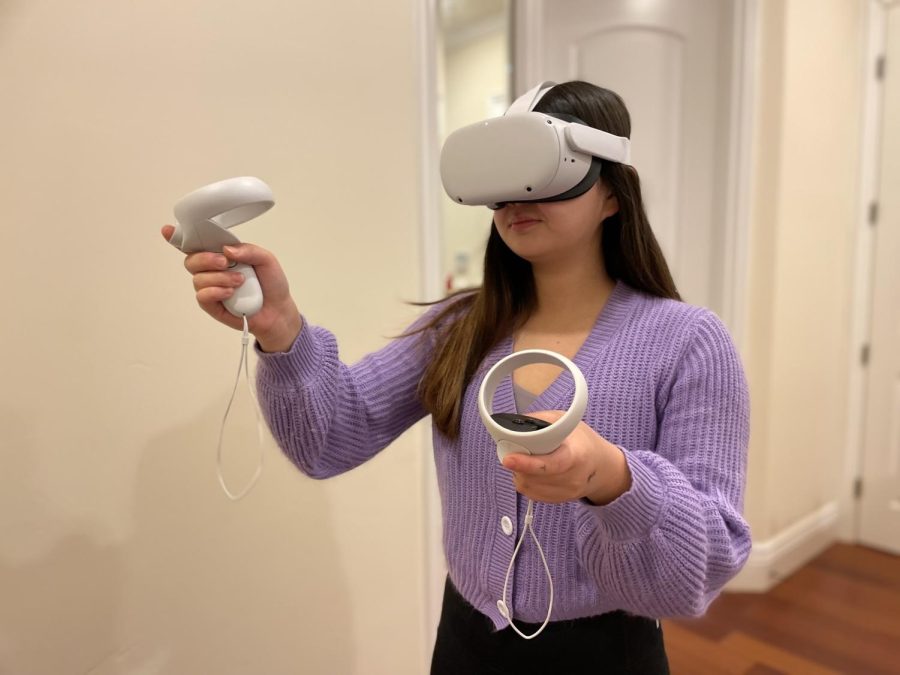 Sabrina Zhu
Applause fills the conference room as the presenter brings an end to the session, thanking everyone for their time. A low murmur arises and attendees begin socializing, mingling in groups around the room. But while the attendees engage in lively discussion, in reality, they have yet to meet in person — instead, they've been conversing with each other's 3D virtual avatar. The attendees aren't even in the same room, merely the same simulation, where everything from the chairs they sit in to the lights overhead is the visual output of a computer program.
Virtual conferences like these are what Dr. Blair MacIntyre, a professor at the School of Interactive Computing at Georgia Tech, envisions as an application of virtual reality. 
But how? And what exactly is virtual reality?
Virtual reality (VR) refers to a 3D computer-generated environment which appeals to users' senses so they believe the environment to be their real surroundings. By wearing a head mounted display (HMD), or a VR headset, equipped with head-motion-tracking sensors to monitor users' field of vision, users can immerse themselves in a virtual environment.
For Dr. MacIntyre, VR represents the latest technology in the succession of "reality media," the re-creation of reality through different means, supplanting books, photography, films and television.
"When books came out, people asked the same questions: books are evil — they're drawing people into fantasy worlds," Dr. MacIntyre said. "They said the same thing about TV, and they said the same thing about rock and roll music. [For] people who have a propensity to get addicted to games or escape into other kinds of escapist literature, VR could have the same attraction."
Popular VR headsets such as the Oculus Quest 2, PlayStation VR and Valve Index Headset allow users to play 3D games, explore new places around the world and watch movies.
April Sun (12), who owns an Oculus Quest 2, appreciates the immersive experience that VR provides. 
"[VR] is another tool you can use to engage with digital mediums," April said. "It's different from traditional viewing forms in terms of how immersive it is, and that's a benefit and a con at the same time: if you spend too much time in virtual reality, you're not going to spend enough time in the actual reality."
Although computer programming now stands as the backbone of VR, early simulations didn't yet have the technology; instead, they relied on camera-provided photos displayed through HMDs to recreate realistic surroundings. It wasn't until Ivan Sutherland's 1968 HMD innovation "The Sword of Damocles" that simulations began using computer-generated graphics. The Sword of Damocles depended on a computer program to display primitive graphics and had to be suspended from the ceiling because of its staggering weight. Despite its clunky appearance, it represented a crucial step towards the integration of computer programming into VR.
As an age of rapid computer programming advancements furthered research in VR, the technology improved significantly, providing higher resolution graphics and enhanced user experience impossible to recreate with camera-provided photos. 
Looking ahead to the next 10 years, Dr. MacIntyre feels that VR's influence will be most significant in the business world, where VR will revolutionize long distance communication.
"If we can make collaborative meetings, we can reduce flying," Dr. MacIntyre said. "So much of our air travel, which has a huge impact on climate, is for work. [Therefore,] we're going to see a lot more impact on work and enterprise environments before we see the consumer impact. The collaboration aspects, especially over a distance, can affect companies across all sectors."
VR can further be used in the medical field for exposure therapy to treat PTSD and phobias. Because VR simulations can be extremely realistic while also entirely controllable, VR offers a favorable alternative to traditional in vivo methods of exposure, which may be less effective in drawing responses from patients.
"One of the early things that VR was very successful at was treating people with various phobias with PTSD — fear of heights, fear of spiders, people with PTSD from Vietnam War, Korean War," Dr. MacIntyre said. "All of these things relied on drawing up people's memories, based on flight visual cues."
Brian Beams, social science research professor and lab manager of the Virtual Human Interaction Lab (VHIL) at Stanford University, explores how humans react to immersion in a virtual world. The VHIL studies the effects of VR applications on humans, particularly the cognitive psychology behind VR and its social impacts. Through projects such as Becoming Homeless, which transports users into the life of a homeless person, and the Stanford Ocean Acidification Experience, which brings users underwater to observe rocky reefs' expected growth as a result of CO2 emissions, the lab focuses on the impact of VR on people's ability to empathize with others and learn material.
The increasing prevalence and success of VR projects like those of Beams and Dr. MacIntyre reflect the rise in popularity of the technology. According to Statista, the global VR hardware and content revenue in 2020 was $21.8 billion, a 23% increase from the 2015 revenue of $917 million.
"VR has been a trend for a while, in terms of waxing and waning popularity," Beams said. "But the reason it's gaining so much popularity is people have realized that the technology is there. It's amazing — the headsets that exist today are incredible, they're easy to use, and they're affordable."
As the cost of VR headsets decreases and the technology evolves, more consumers are able to purchase the headsets. Oculus VR's original line of VR headsets which was first introduced in 2012 and later discontinued in 2019, Oculus Rift, was priced at $599, compared to the now $299 Oculus Quest 2. Dr. MacIntyre additionally credits the purchase of Oculus VR by Meta,  formerly Facebook, in 2014 to the increase of exposure to VR.
The increase in use of VR drives fast-paced development in the field, which in turn furthers the widespread use of the technology, creating a self-sustaining cycle of innovation.
"I only started working in VR about eight years ago, and it's been moving at hyperspeed," Beams said. "It has been getting more and more powerful and more dynamic since then, so I always have to keep my skills really sharp. I'm constantly reading new articles [and] looking at new tutorials to make sure that I still understand how to implement the technology." 
Yet, like any other technology, VR is not without its concerns. Because HMDs monitor users' biometric information, as well as head and eye movements real-time while users are immersed in simulations, data privacy is a growing concern among users such as Dr. MacIntyre. According to a 2020 study by researchers from Berlin, Germany, gaze tracking can reveal a user's ethnicity, age, fears and interests, among other personal traits.
"People have done studies that show that if you construct a world correctly, you can infer all kinds of things about people from the way their eyes move: you can infer people's gender orientations, their political leanings and other things based on what they glance at and where their eyes dwell," Dr. MacIntyre said.
Despite such privacy concerns, Applied Technology Club president Trisha Variyar (11), who occasionally uses an Oculus Quest 2, highlights the technology's potential for growth.
"Anything that you do that's progressing technology, there's always going to be ethical concerns," Trisha said. "I don't think that having some sort of ethical issue and concern should be a big enough barrier to prevent us from furthering technology, because we don't want to be stagnant."
Another concern of VR is that using headsets for a prolonged period of time can result in headaches as well as damage to eyesight. As a result, experts recommend limiting time spent using VR.
"One of the things that Professor Jeremy Bailenson, the director of [VHIL], talks about is putting a limit on the amount of time that you spend in VR," Beams said. "His advised time is 30 minutes [per session] — it used to be 20 minutes, but the technology has gotten better now."
Yet, in a world increasingly dependent on technology for social interaction, the exciting potential of VR overrides its disadvantages. VR will leave a notable impact on the social aspects of people's lives by allowing users to communicate face-to-face in a virtual environment with others.
"There's going to be some effect in terms of how we socialize with people — maybe you put on a VR headset to see a virtual avatar of your friends or family," Beams said. "A lot of that depends on how companies treat virtual reality, and how we foster this online social presence that VR is becoming a part of. That's what we're going to see as the technology gets cheaper: it gets into more people's homes, and the applications for it become more ubiquitous."
April also anticipates further growth of VR in terms of accessibility and currency. She hopes that future developments of VR headsets will reduce the motion sickness and headaches users can experience after using a headset for too long.
"[VR] is still a niche, so in the next few years I see [VR] becoming more mainstream and something that more people have access to," April said. "A lot of companies are trying to work on less expensive alternatives, so something that's more accessible, something that people can use more easily."
Trisha agrees that VR will continue to leave a social impact both positive and negative.
"I'm at this conflict where [VR] sounds really cool, that technology has advanced in that way where you can see a concert that's in New York when you're sitting at home in California," Trisha said. "But it's going to make people miss the social interactions that they had where they were talking to people face to face."