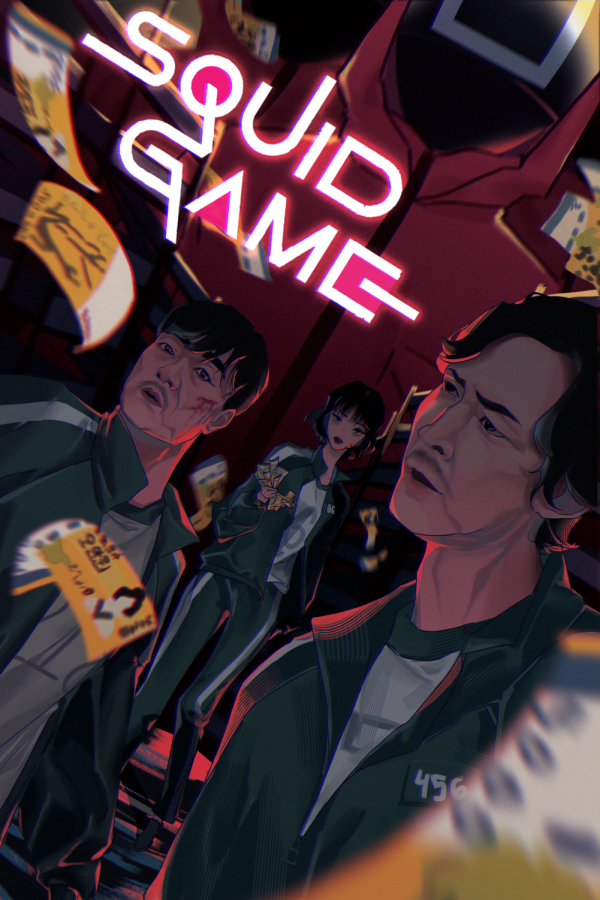 Angelina Hu
"Hello, sir."
A man in a suit holding a briefcase settles down in the empty spot next to you.
"Would you like to play a game with me?"
You give the man a once-over, questioning his profession. A salesman? Another preacher? The mysterious man opens his briefcase. Inside lies two folded paper tiles, one red, the other blue … alongside three stacked bundles of cash?
"Play a few rounds of ddakji with me," he says. "And each time you win, I'll pay you 100,000 won."
This is the first unofficial round of "Squid Game," a game with high rewards and even higher consequences. Immediately after its release on Sept. 17, the show encountered overwhelming success. In fact, "Squid Game" is the only Korean series to reach first place on Netflix's top 10 most-viewed global chart, surpassing the combined views on any other streaming network according to content analytics research firm Diesel Labs.
Over the course of nine episodes, 456 financially struggling adults play classic children's games for a grand prize of 45.6 billion won, or around 38 million USD. After an introductory round of ddakji that ensnares the players to gather on a deserted island, the real games commence, involving all players numbered one to 456. Each subsequent game eliminates at least half of those who survived the previous rounds, whether through cruel sabotage, brutal competition or immense betrayal, all portrayed with vividly graphic scenes.
Despite the gore and violence, avid "Squid Game" fan Emmett Chung (11) noted how the universalism of the show's underlying messages about inequality in capitalist societies and the dark sides of human nature likely contributed to its immense popularity.
"[Economic inequality] is not an exclusively Korean thing — it's arguably worse here in the United States," Emmett said. "So I think a lot of people could at least understand why the characters chose to put themselves in the positions they did."
Like Emmett, upper school journalism teacher Whitney Huang, who frequently watches other Korean productions such as "Parasite," applauded "Squid Game" for candidly exploring and canvassing ubiquitous societal issues.
"['Squid Game'] really can open up your eyes to a lot of the holes that people talk about but don't necessarily ever even address within society," Huang said. "And with the differences in societal needs per culture, I think this particular show does a really good job of bridging that and making it universal, even though it's completely set in Korea."
Another universal quality that the show reveals is the lengths people travel when they desire money and power. Ella Lan (10), another fan of the series, noticed recurring parallels between the show and reality in terms of the choices people make when their judgment becomes clouded by desperation.
"Even though it's not as extreme, I feel like a lot of the governments that we currently have nowadays are also exploiting the poor and helping those who are much more wealthy," Ella said. "It's really upsetting to see how similar [reality] is to this game."
Arely Sun (12) recognized the theme of economic disparity and pointed out the significance of the majority of players choosing to return to the competition even after 255 people died in the first game of "Red Light, Green Light." Yet despite the cutthroat attitude of the show, Arely empathized with many of the characters, appreciating how their flaws added to their humanity — especially 067 (Kang Sae-Byeok), a North Korean escapee turned pickpocket. Arely even decided to dress up as 067 for Halloween, donning the episode 8 bloody suit look.
"I chose to [be 067] because the character is really interesting, and I found her to be very layered," Arely said. "She's very distrusting, and she seems to be very cold, but at the bottom of her heart, she's a very caring sister and really driven to help her family."
Out of the entire "Squid Game" cast, 067's actress Jung Hoyeon skyrocketed as the largest breakout star and gained over 20 million followers since the show's release, making her the most-followed South Korean actress on Instagram. Fans found 067 so appealing because of Jung's superb acting, which she credited to the similarities between herself and her character.
"I left Korea in 2016 and worked as a model abroad until early last year, spending a lot of time alone," Jung said in an interview with W Korea. "[Sae-Byeok] also leaves her hometown. She was a pickpocket and I was just a model, but living alone and feeling lonely in a foreign country wasn't much different."
The backdrops in "Squid Game" also garnered attention with their abnormally lurid and highly-structured appearances. Masha Velikhovskaya (10), a viewer of the series who also takes the sculpture class, commented on the aesthetics of the game settings. She noticed resemblances between the backdrops of "Squid Game" and other fantastical media reminiscent of childhood, such as "Alice in Wonderland."
"By using bright and light colors such as pinks and blues and greens, we're connected back to childhood game nostalgia," Masha said. "The confusing and colorful stairs make it seem as if [the players] are stuck in a wormhole, similar to 'Alice in Wonderland' where [Alice] doesn't know which stairs or door she's taking."
Aesthetic choices, relatable characters, harsh reality and all else aside, Huang appreciated how "Squid Game" revealed a general truth: unpredictability lies in all situations, no matter what people may do in preparation. She also recommended the show to everyone — from those who only want to understand the hype to those looking for a meaningful watch. 
"I think 'Squid Game' really highlights the fact that sometimes, nothing that you can possibly do in preparation can prepare you for what actually occurs," Huang said. "And that's life, that's not unique to any particular continent or political party."