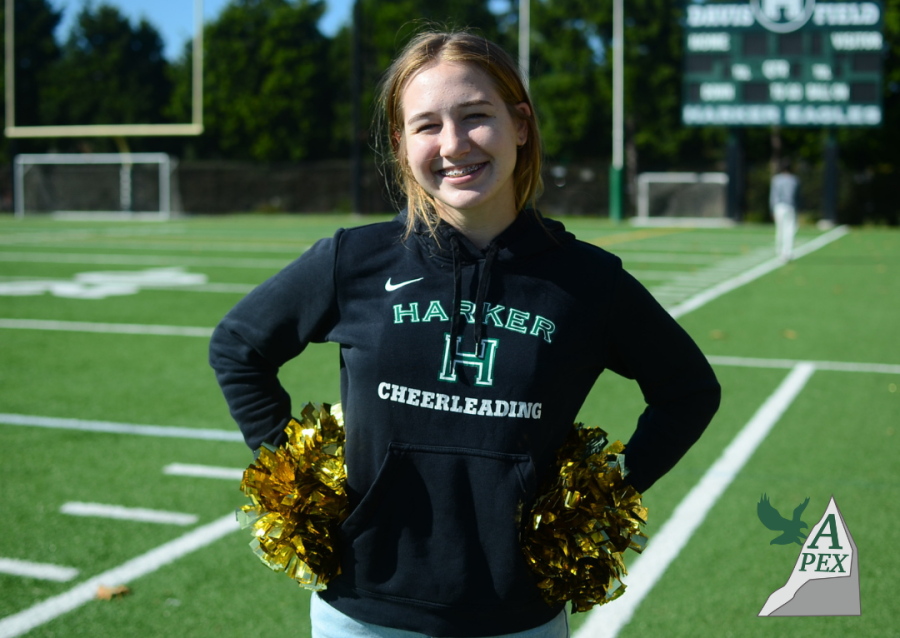 Julie Shi
Upbeat music pumps through the air as Imogene Leneham (12), captain of Harker's varsity cheerleading team, performs with her cheer members at Harker's 2021 Spirit Rally. Imogene leaps into the air in her middle splits and then follows with a series of sharply executed moves, a smile on her face as she dances to the beat of the music.
Imogene's passion for performance first drew her towards cheerleading as a child. In her freshman year, Imogene joined Harker's varsity cheerleading team, which she has continued up to her senior year.
"I really enjoy just performing any sort of [act]," Imogene said. "To be honest, [I enjoy] just that energy from crowds and being able to learn something and showcase it."
But Imogene's journey through cheer has not always been easy. During her first two years on the cheer team, she continued to deal with knee pain that had begun bothering her in seventh grade. Since the exact problem behind the pain was unknown, Imogene tried many different braces and taping methods for her knee to attempt to alleviate the pain. The braces and athletic tape were often short-term solutions, becoming useless after a day's wear.
Yet, Imogene never let the pain in her knee stop her from going to practice.
"It was just progressively getting more painful to do anything," Imogene said. "But I would just kind of shrug it off and be like, 'I'm fine,' and try to keep going even though I was in pain, just because I wanted to be able to still do everything."
At the start of her sophomore year, the pain in her knee dramatically worsened – it hurt just to walk, or to climb stairs.
Just before winter break, Imogene was diagnosed with a benign tumor right below her knee. Had the tumor been left to grow anymore, it would have shattered her knee and forced her to have an entire knee replacement. Imogene immediately underwent surgery and spent the winter break recovering. 
"[The surgery] gave me a chance to just be grateful that they could figure out what was wrong with me," Imogene said. "Because the pain had been going on for so long and was so excruciating, just knowing that they were going to fix it helped a lot mentally — being able to be like 'I will get back to cheer eventually, just it's going to take time.'"
Imogene returned to school on crutches after winter break ended, but she still had to wait for her knee bone to grow back to the point where she would be able to engage in vigorous physical activity without damaging it further. Although Imogene couldn't participate in physical cheer activities, she still sat in on every practice and game, trying her best to help her cheer members from the sidelines. 
"When I make a commitment to something, I very much try to stick to it to the best I can, and cheer is something I really enjoy and that I love, so I wanted to be there for my teammates and still be able to be there for the sport even though I couldn't participate," Imogene said. 
In a month and a half, Imogene's knee completely recovered, and she was elated to be able to cheer once again. But just a couple of months after her knee healed, the COVID-19 pandemic struck, lasting throughout the rest of Imogene's sophomore year and her entire junior year. Cheerleading practice was held over Zoom, and there were no performances during the year, throwing another wrench into Imogene's hopes to begin cheer again. 
So when school reopened Imogene's senior year and cheer returned to its traditional in-person format, Imogene was excited to return to cheer — this time, as the cheer team's captain. 
"She is not afraid to take charge in a very positive way," said cheerleading head coach Angelina Metsers, who chose Imogene for the leadership and dependability she demonstrated in her first three seasons. "I can depend on her to teach things or create parts of routines for the team and go above and beyond outside of practice to make sure that other team members are aware of the material."
As captain, Imogene choreographs sections of the routines on her own and teaches it to the other cheerleaders during practice. She also communicates regularly with her team members, both to relay logistics of practices and performances as well as to make sure they have the support they need during cheerleading.
"[Choreographing routines] takes a lot of work because you actually have to do it outside of practice, so it's a lot of dedication on her part," cheerleader Yasmin Eminovic-Miceli (9) said. "[Imogene] does a really good job checking in with everybody and making everybody feel like they matter. She gives the team a really good purpose."
Throughout her years as a cheerleader and then as the captain of the cheerleading team, Imogene has learned the ins and outs of cheerleading — both the technical skill and strength required to perform routines and the mental focus behind every performance. So when people say cheerleading doesn't count as a real sport, Imogene strongly disagrees.
"Cheerleading is definitely a sport," Imogene said. "Anything that [involves a lot of] activity and that you can compete in, win awards in, is a sport. When people don't consider cheerleading a sport, it is a little frustrating." 
Similar to traditional sports, cheerleading also holds a vigorous physical aspect to it, according to Imogene. Cheerleaders develop muscle strength through learning stunts, as the entire process of lifting a cheerleader into the air and keeping them upright can be exhausting for both flyers and bases.
"It's all very fast-paced, so when we do [stunts], it gets really tiring, especially in routines when we have [to go] from jumps to a stunt or from the dance part to stunts," Imogene said.
Because of the intense physical involvement required to perform stunts routines, especially after her knee surgery, Imogene became aware of the importance of balancing passion for cheerleading with taking care of her own health.
"Don't pressure yourself. If you're feeling discouraged, it's okay to take breaks sometimes," Imogene said. "That's what I really struggled with, trying to please the coaches and everyone else because they wanted me to get the skill. But [you should also] listen to yourself and make sure you know what your body wants and what you mentally can do."
Apex is Harker Aquila's feature profile repeater on upper school athletes.