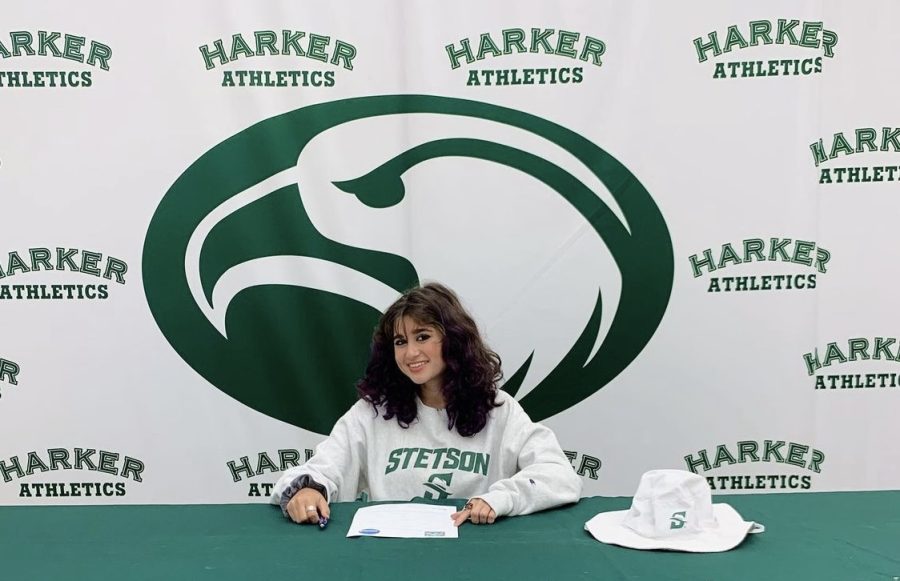 Provided by Tara Ozdemir
Tara Ozdemir (12) signed a letter of intent to play Division I beach volleyball at Stetson University during the college athlete signing ceremony on Nov. 10. 
Tara is the second student in Harker history to play beach volleyball at the collegiate level, according to varsity girls volleyball head coach Theresa "Smitty" Smith, who has coached Tara since freshman year when Tara transitioned from indoor volleyball to full-time beach volleyball. 
"Being one of the shortest players in beach made it difficult for me since I had to work twice as hard as the other athletes in recruiting," Tara said. "I was an underdog in the sport, [but] I did around 10 -15 hours a week with tournaments on weekends, [and] I did a lot of lifting as well."
Tara announced her verbal commitment to Stetson before her junior year on Aug. 12, 2020, via an Instagram post, thanking her coaches, friends and family for their support.
As a four-year varsity athlete, Tara has also played on the varsity girls volleyball team throughout high school, which made it to CCS finals in 2018 and won the CCS championship in 2019. She played libero and served as the team captain this year, helping mentor new players.
"[Tara]'s quite a confident kid. She's been playing beach [volleyball] for some time and is very successful," Smith said. "She carries herself with a positive and confident attitude. I would love for her to be as successful at the next level."