Humans of Harker: Cheer and positivity
Anish Kilaru gains confidence through cheerleading and fashion
As lights flash in the wide stadium, Anish Kilaru (12) stands front and center on the football field with the rest of his cheer team. It's the long-anticipated homecoming game, and the night's halftime show is about to begin. Upbeat music blasts from the speakers, and the team jumps into a series of synchronized movements: high leaps, bold poses, kicks and more. The fast-paced routine is punctuated by enthusiastic cheers erupting from the stands, and as Anish lifts a fellow teammate up into the air, a confident smile forms on his face.
Persuaded by a friend, Anish joined the cheer team in his sophomore year, and since then, it has become an integral part of his life. Although Anish initially joined the team without much thought, he soon became very passionate about cheer, and over the years it has grown to mean a lot to him.
"[Cheer] is a means to express myself and put myself out in the world and see what I can do. And trying out all these different things lets me see where I want to go and who I want to be," Anish said.
His journey with cheer has not always been straightforward, though. When Anish first joined the team, he realized that it was much more challenging than he expected, both physically and mentally. As someone who had no previous dance experience, the continuous strain of memorizing routines and performing stunts was demanding for him.
In addition, Anish sometimes faced judgement as a male cheerleader. However, the supportive community of Harker encouraged him to pursue his strengths and interests. He soon adapted, bringing a positive attitude to cheer to deflect judgement and negative stereotyping.
"I've gotten both good and bad comments—obviously there's been a little bit of teasing," Anish said. "But also, both people on the team and a lot of people at school have been very supportive and like having me on the team. For the most part, I try to ignore [stereotypes] and be whatever I want to be and live life how I want to."
Through the difficulties of cheer, Anish was able to discover more about himself and grow as a person. Cheer taught Anish to develop the courage to try whatever he wanted and take pride in it.
"[Cheer has] helped me become more confident [and] be more open to trying out different things, because I did it out of nowhere and tried it … A lot of things that I now really enjoy in life, things I wouldn't normally do, I did on a whim. I found that the [activities] that I did randomly are now some of my favorite parts of my experience," Anish said.
In addition to cheer, Anish participates in a variety of other sports, such as volleyball, parkour and mixed martial arts (MMA). While he joined these activities impulsively, he is committed to each sport and strives to contribute positively to each team.
"I've always tried to not back away from things, even in middle school [when I was] doing sports where it was never mandatory. I don't think I would ever miss practices because I thought that I wanted to do this. [I've] always had that mindset of if you're going to do something, fully commit to it," Anish said.
Anish carries the same adventurous spirit to his fashion sense, another form of self-expression that he takes pride in. Inspired by his family's experience in the world of fashion, he has always wanted to explore his own fashion style. From old-fashioned apparel to trendy street wear, Anish loves to experiment when choosing his outfit.
"I try to be adventurous in what I wear. Especially over quarantine, I've branched out with a lot of different outfits and worn a lot of different styles [and] tried out different looks that I wouldn't normally do. I recently painted my nails. I don't know if I have one specific style [but] I try and do whatever I think would look good," Anish said.
Through exploring his fashion style, Anish was able to develop confidence in himself, and it has helped him become the person that he is today.
"[Fashion is] a big way to give me a lot of confidence that I didn't have earlier. I might have been self-conscious earlier, but having all these outfits and making myself look better and presenting myself in a better way gives me a lot of confidence," Anish said.
Not only does Anish enjoy being creative with his fashion, but he has also inspired his friends with his unique style of clothing.
"There's no one else like him, with his fashion sense. I'll often ask him for fashion advice. He's my go-to for fashion," close friend Deven Parikh (12) said.
Anish also loves to spread positivity through his fashion. His clothes often display uplifting images and phrases.
"I have some outfits that make some kind of statement or try and portray some message, usually positive. [I have] one that says, 'Love everybody,'" Anish said.
His positive mindset is not only displayed through the clothing designs he chooses to wear, but also through his bubbly personality and cheerful attitude. He loves hanging out with his friends and bringing a smile to their faces.
"It's always a good time if Anish is there. Our interactions are always really, really positive, and he always brightens everyone's day," close friend Callie Mayer (11) said.
About the Contributor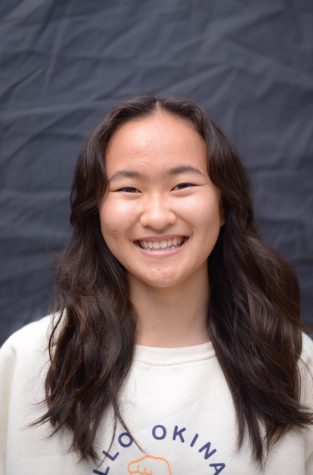 Selina Xu, Co-Video and Podcasting Editor
Selina Xu (11) is the co-video and podcasting editor for Harker Aquila, and this is her third year on staff. This year, she hopes to work more on covering...