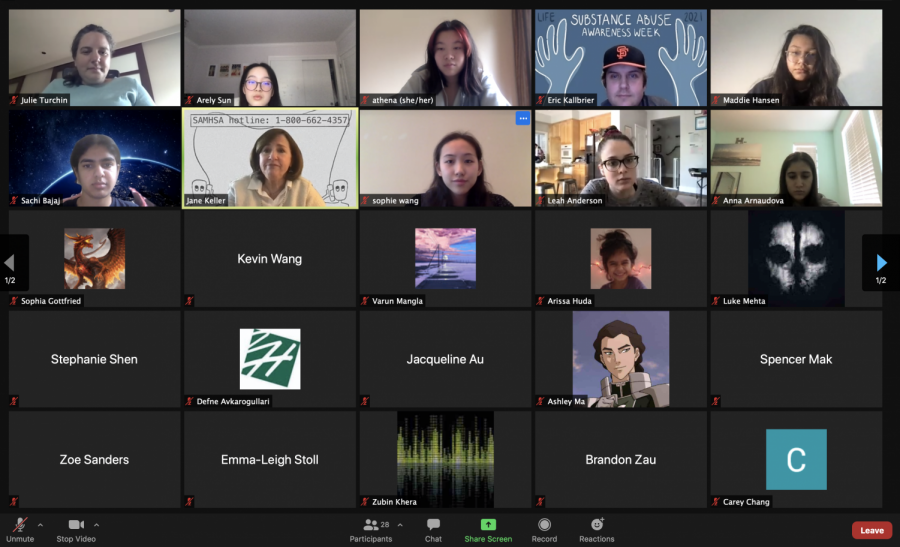 Lucy Ge
"Think down to the very last detail: what are you going to wear to a party tomorrow night?" 
Students gazed thoughtfully into the distance on Feb. 19 as they contemplated upper school LIFE program director and math teacher Jane Keller's question about planning out an outfit for a hypothetical party. After seven seconds ticked by, Keller explained her reasoning behind the question.
"That is how much time the average teenage brain has to make an in-the-moment decision," she said. "If we can't figure out what we're going to wear, how are we going to make a conscious, good decision about what's going to happen [at a party]?"
Upper school club leaders tackled the issue of substance abuse through speaker events, a presentation and an art collage during the LIFE Board's first annual Substance Abuse Awareness Week from Feb. 16 to Feb. 19.
LIFE Board members Sujith Pakala (11) and Dhruv Saoji (11), who spearheaded this initiative, organized the week's activities in hopes of educating students on the impacts of substance abuse and showing support for those dealing with addiction. 
"At the end of last year, we were looking at projects that we could do to benefit the school wellness, and we looked at substance abuse as one of the areas where we felt that is pertinent to students," Dhruv said. "I was surprised with how much diversity we were able to see in the ideas people presented [during Substance Abuse Awareness Week]."
After using a thinking exercise and playing a video during the Psychology Club speaker event on Feb. 19, Keller encouraged 30 students to think deeply about their values and discussed supporting peers struggling with substance abuse, sharing anecdotes and taking questions from the audience. 
"The main takeaway [I have] is that, for students who are going through substance abuse, it's really impactful to have an adult or a figure who will support you and guide you towards making decisions for yourself," Sophie Wang (12), president of Psychology Club, said.
Spencer Mak (9) felt that Keller fostered an open, friendly atmosphere during the speaker event.
"I feel like that she made us like the entire group, in that meeting feel comfortable," he said. "She gave in-depth answers and really made the people who were asking the questions feel comfortable, and I think that encouraged more people to ask questions."
Public Health Club hosted a speaker event on Feb. 19 with psychologist and PhD candidate Kalpana Sundaram, who spoke to over 30 attendees about treating patients dealing with addiction. She discussed using micro interventions, skills that help patients with becoming more attuned with their needs.
"We're so focused on all of the other aspects of life that we do not just focus on ourselves," Sundaram said during the talk. "So teaching people basic coping skills, to self-reflect or self-care, and giving them the confidence that they can go out and seek help, that's what I'm interested in."
Joelle Weng (9), who attended Sundaram's talk, found Sundaram's use of micro interventions to help patients fascinating.
"I thought it was really cool that little changes could help deal with such expansive problems," Joelle said. "The speaker event was actually really cool, because I hadn't heard about the issue of substance abuse from the perspective of someone who works with people dealing with it."
Medical Club, Art Club and Research Club also contributed to the week's activities. Medical Club hosted a speaker event with East Valley Behavioral Health psychiatrist Dr. Janet Spraggins, about a dozen Art Club members created a digital quilt based on the theme of substance abuse and Research Club presented takeaways from a medical journal article on drug addiction.
The LIFE Board is currently planning to host another speaker event with The Dalton School's Director of Health and Wellness Justine Fonte during this school year. Fonte previously spoke to students about sexual consent earlier this month.
For free and confidential treatment referral and information about mental or substance use disorders, call SAMHSA's 24-hour National Helpline at 1-800-662-4357.