Humans of Harker: Paying it forward
Aria Wong creates opportunities for others
Both on and off the soccer field, Aria Wong (12) is a powerhouse. Whether it's boosting morale in the locker room, directing her team on the field or helping organize the immensely popular 'Kicks Against Cancer' fundraiser, Aria has left big cleats to fill. For now though, she's focused on passing on what she's learned to make that easier for generations to come.
Aria first picked up soccer twelve years ago. Though she eventually grew to love the sport, she joined her first soccer team with her best friend, whose dad coached the team. As she advanced through the years, she eventually was named captain of her team, working to not only lead her teammates but form invaluable bonds with them over the years.
Isabela 'Bela' Contreras, a senior at Newark Memorial High School, is one such teammate who appreciates Aria for her unwavering support and the confidence she inspires in others. 
"When we were still playing on the same soccer team, she helped me out so much with keeping the team under control during stressful games," Bela said. "Especially games when I wasn't exactly sure what to tell them, she was always there giving me encouragement and stepping up. I can vividly remember gaining confidence in myself while playing with her." 
In her junior year, Aria began spearheading the efforts behind the annual 'Kicks Against Cancer' fundraiser, which raises money for Camp Okizu, a nonprofit that offers outdoor activities for children with cancer and their families. Though the event had been running for several years, Aria put her own twist on it, accentuated by her desire to pay forward her own experiences.
"I've always loved planning things, and being able to plan an event for kids in need, especially kids at a camp that's so similar to [Walden West], that has such a special place in my heart, meant a lot to me," Aria said. "I was really excited to be able to do this fundraiser for them and give back in my own way to the community."
Assistant to upper school athletics Alfredo Alves, who helped Aria organize the event, has seen her fierce determination in seeing the event through since the first year she helped organize it. Even when faced with challenges, Aria saw herself leading the charge to overcome them, spending long hours coordinating details even recently, in efforts to help raise funds for them after they were unfortunately affected by the recent California wildfires.
"She's driven, and she knows what she wants," Alves said. "From the beginning, you could really tell that she cared about [Kicks Against Cancer] and what it was about, and she wanted to deliver their message through the community. Even before [the coronavirus] hit, back in March, she was already in my office, planning what we could do for the next year. I can definitely tell that when she does something, she's all in."
Aria brings this dedication to other roles too, such as her time as a camp counselor at Walden West, an outdoor school and summer camp that provides an environmental education to students in Santa Clara County. After spending several years as a camper, she eventually became eligible to complete counselor training herself and now spends her summers enriching younger students and providing for them the same valuable experience she had. 
"It was sort of the natural progression for me. I love it up there: I love people, and I love the place," Aria said. "Because I had such an amazing time there as a kid, I valued that as a counselor, you can provide the same experience to your campers. I really looked up to my counselors, because they were simultaneously role models and friends, and being able to emulate that for my kids every summer has been such a fun experience for me." 
Fellow Walden West counselor and a senior at Valley Christian High School, Emma Carney, appreciates Aria's efforts in making the experience pleasurable while also keeping everyone on track.
"She's such a fun counselor and core member. She is one of the reasons Walden is like home to me. I can always count on her to make the weeks fun while also actually doing her job," Emma said. "She gets along really well with all of the counselors and campers, which makes working with her super easy-going and stress-free."
While Aria has grown immensely as a person and leader over the years, her work isn't done until she's had the opportunity to pass down similar growth experiences to future generations.
"I've had a lot of experiences that have shaped me as a person, and I've always wanted to provide that for younger kids," Aria said. "If you experience all these things and think 'Ok, that's it. I got to do all these things, but they're done now,' the cycle stops. If you decide you're just going to keep taking and not give anything back, who's going to provide that for the next round of kids?"
About the Contributors
Arushi Saxena, Managing Editor
Arushi Saxena (12) is the co-managing editor of Harker Aquila. This is her fourth year on staff, and she hopes to develop her skills as a writer, photographer...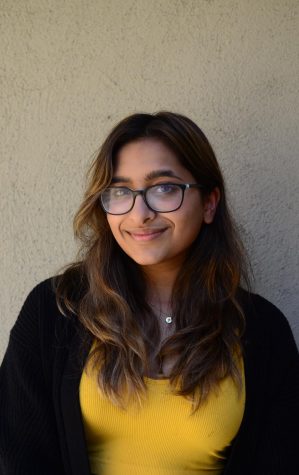 Esha Gohil, HoH Co-Editor-in-Chief and Aquila Photo Editor
Esha Gohil (12) is the co-editor-in-chief of Humans of Harker and the photo editor of Harker Aquila. This is her fourth year on staff, and this year she...