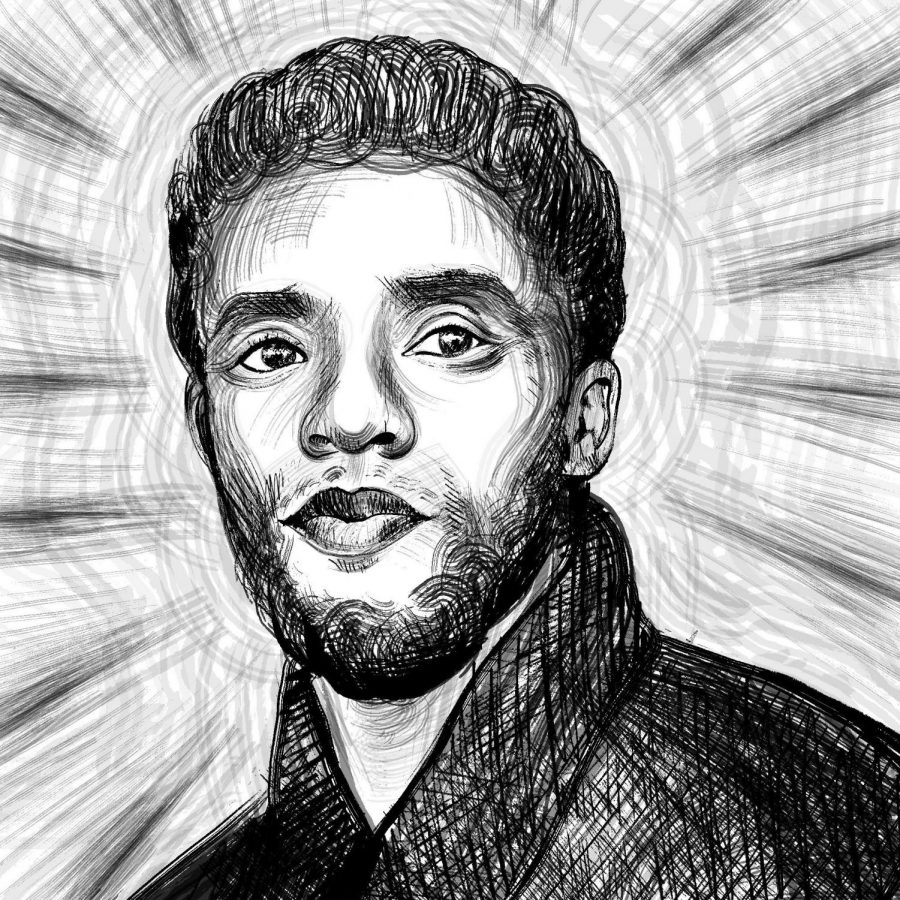 Michelle Liu
A superhero. Darting through the streets of Seoul, Korea in a sleek black vibranium suit, his lightning-quick punches delivering with the force of thunder. 
The Black Panther.  
Although the fictional world of Wakanda existed within comic books and movies, Chadwick Boseman led his life as the people's hero both on screen and in real life. 
On August 28, Chadwick Boseman's family announced his passing via his Twitter account. Unbeknownst to most,  Boseman was diagnosed with stage three colon cancer in 2016 and had been filming movies while simultaneously undergoing chemotherapy treatment as the cancer progressed to stage four this year. 
pic.twitter.com/aZ2JzDf5ai
— Chadwick Boseman (@chadwickboseman) August 29, 2020
"Black Panther," released in 2019, was Marvel Cinematic Universe's (MCU) first superhero movie with a Black lead superhero, weaving the storyline of protagonist T'challa's ascension to the throne of Wakanda, unbeknown to the world as a technologically advanced, vibranium kingdom, following  the death of his father in an explosion during "Captain America: Civil War." As T'challa takes on the role of the Black Panther, he faces antagonist Erik Killmonger in a power struggle that threatens to dissolve the harmony of his kingdom as well as place the safety of the world at risk.  
Along with a predominantly Black cast and led by Black director Ryan Coogler, who gave a statement on Boseman's legacy, "Black Panther" received praise and acclaim for this racial milestone in a predominantly white-centric entertainment industry. 
"For a lot of kids seeing Black Panther, they saw themselves in him. You don't necessarily see a lot of African American superheroes, and when you do, they're not the main character," KJ Williams (10) said, referring to stereotypically cast Black sidekicks such as Marvel superhero The Falcon in the Captain America series. 
Since its release, the film has brought Boseman international fame for his fitting role as King T'challa of Wakanda, the Black Panther. "Black Panther," Boseman and other creators gave the world the opportunity to learn and appreciate Black roots and culture.
"Chadwick Boseman fit the role perfectly," KJ said. "When I think of Black Panther, I don't think of the comics, I think of him. I identify as Black, so that representation was just really cool for me."  
Sophomore Vienna Parnell, an active Marvel fan for three years, sees Boseman's silence on his health issues and his decision to continue filming despite treatments as both "impressive and admirable."
"I don't think anyone saw it coming that he was diagnosed with cancer four years ago, well before his role as Black Panther or before his career really skyrocketed," she said. "It's very interesting how [he was] able to persevere and really fulfill the physical standards that were needed to perform an action film and also continue on as such an influential character." 
Boseman's embodiment of the Wakandan king and superhero was no doubt an iconic role; therefore, his sudden announcement has left many wondering about the possible recasting of King T'challa in the sequel, "Black Panther 2," set to release in theaters in 2022. 
Amy, who requested to omit her last name for privacy reasons, works in the finance division of Walt Disney Studios in Burbank. Her job has involved tracking the international box office performances of different Marvel films, since Walt Disney Studios bought Marvel Entertainment in 2009. 
"'Black Panther 2' is in the pipeline right now, and I can say that it's definitely a highly anticipated film," Amy said. "Boseman portrayed a really powerful leader, and he really reshaped people's perceptions of African American stories. For this story, being set in a very high tech city, [Marvel] created this package of people with different backgrounds, different languages, and I think it's influential because of its cultural differences compared with many other Marvel movies." 
Rather than recasting his role, Vienna believes that MCU should shift the storyline so Boseman's character as King T'challa has a natural ending within the Marvel multiverses, or possibly arrange for another Marvel character to continue the mantle of Black Panther, in order to preserve Boseman's legacy and memory.  
"I know the Black Panther is very important to the storyline, but I feel like recasting would definitely shift a lot of the things that Boseman as the character established in the first place," Vienna said. "The fact that Marvel produced this blockbuster movie with a predominantly Black cast really goes to show how Boseman was a Hollywood pioneer." 
Sam Fan, 29, a sound design and sound effects creator for films and TV shows at sound packaging studio 424 Post in Culver City, thinks MCU will not have a set plan for the role of Black Panther until later this year. 
"I don't know what Marvel Universe could do. Probably they're going to rehash another character to play his role and do some screenwriting to some stories that bring up the parallel universe, like in 'Endgame,'" Fan said. "I don't think we're going to have a proper actual plan until at least a couple months from now."
Aside from "Black Panther," Boseman also starred as Andre Davis in "21 Bridges," Stormin in "Da 5 Bloods," Thurgood Marshall in "Marshall" and Jackie Robinson in "42." In an Instagram tribute, former First Lady Michelle Obama recalls Boseman visiting the White House during filming for '42.' 
She praised Boseman for his ability to play "Robinson, Marshall and King T'Challa with such captivating depth and honesty… as a hero—for Black kids and for all of our kids. There's no better gift with which to grace our world."
Boseman's short but legendary career acts as a mere stepping stone to a broader movement of Black artists, actors and creators as they pave their way in Hollywood. With every project he undertook, Boseman redefined the landscape as a Black trailblazer. 
"In the entertainment business, there have been a lot of really successful black actors, like Denzel Washington or Will Smith since the 90s," Fan said. "What they did was phenomenal, but I think the difference between them and "Black Panther" is the creation of Wakanda. It was always more than a film; it always related with the periods of the time. Chadwick Boseman is such a tragic loss who will have a huge influence for years to come."