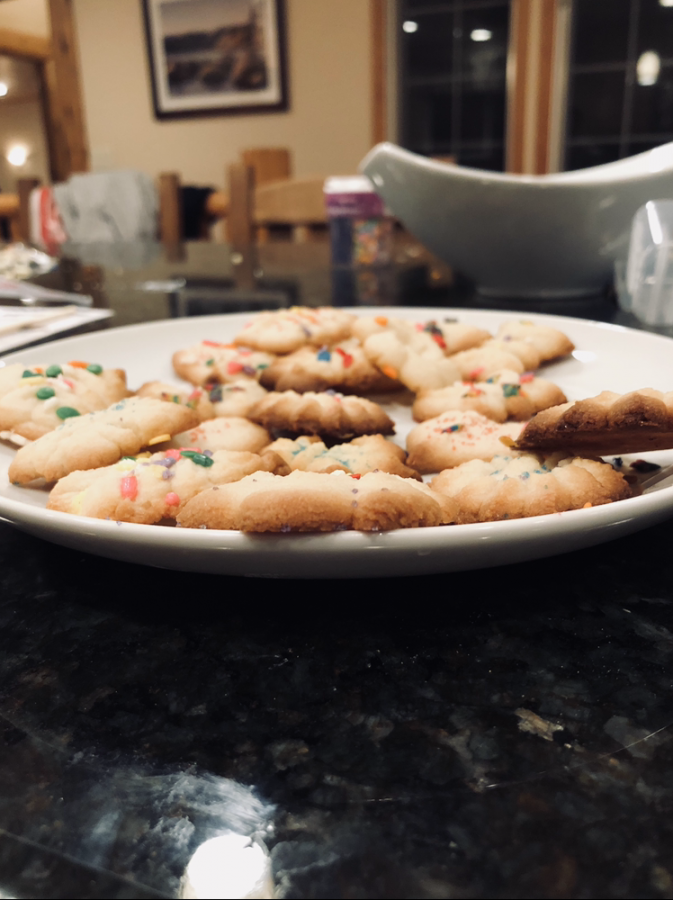 Sabrina Zhu
In the photo, a plate of vanilla sugar cookies decorated with Christmas sprinkles sits on a dark, marble table. The golden brown edges contrast with the softer, white centers, and the festive toppings add bright colors to the treats. The horizontal angle of the image captures the side view of the star-shaped cookies and the smooth edge of the porcelain plate. The cream colored walls bring out the darkness in the windows, and some wooden chairs peek out above the counter. A gentle mess of bowls, spoons and boxes fill the unfocused background, and a yellow tint warms the scene.
It's the midst of the holiday season, in 2017, two years ago. My family and friends rest in an AirBnB in Heavenly, Lake Tahoe, a tradition we've followed for 10 years now. After a long, thrilling day skiing the powdery slopes of the Sierra Nevadas, we have finally returned to our home for the week. My friend Sophie's mom sneaks to the car and comes back with a Christmas surprise: ingredients and supplies for sugar cookies. I jump up and snatch them, sprinting to the unused kitchen with my sisters Sally and Tiffany, my cousin Christina and Sophie. I hear our parents playing an intense game of pool in the adjacent room and my brother, David, talking about his life at college, and I gently smile, grateful that he's back. I rip open the box mix, and the sound of cabinets closing clash with the sound of metal clinking. Within minutes, our team has preheated the oven, opened materials and measured out ingredients. We add the right amount of eggs, water and oil, and we dig our hands into the crumbly dough. Each of us grabs a chunk, kneading it until a smooth shine appears. We find cookie cutters, and soon, trays of festive cookies are in the oven. After hearing a ding and smelling the vanilla aroma, we put the treats on a porcelain plate with big smiles on our faces.
I look forward to this tradition every year: it symbolizes the beginning of winter break, the festive holiday season and snowy adventures. I love spending time with friends that I haven't seen in months, and I especially enjoy reuniting with my older brother. Christmas is one of the only times spent with my entire family, and it just makes all the activities we do so much more fun. When I'm not worrying about school and grades and I'm surrounded by loved ones, spending a week at a winter wonderland is truly incredible.