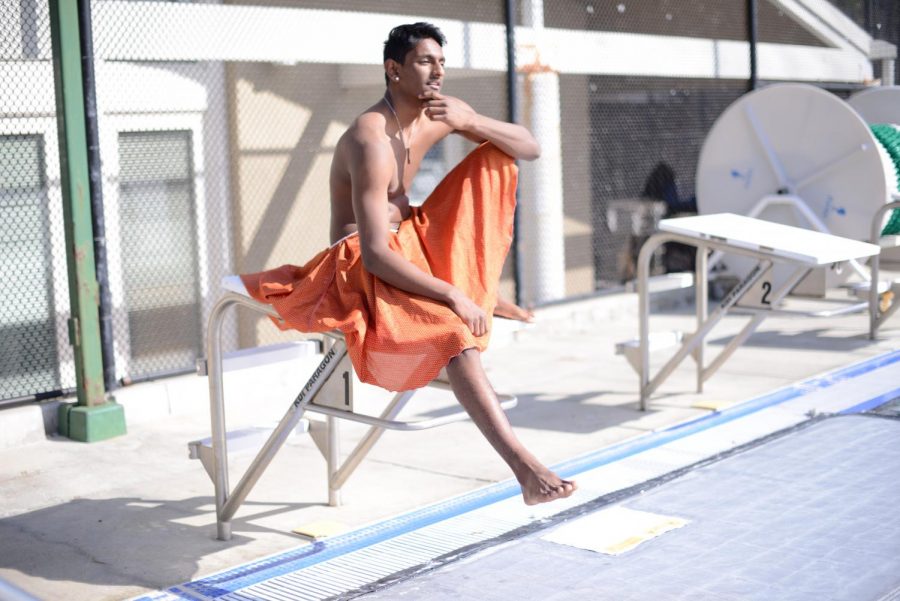 Irina Malyugina
Between the legs. Behind the back. Eyes on the defender, watching his movements. The defender's feet shift. Suddenly, Vedanth Sundaram (12) takes off toward the basket, laying the ball in just as the defender fouls him. Vedanth easily dominates competition at the auxiliary gym, where he plays after school or during long lunch. 
Basketball wasn't always this seamless for Vedanth, who has played on the varsity basketball team for the past two years. Since freshman year, he has had multiple long-term injuries, including a broken leg. These injuries often sidelined him for a large part of the basketball season, leading him to contemplate at times whether he wanted to pursue basketball.
"I get hurt a lot, and then because I get hurt, practice is tough, and games are tough. And I don't really get to play that much. So, I was really considering, 'Is this something I really want to do?' But then I realized, the team atmosphere, it's just really fun to be a part of the team and learn from Mr. Keller, the values that he's trying to teach us," he said.
Teammate Andrew Chen (10) describes Vedanth as a tough player who isn't afraid to take contact from bigger players. Vedanth usually comes off the bench and gives the team a necessary boost.
"On the court, Vedanth can deal with bigger players. He can lock up players who are 6-foot-2, 6-foot-5. Even though he doesn't start, he still brings the same energy as all of the other starters," Andrew said. 
Basketball has shaped Vedanth as a person throughout high school, and Vedanth adheres by its values, including grit and perseverance, in the classroom. He quickly learned that he had to go to basketball practice to improve himself as a player, but the hard work wasn't just for sports: it could be applied to academics too. 
"Every single practice, I practiced, did what I was supposed to, and I got better. [Academics] is the same – you're not going to get results if you don't put in the work," Vedanth said.
This ideology has also played a critical role in Vedanth's passion for science. Although he struggled at first in his freshman physics class, Vedanth soon put in the necessary time and effort, leading him to take multiple biology classes and to discover a passion for it. He described one of his favorite labs, a rat dissection.
"The first rat dissection we did in anatomy, we got the rat as a whole thing, and we had to identify parts of it. That was definitely a very fun experience. It was very unique," Vedanth said.
Vedanth's diligence in his classes has led to a good balance between sports, namely basketball and volleyball, and academics, allowing him to relax more as a senior.
Vedanth has had more time to spend with his friends, from interactions during school to sleepovers. As a result, he has formed stronger bonds with his close friends Phil Han (12) and Sidharth Dudyala (12) by sharing more of his personality.
Phil recognizes the energy that Vedanth has inside and outside the classroom, describing it as one of Vedanth's most impressive qualities.
"I would describe Ved as extremely charming. He has a flamboyant energy about him that is just contagious. Being around him is uplifting, and he's someone I always know I can rely on," Phil said. 
Both of his friends also highlight Vedanth's friendly personality and his ability to make well-timed, funny jokes, but they stress that Vedanth is always there to support them in any way possible.
"Every time I need help, Vedanth is always one of the first people to respond. Overall, Vedanth is someone who loves to make jokes and knows how to make everyone laugh but can also carry out deep and thoughtful conversations," Sidharth said.
Vedanth is generally quite humble and paints himself as a relaxed person who finds joy in sports.
"I would say in general I'm a pretty laid back and easygoing guy who just likes to have fun and enjoys sports and working out," Vedanth said.