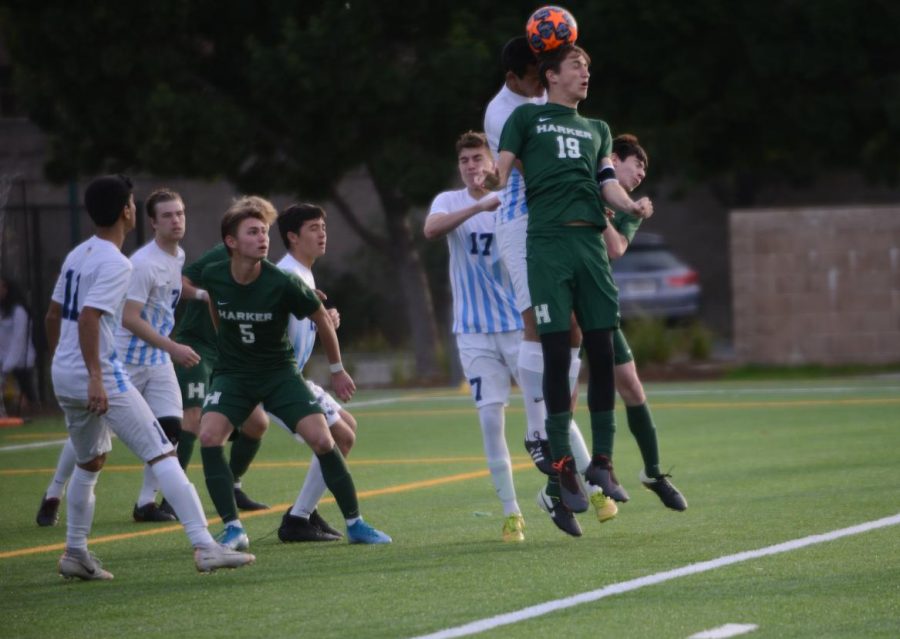 Irina Malyugina
The varsity boys soccer team ended their close game against Leland High in a tie 2-2 last Wednesday, while the junior varsity team lost 3-1. 
"It's definitely been a bit challenging for the boys. The boys are really starting to get to know each other, and it's coming together," varsity boys head coach Jeff Baicher said. 
Marcos Acero (11) scored the Eagles' first goal six minutes before halftime, but the opposing team followed it up with a goal seven minutes into the second half, tying the score 1-1. Around 15 minutes later, the Eagles scored again before Leland High tied the game with a final score of 2-2.  
"We came into the game with a set game plan where we expected the [opponent] to play possession and build off of that. When they reverted to long ball, we did really well to tighten our defense and midfield and challenge them in the air," varsity player Justin Fung (10) said. "We created chances through interplay and creative movement. I think one of the best plays of the game when we had a few 1-2s and Ishaan [Mantripragada (10)] kicked the ball over the defenders to me and I almost scored."
The junior varsity boys soccer team played directly after, also against Leland, and suffered a 3-1 loss. 
"I think our team did well in terms of effort. It seemed like everyone was always sprinting to the ball and trying their hardest, [but] our team lacked communication. Sometimes we didn't talk to each other about who should be where and that led to errors," junior varsity player Mir Bahri (9) said. 
The varsity team will play Crystal Springs in an away conference game this Wednesday at 3:30 p.m., and the junior varsity team will play King's Academy in a non-conference away game on Monday at 5:15 p.m.