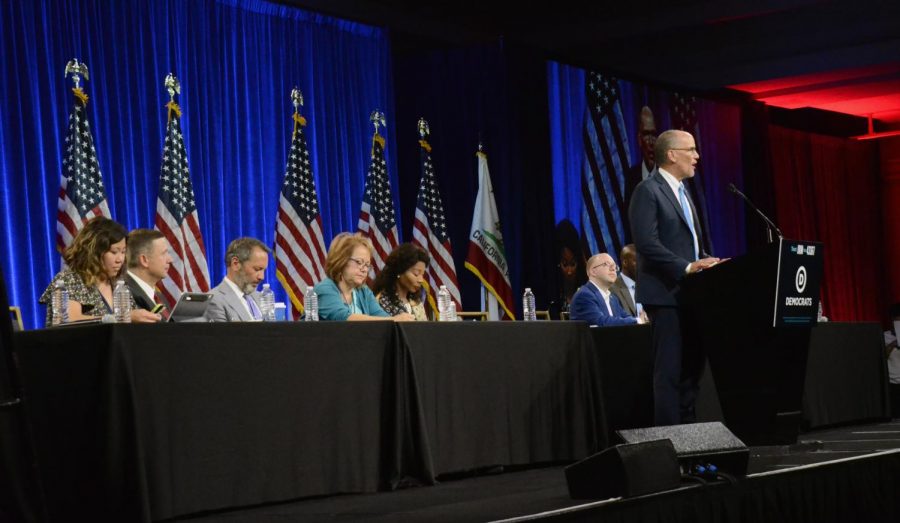 Eric Fang
Outside the Hilton San Francisco Union Square Hotel on Friday, supporters of presidential candidate Tom Steyer cheered and waved blue "Tom 2020" posters. Dispersed throughout the lobby, people of all ages wearing "Kamala Harris for the People" shirts handed out flyers. An older man in an American flag hat wore a neon green cardboard sign bearing the words "Lock Him Up," referencing President Donald Trump, slung over his shoulders. 
The hotel buzzed with activity this Thursday, Friday and Saturday as several hundred Democratic National Committee (DNC) members gathered to participate in caucus and committee meetings on topics ranging from the DNC budget to Native American rights. As this meeting was the last one before the Democratic primary in February and March 2020, members also strategized for the 2020 election and listened to presidential candidates deliver eight-minute speeches on Friday. 
The 13 presidential candidates present at the meeting were Sens. Michael Bennet (D-Colo.), Cory Booker (D-N.J.), Kamala Harris (D-Calif.), Amy Klobuchar (D-Minn.), Bernie Sanders (D-Vt.) and Elizabeth Warren (D-Mass.); former Secretary of Housing and Urban Development Julián Castro; author Marianne Williamson; entrepreneur Andrew Yang; hedge fund manager Tom Steyer; Reps. Seth Moulton (D-Mass.) and Tim Ryan (D-Ohio) and former Pennsylvania Rep. Joe Sestak. 
The current top-polling candidate, former vice president Joe Biden did not attend the meeting. Instead, he and other absent candidates sent videos. Currently, Biden polls at an average of 28.8 percent, according to RealClearPolitics.com. Sanders and Warren follow Biden with 16 and 15.4 percent respectively, and Harris and Buttigieg poll at 7.4 and 5 percent respectively.
DNC members have a smaller role in the 2020 primary compared to the 2016 primary. At the 2020 DNC national convention, superdelegates will only cast votes for a party nomination if no candidate wins a majority of delegates from primaries and caucuses.
Climate change took center stage at the meeting as a youth-led political group, the Sunrise Movement, organized demonstrations throughout the event in committee meetings, hallways and outside the hotel. The protesters called for the DNC to allow for an additional Democratic presidential debate that specifically focuses on climate-related issues. 
On Friday, Sunrise Movement members in bright yellow shirts protested outside of the hotel, carrying yellow posters with words like "Be Brave," "Climate Debate" and "Our Future is Not a Single Issue." At times, they sang protest songs like "Which Side Are You On?" in unison. 
"The biggest obstacle [to a climate debate] is the whole way that the debate system works right now. It's not listening to the people in the same way that it should be," Carmen Bouquin, an organizer in the Sunrise Movement, said in an interview with Harker Aquila. 
Frontrunners Joe Biden, Bernie Sanders, Elizabeth Warren and Kamala Harris have all spoken out in support of a climate debate. Steyer, who entered the race on July 9, also supports immediate executive action on climate change.
"My appeal to young people is I'm completely direct, in particular on the issue that they care the most about, which is climate," Steyer said in an interview with Harker Aquila. "I said on day one I would declare a state of emergency on climate because in fact if we don't start on day one, if we wait for the votes to come in through Congress, we will miss the window to keep control of the situation."
Candidates Ryan and Yang spoke to Sunrise Movement members during one of their demonstrations, echoing their calls for a climate debate. On Saturday, Ryan released a statement proposing that the debate be held in his home state of Ohio in order to directly address industrial belt communities. 
While CNN will host individual town halls on climate change for 10 of the candidates on Sept. 4, a climate debate would allow candidates to respond to each other's platforms. 
In a June statement, DNC chairman Tom Perez warned that allowing a climate debate would open the door to requests for other single-issue debates, which the DNC could not all honor. In a 17-8 vote on Thursday, the DNC's Resolutions Committee voted down a resolution for a climate debate. In a 222-137 vote on Saturday, DNC members also voted down a resolution that would allow debates between the candidates on single issues, like climate change. 
Candidates also took the opportunity to discuss their recent proposals at the meeting. Castro, who qualified for the third round of Democratic debates on Tuesday, spoke to Harker Aquila about his People First Housing plan, which he released on June 17. 
His plan calls for greater investment in affordable housing and tools to counter gentrification in areas like San Francisco. He believes that "smart rent control," such as that which exists in San Francisco, could benefit other cities as well. 
"We need to create more affordable housing in neighborhoods that we've oftentimes not invested in and then also neighborhoods of so-called higher opportunity, so that people have a choice of where to live," Castro said in an interview with Harker Aquila. "When I was Housing Secretary, we worked with San Francisco to make sure that we could accommodate the needs of the local community as much as possible so that people who are living here can stay here."
High school students from across the Bay Area also played prominent roles in the DNC meeting. Haritha Kumar, vice chairwoman of High School Democrats of America (HSDA), and Jack Greenspan, chair of HSDA, came to the meeting to promote an amendment to the DNC Charter and Bylaws. The amendment gives HSDA two seats on the DNC. 
"Youth have such a big stake in the issues of 2020 and beyond," Jack, who is a senior at Scarsdale High School in New York, said in an interview with Harker Aquila. "We want to have a seat at the table so we can make our voices heard on those important issues."
On Friday, Haritha, who is a senior at Cupertino High School, told Harker Aquila that the responses from DNC members to the amendment were "overwhelmingly positive." On Saturday, the DNC passed the amendment. 
California Democrats will vote in the primary on "Super Tuesday" on March 3, 2020 along with 11 other states, after voters in Iowa, New Hampshire, South Carolina and Nevada cast their ballots.