Global Reset: Local efforts to be environmental
Students and faculty take steps towards environmentally-driven action on the community level
How can we replace plastics in our schools with compostable material? How can we reduce idle energy? What are some activities that may get students more interested in the environment? Attendees of the Students for Green High Schools Conference on Jan. 26 brainstormed solutions to these questions in small groups, as they addressed common environmental issues in their community and thought of ways they can inspire change at their own schools.
During the conference, organized by the Los Altos High School Green Team, students from 20 high school Green Team chapters in the Bay Area listened to keynote speakers and met with other attendees to discuss ways to increase sustainability.
The Harker Green Team shared their Buy Better Boba project with the other chapters and encouraged them to implement other realistic solutions to bring about change. Green Team president Anvi Banga (11) explained the club's efforts to adopt reusable glass jars and straws in place of the plastic alternatives traditionally used to sell boba.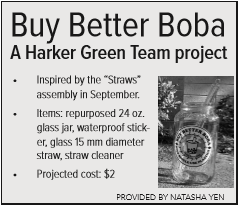 "We're trying to find a sustainable way of drinking boba because we know that so many people love it," Anvi said. "Except, the plastic that comes from boba is produced in mass quantities and is harmful to the environment, so we've developed a mason jar, glass straw combo, which helps people avoid using plastic products."
In addition to the Buy Better Boba project, Green Team representatives spoke with Head of School Brian Yager and Chef Steve Martin to implement changes in how the cafeteria operates during lunches. Starting from March, everything the kitchen produces will be edible, washable and reusable or compostable. In other words, the kitchen will no longer be using plastic dessert cups or utensils.
"
[There are] just not enough people out there right now who are willing to maybe take a slight inconvenience from their normal day-to-day life to do something that will make a difference in the long run"
— Anvi Banga (11)
"[There are] just not enough people out there right now who are willing to maybe take a slight inconvenience from their normal day-to-day life to do something that will make a difference in the long run," Anvi said. "We are trying to encourage people to do something now rather than be like, 'it's more convenient for me to take a plastic fork.'"
Aside from the efforts of Green Team, students and faculty engage in environmental acts large and small for the betterment of their community. Zain Awais (10) is one student who often walks to school a few times a week throughout the year. Although the 20-minute walk can often be time-consuming, he believes in the larger benefits of his actions.
"It feels good to walk to school in the mornings or walk home in the afternoons because I feel like I'm doing my part to reduce pollution," Zain said.
English teacher Charles Shuttleworth takes a different approach in his effort to become more environmentally friendly. As someone who deeply appreciates and values the importance of paper, he worked with school administrators and the facilities staff over the past year to address the problem of bond paper, or durable writing paper, being thrown in the "Dry Bin" along with food in plastic containers and bottles that are still full.
"I think it's really important for our community to be more conscious of and sensitive toward paper," Shuttleworth said. "To me, paper is something that we should hold just with a little higher respect. It should be able to be treated better and more directly recycled, and by saving that extra step, I think that ends up saving energy."
Diane Moss, the teacher advisor of the Green Team, notes that even these individual efforts can still make a substantial difference.
"[Environmental work] is about creating awareness and educating people, so [there is] a lot of one-to-one talking about it," she said. "Like I'll tell you, 'Hey, you need to go home and tell your parents [about a voting measure],' or if you lived in the city of San Jose, you'd call your city council rep and you'd say, 'You need to do something.'"
Anya Gupta (12), the co-president of the Los Altos High School Green Team, who helped organize the conference, adds that she hopes that hosting an event "for high schoolers, by high schoolers," can help strengthen the culture of sustainability in schools across the Bay Area.
"I think what's important is to realize how lucky we are to live in an area where we have electricity and we have cars, so learning from a young age to use only what you need is really important going on into the adult world," Anya said. "Even though [your efforts] seems to be on such a small scale, if you are living your life the most green you possibly can, there's nothing better than that."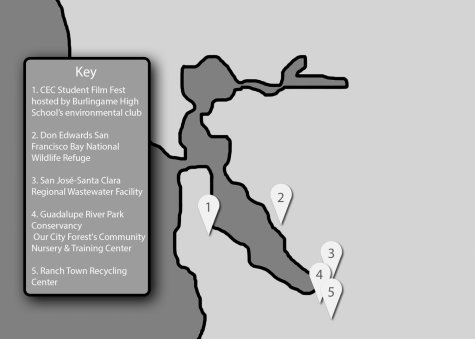 Michael Eng
This piece was originally published in the pages of The Winged Post on February 20, 2019.