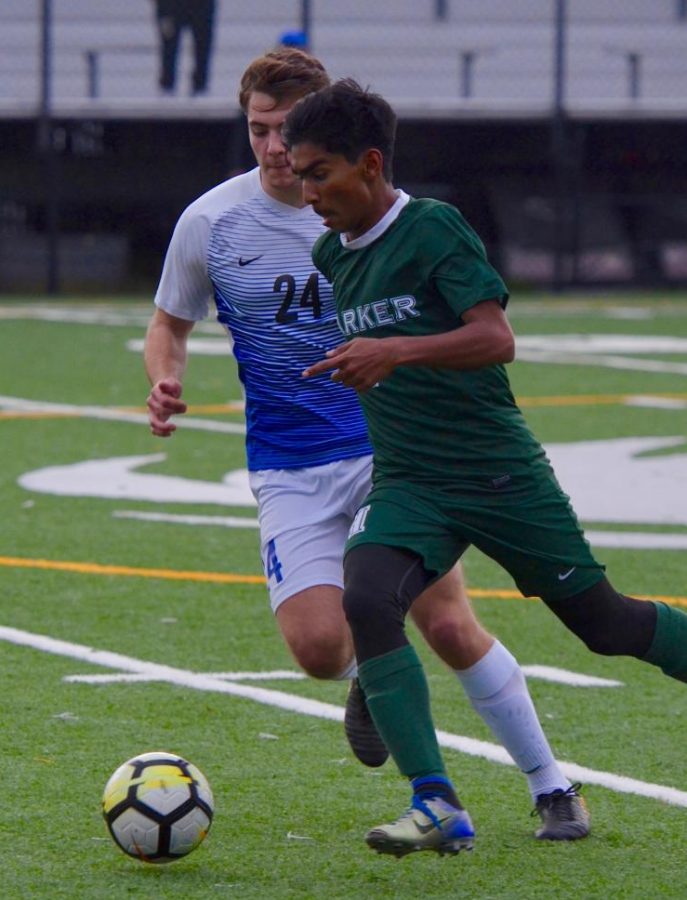 Irina Malyugina
The varsity boys soccer team soundly defeated Woodside Priory School 3-1 in a league home game accompanied by intermittent rain on Friday afternoon.
The first half began with an early goal by midfielder Andrew Cheplyansky (11). After strong defense from both teams as well as multiple attempts to advance to the net, Harker pulled further ahead with freshman Arthur Kajiyama and sophomore Mateo Weiner closing out the last two minutes of the first with two goals in quick succession, gaining a 3-0 lead that would later prove to be insurmountable.
"[The last two minutes of the first half] changed the game, and we were able to really win the game and finish it off," head soccer coach Jeff Baicher said.
Priory scored once after halftime but was unable to break through the Harker defense for the rest of the game. Harker used a strategy where tried to shut down the best player on Priory's team.
"I think we played very well today. It was a different challenge for us because that team we played against has one very special player, and sometimes one special player can change a game," Baicher said.
Friday's game marks the second league win for the varsity boys soccer team, improving their record to 2-0. So far, the team is on a 7-game win streak, which started with San Mateo High on Nov. 30.
"I think once Harker really pulled ahead after the first half, there was just a lot more momentum and energy, even in the bleachers," Srivishnu Pyda (10) said, who watched the game.
Shaunak Naraiyan (10), who plays midfield for the varsity team, emphasized the importance of following through with the team's plans.
"As a team, we are probably going to try to stick to our strategy in the next couple games and make sure we don't slip up because we had a couple slip-ups last game that led to a goal for the other team," varsity soccer athlete Shaunak said. "But overall I think we're doing a pretty good job so far."
The team next hosts Crystal Springs Uplands next Wednesday at 3 p.m.