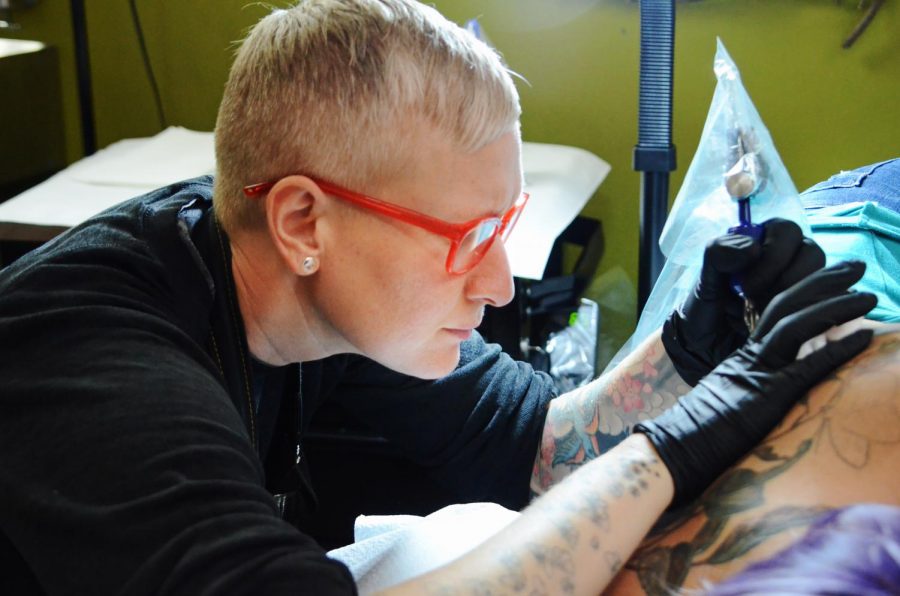 Anna Vazhaeparambil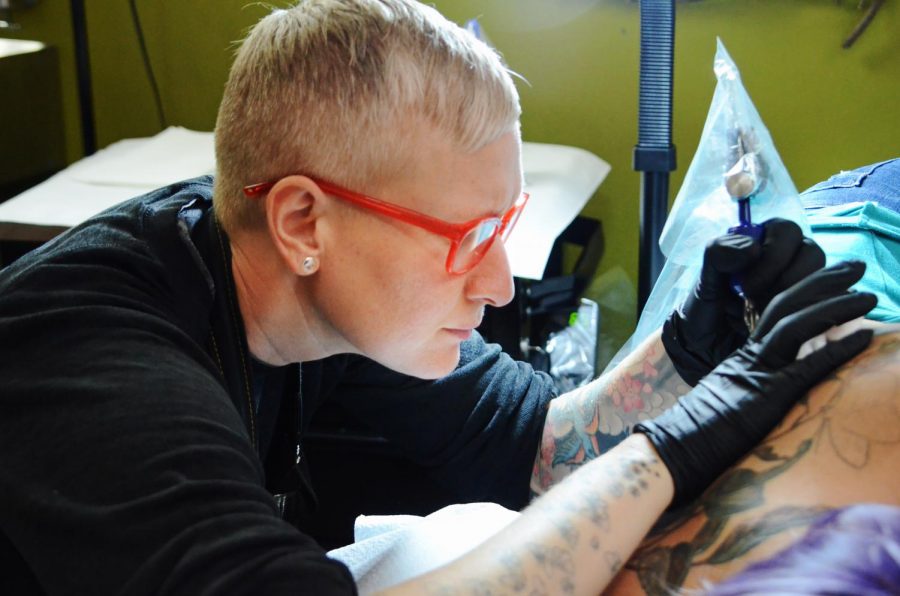 Led Zeppelin's "Black Dog" blasts through the speakers, nearly overpowering the constant hum of tattoo machines that resonate in the room. Greenery and artwork adorn the walls of the shop, and colorful figurines and trinkets fill the shelves. In the center of everything, a tattoo artist sits calmly on a stool, preparing the inks needed to make an intricate flower design, while their client lies patiently on an ink bed, hidden from the rest of the studio by patterned room dividers.
Cedre Csillagi, the co-founder of Diving Swallow, a female and genderqueer tattoo shop, has been a tattoo artist since 1999 and works to promote diversity in an industry that has not been completely accepting of queer artists in particular, like themself, in the past. Csillagi notes that as a "betweener" in terms of gender — someone who is nonconforming to the gender system and identifies with the pronouns "they" and "them" —  it is especially crucial that the studio is a safe space for anyone who enters.
"Stereotypically and still to this day, there are a lot of cis, white, heteronormative men running and working [tattoo] shops, and all you have to do is go to a tattoo convention to feel that," Csillagi said. "It's important for a really diverse and wide range of people to be comfortable doing something to their body that's already so vulnerable."
Csillagi was also motivated to start their studio after experiencing the same environment of acceptance at their previous tattoo shop, Black and Blue Tattoo, in San Francisco. Having first apprenticed at this studio in 2000 while still attending art school at the San Francisco Art Institute, Csillagi appreciates the experiences and memories made there.
"One of the reasons why I was working at Black and Blue in the beginning was because of the many queer people that mostly female-identified [who worked] there," Csillagi said. "They were strong people, who had strong opinions and [had] a lot to learn from."
Although Csillagi's motivation to leave and move to their own studio was initially based on being unhappy with the wages, they also desired the freedom that accompanies such a transition.
"When you make your own tattoo shop, you get to create your own space, and you get to put up the art that you want to put up," Csillagi said.
Having been a business owner for fourteen years now, Csillagi has learned to value both the art and the customer interactions, which are major aspects of the job. Csillagi aims to create art that not only pleases the customer, but also art that they feel passionate about. Over the years, their style has evolved to focus specifically on botanical, space and food tattoos.
"In 2020, I'm hoping to do a Bob Ross landscape scene — it's based off of a landscape photograph and a collage of flowers that we printed in the foreground," Csillagi said. "I like painting duplications like this because I get to not only work with what the client wants, but I get to see how another artist brings work."
In this sense, Csillagi notes that tattoo art is similar to more conventional art styles in that the tattooist is creating something beautiful from a blank canvas. However, they also acknowledge that the connections tattoo artists make with their clients transcend this art form to another level.
"Tattooing is very much not alone — you're together with someone the whole time," Csillagi said. "The getting [the tattoo] is very much a part of it, whether they designed it or not."
Csillagi adds how tattoos also have a "performance" aspect to them, which adds to the publicness and vitality of this art.
"There's something else that takes it away from being art like in a gallery: the fact that the tattoo has a new life after it leaves the studio," Csillagi said. "The art gets done and then it walks away and lives in the world … that's something that I can't even put words to."
This piece was originally published in the pages of The Winged Post on December 6, 2018.
Correction: January 5, 2019
A previous version of this article stated Diving Swallows as the name of the tattoo studio. This article has been corrected to reflect this error.