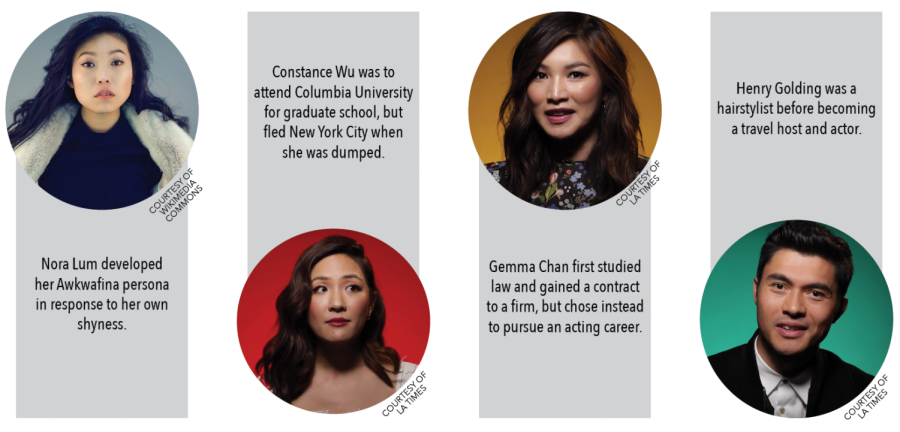 Before the classic high school plot of "The D.U.F.F" was "Mean Girls", and before "Mean Girls" was "Clueless". Before the romantic musical of "La La Land" was "Singin' In the Rain". Before the fake-relationship narrative of "The Proposal" was "How to Lose a Guy in 10 Days", and before that, "While You Were Sleeping".
But before "Crazy Rich Asians" was…"Memoirs of a Geisha"? "Enter the Dragon"? "Doctor Strange", which, believe it or not, is in fact listed under the category of "Asian movie" on IMDb? No, there is far too much village-fleeing and Kung fu in those movies to ever be classified as a rom-com.
Pop culture magazines' top-whatever lists of best rom-coms believably feature films starring predominantly Caucasian actors and actresses. Even just last year, having an Asian lead in a rom-com would be about as improbable as having a Jackie Chan movie without any martial arts. Asian men and women have usually been represented as nerdy, shy, socially inept sidekicks, and moreover, women, specifically, were often overly-sexualized and portrayed as "exotic".
"The industry is run by white people […] If we go back to history, […] they wanted us to fear Asian men, and they wanted us to emasculate them, and then they also wanted to sexualize Asian women, so it's always been tough to get the perception for Asian people in regular media and to normalize us." Laura Sirikul, activist and journalist with Nerds of Color, a community of fans that according to their website, thenerdsofcolor.org, looks at events with a "culturally critical eye", said.
It is time the media represents Asian men and women as unique individuals, whether confident, funny, smart, beautiful or all of the above. In recent years, shows like "Kim's Convenience", "Master of None" and the ever-famous "Fresh Off The Boat" have done a fantastic job of portraying Asians in all walks of life. De-tokenizing them, if possible.
"Crazy Rich Asians", however, is not that kind of representation. Though written through an Asian lens and with an undeniably Asian cast and setting, the story of "Crazy Rich Asians" is surprisingly American. Universal, even.
"[After seeing the promotions,] I thought it was really cool it was an all-Asian cast. The trailer is really funny. It seem[ed] like a fun rom-com to watch." Rashmi Iyer (11), who watched the film, said. "[We should] be aware of the fact that white-washing is going on and be more accepting of different people acting, and that we give Asian Americans more chances in Hollywood."
"Crazy Rich Asians" represents a narrative we have yet to see more of: the contemporary story of lead Asian actors and actresses. A love story, in particular, one of an Asian American. The life of the Asian American remains under tight wraps in the world of Hollywood, whether due to fear or concerns about the box office or other barriers that make directors and film companies shy away from telling these people's stories. This movie is actually the first Asian-led mainstream film in theatres to be set in contemporary time since the "Joy Luck Club", 25 years ago.
"I think this [film] is encouraging. I think there are still barriers for Asian actors, like [some] have to change their names to seem white […]. There are still barriers to be overcome, but I think it's encouraging to those who want to get into acting but are discouraged because of the whitewashing." Grant Miner (11), who watched the film, said.
This piece was originally published in the pages of The Winged Post on Aug. 31, 2018.