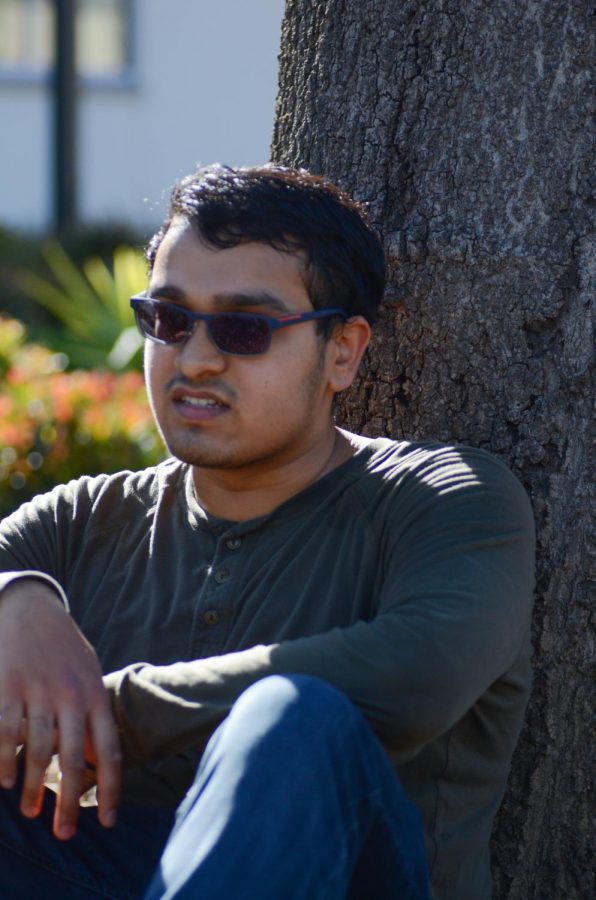 Anoushka Buch
Arindam Ghosh (12) is a familiar sight at Rancho San Antonio County Park, where he spends his weekends relaxing and soaking in the mountainous scenery.
"When I was younger, my parents just took me there for fun. I kind of just enjoy the ambiance of them, and it's just really nice," he said. "You can really get detached from your ordinary life and just think about random things. I feel kind of free and like I'm having fun."
Arindam's friend Eric Tran (12) commented on his easy-going personality.
"He's definitely a fun guy to be around," Eric said. "He's always got a really level head, so he won't get angry and he's not going to blow up and get mad."
Arindam speaks quietly, his words deliberate but unassuming.
"He's not a real talkative guy, but he really gets things done, so he's a really good student in that perspective," upper school biology teacher Dr. Blickenstaff said. "He's very serious about learning things and about exploring new things like biotechnology, for example, the class we just finished."
Arindam applies his knowledge and enthusiasm to tutoring younger students for an organization called Science for Youth, where he hopes to instill in them the same zeal for education that he holds.
"When they see that they have a natural intuition and that they can piece together conclusions on their own, it's just a pretty great experience," Arindam said.
Just like he encourages his students to try new subjects, Arindam too tries to be receptive to new ideas.
"Sometimes there can be different approaches to a problem, there's always something you can learn from someone else," he said. "If you listen to a different idea for a problem, you can hear a shortcoming to your solution or your position, and you can be a more logical. I think it's important to not keep the same perspective over and over."
Arindam finds that adopting this mindset has helped him discover subjects that he enjoyed.
"I think the most important decision I've made is just choosing to be open-minded, like whatever what your interests are. When you reach the point where you know you're planning to go into one specific field, that doesn't mean you can't branch out and gain more knowledge," he said. "You might really like some other things. Like my APUSH class last year, I wasn't sure what I'd think about it, but I definitely enjoyed it. Especially when you get to see what you learned and gained from the experience, it's pretty interesting."
Arindam finds the all-too-common "plug-and-chug" methods of solving problems to be less rewarding than understanding the material in the first place.
"I guess probably the best role model that I have, at least from Harker, is Mr. Lepler," Arindam said. "He told me to 'understand, don't memorize.' I think that's universally applicable, no matter what you're doing. If you actually understand a concept, whether it's biology or math or even history, you can actually understand a trend like 'why are these things repeating over time?' You'll understand the content better, and you feel a lot more accomplished at the end of the course if you learned something."
Sumer Kohli (12), one of Arindam's close friends, spoke of his academic ability and his love of learning but also mentioned a more playful side to him.
"He's a big fan of roasting people, but he's also quick-witted, sharp, and very intelligent. I've had a lot of classes with him, and he's often very correct with what he says," Sumer said. "He doesn't speak a lot in class, but when he does, you know it's correct. He measures his words, and he can be extremely enthusiastic when something does excite him."