Girls volleyball seniors honored in game against Mercy-SF
Varsity girls' volleyball team honored their seniors during their game against Mercy-SF last Tuesday, which they lost in four sets.
Prior to the game, seniors Megan Cardosi, Melissa Kwan, Lauren Napier, Tiffany Shou and Isabella Spradlin were honored with their parents and family members by head coach Theresa "Smitty" Smith, assistant coaches Stephanie Coleman and Sandy Fung and their teammates. The coaches then played a video, recognizing the seniors and their accomplishments during this season.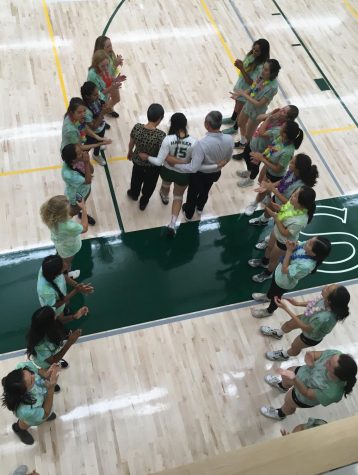 "I'm proud of how hard they have worked to uphold the culture of the volleyball program, and I will remember them for their leadership qualities, generous spirit and laughter," Smith said.
The girls won their second set by 25-16; they lost the first, third and fourth sets by close margins of 21-25, 21-25 and 22-25, respectively. Yet for the seniors, witnessing the support from their friends and family as they played one of their last games in high school was a memorable experience.
"All of the flowers, gifts, food, posters and cheering we received before, during and after the game, truly made it a night to remember," co-captain Lauren Napier said. "I could not ask for better teammates, friends and family throughout the past four years."
She also stresses how close the team has become over the past few months.
"Each player on the team brings their own energy, personality and dynamic to the team which makes us all get along so well," Lauren explained. "I can easily say that my teammates have become my best friends, and I am so grateful for them."
In turn, the seniors have also greatly impacted their team and their coaches, who will miss them when they graduate this year.
"I work with some really smart, talented, generous and funny young ladies," Smitty said. "We've become pretty dependent on each other over that last several years and it's hard to see them go."
"It's really been an honor playing with such skilled teammates; they will be greatly missed," junior Katrina Liou added.
The girls' varsity volleyball team now has a league record of 3-8. Their next game will be away on Friday against Menlo.