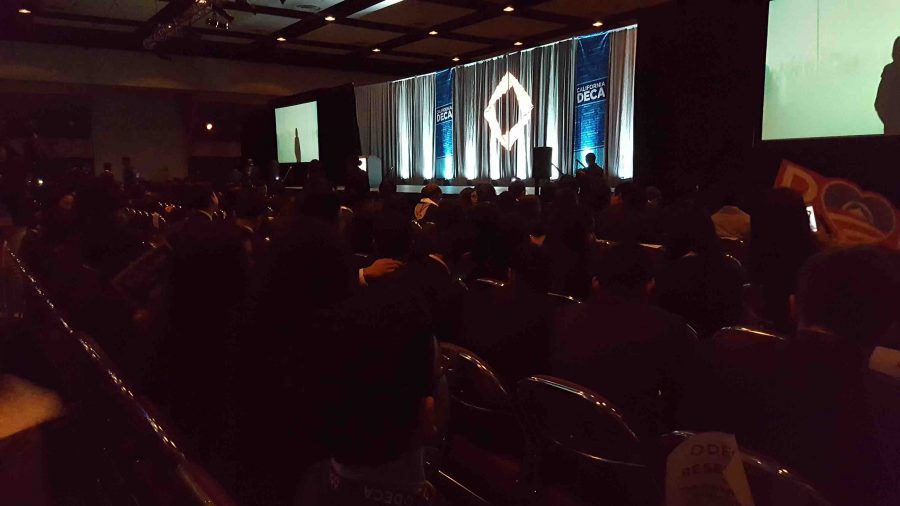 Helen Yang
This year, 106 upper school students attended the State Career Development Conference (SCDC) to compete with students in DECA chapters from all over California from Mar. 2 to 5 at the Santa Clara Marriott.
Students competed in various events based on business management, hospitality, tourism, marketing, finance, and also participated in activities involving roleplays and presentations. Aside from the competition, students socialized, attended workshops, listened to keynote speakers, took business exams and enjoyed a dance.
Forty-nine Harker individuals and teams placed within the top 10 for their events. 21 students qualified to compete in the International Career Development Conference (ICDC), including first place winners Mishu Nitulescu (11), the duo of Enya Lu (10) and Shania Wang (10), Evan Cheng (9) and Rohan Cherukuri (9).
"Attending SCDC gives students insight on business in the real world and provides great opportunities to learn how to interact with others and present innovative ideas," SCDC attendee Logan Bhamidipaty (10) said. "It really is a valuable experience for anyone who attends- and plus, you get to meet new people."
The Harker attendees also supported Dolan Dworak (11) in his campaign to become the president of the California DECA officer team for the next school year. David Xu from Foothill High School in Pleasanton won the election.
Students left campus by bus at 10:45 a.m. on Thursday morning. After arriving at the Santa Clara Marriott, they ate lunch and then participated in a study session before checking in and taking written examinations. On Friday, students competed in roleplay events, went to business workshops, took protege tests on various business fields and attended a general session at the Santa Clara Convention Center.
On Saturday, students presented written event projects, attended more workshops, took part in a formal recognition session for mini awards and participated in a dance. Finally, students attended the grand awards session before returning to the hotel, checking out and leaving at 12:30 p.m on Sunday.
Top finishers at the SCDC are now preparing to compete in this year's ICDC at Anaheim, which will take place from April 26 to 29. Many non-qualifying students are also applying for the Leadership Academy, acceptance to which will allow them to attend ICDC non-competitively.