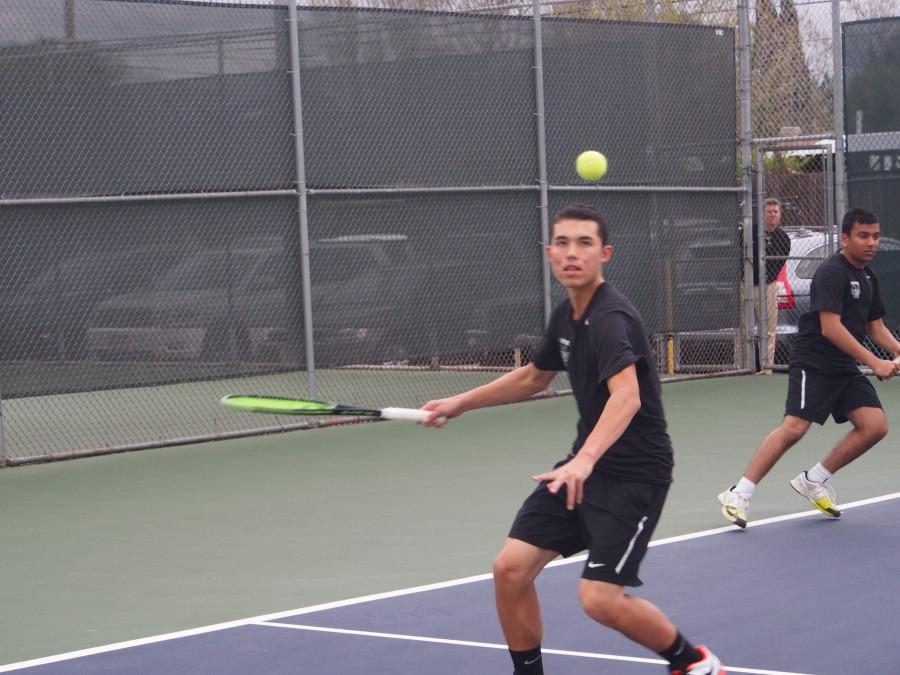 Adrian Chu
Boys tennis defeated Aragon 5-2 yesterday at the Santa Clara Tennis Center.
Ronak Baldua (12) and David Wen (10) won their singles match. Randy Zhao (10) and Anjay Saklecha (9), Neil Bai (10) and Aman Ahluwalia (10) and Swapnil Garg (10) and Kai Franz (9) won their doubles matches.
Team captain Ronak Baldua reflected on the team's performance as well as its goals for the future.
"Our team played very well today," Ronak said. "We had some good battles like Kai and Swapnil and Randy and Anjay. I think it was good because Aragon usually finishes at the top of their league and to come out with a win against a solid team like Aragon will install a lot of confidence within the team. We're all still working on ourselves as players, getting more comfortable and gelling together more as a team."
Team coach John Fruttero also emphasized team cohesion as an important development.
"The main development I'm looking for in matches and training is spirit, camaraderie, teamwork and full engagement is at the top of the pyramid for me," Fruttero said. "If a kid can get to the point of being fully engaged in practice and in every match he plays, regardless of whether he is winning or losing, when it matters the most, he'll develop the ultimate skill of poise."
Aman commented on factors which helped with the team's success in doubles matches.
"As partners we have to be able to laugh together sometimes in between points," Aman said. "Even if you win or lose, it's good to always keep a positive spirit out there. In general, I think for the team, keeping us in a happy mood is important."
The team has a 4-2 record and has an away game next week on Tuesday against Priory.